*Disclosure: This post may contain affiliate links, meaning, I get a commission if you decide to make a purchase through one of my links, at no cost to you.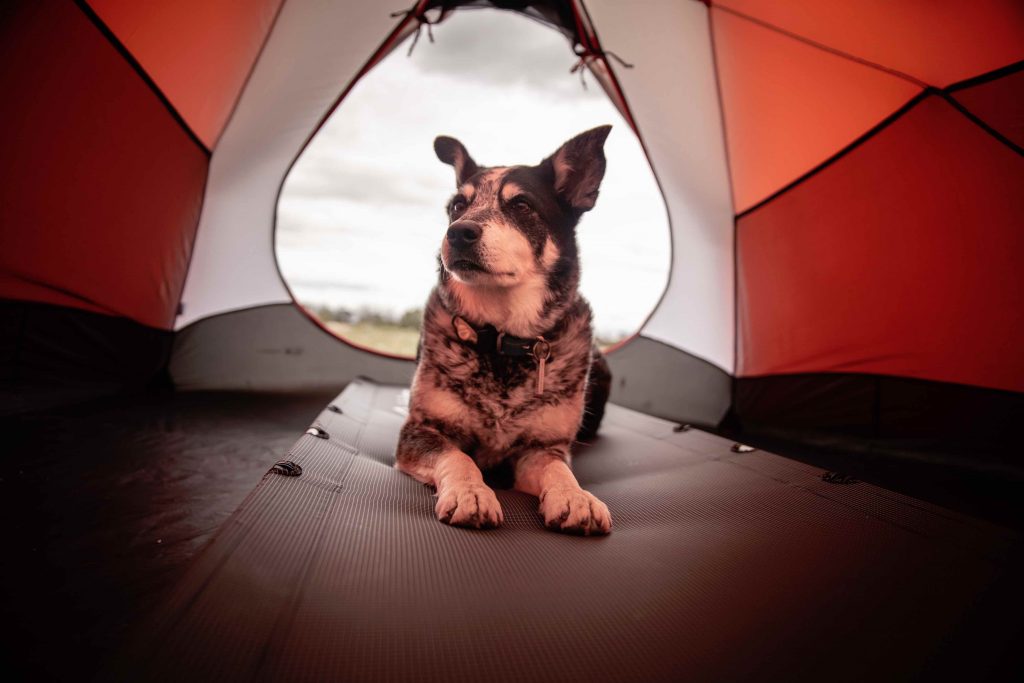 Do you love the outdoors and recently got yourself a dog? Then you've probably done a lot of research on where you can bring him along. And is there a better way to spend a night in nature than camping? I don't think so!
So, what do you have to think of when taking dogs camping for the first time?
In this article I'm showing you everything you need to know and consider before taking your pup camping for the first time. You'll find the answers to the most common questions, but also essentials to bring when camping with your dog for the first time.
Should I go tent camping or RVing with dogs?
There are basically two ways you can go camping: either you'll sleep in a tent or in an RV.
Both can be a really cool experience to do with a dog. So, generally, I recommend both.
Most questions arise around tent camping with dogs, though. This is why I mainly focus on tent camping.
If want to learn more about RVing, make sure you check out the 10 reasons to take your dog RVing.
For a complete guide on camping in general, check out the 12 tips and hacks you need when tent camping with dogs.
How do I take my dog camping for the first time?
Alright, let's get started with what you actually need to do before you bring your dog camping for the first time.
Get your dog used to the tent or RV
One of the most important things you need to do is to get your dog used to his new sleeping place. Chances are that your dog has never slept in a different place than your house. While it might be no big deal for you to sleep in a new environment, it is for your dog.
Dogs love routine!
They feel comfortable when they know how everything works. If something changes, they need a while to get used to it. This is especially true for their sleeping place, since this is their comfortable relaxation zone. Changing that can make it difficult for your dog to relax.
So, before you bring your dog camping for the first time, let him inspect all your camping gear or the RV.
Then, make sure to spend a few nights in the tent or the camper in your backyard or in front of your house. This way it still feels like home, because you're basically home. Now your pup can slowly accustom himself to the feeling of sleeping in a new place.
Get your dog in shape and ready
If you're interested in camping, I assume that you like to combine it with hiking.
Now, you can't just put a dog on the trail and expect him to be able to hike for the whole day.
Instead, get your dog in shape before you hit the trail.
Check out my preparation guide to get some guidance on how you can get your pup ready. It's specifically geared towards small dogs. But don't be fooled: bigger dogs have by no means more energy. Most of the time, the contrary is the case. Adapt your dog slowly to hiking and you'll be fine, though.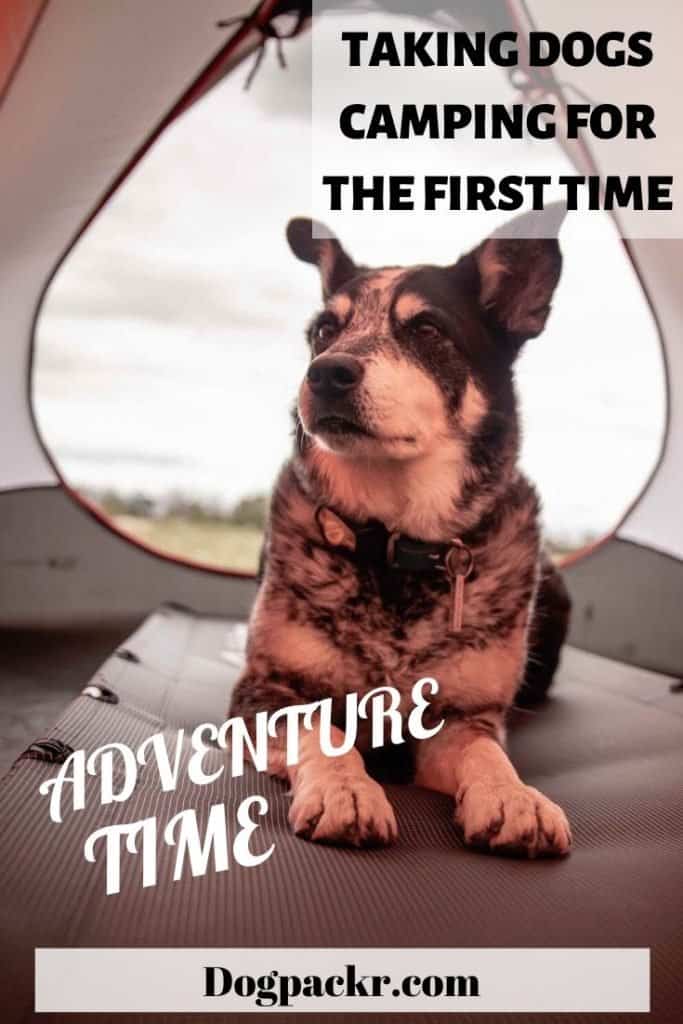 Teach him some obedience
This part can't be neglected!
Before you go hiking, backpacking or camping, it's crucial that your dog knows some obedience.
Trust me, you won't be able to enjoy your trip if your dog doesn't know how to sit, walk on a leash properly or has no recall, even if you're not planning to go off-leash!
Pick a good campsite
Most campgrounds allow dogs. But you should always check first. Wouldn't it be a shame to arrive at the campsite only to find out you can't stay?
If you go backpacking, also make sure that the amount of hiking to get to the campsite is feasible for you and your dog.
And another very important factor: when you bring your dog camping for the first time, he'll likely be very sensitive to all the noise going on outside. My Miniature Poodle Baloo usually needs about 2 to 3 nights to settle in in a new environment. During those first nights, he's very uneasy and sometimes barks at every little noise.
Do yourself a favor and pick the quietest possible campsite. This can mean at the edge of a campground. Where it's allowed, I would even recommend pitching your tent somewhere outside of a campground. You'll get to the best places like that and at least you only have wildlife disturbing your pup's peace 😉
Check for rules and regulations
This pretty much applies to all trips you take with your dog. Dogs aren't allowed everywhere and if they are, they often have to be leashed. So, always make sure to check the rules and regulations of the trail and campsite where you want to go before you go tent camping with your dog. For a more in-depth guide on rules and regulations, click here.
Other important questions
Here are a few other questions that newbie with-dog-campers frequently ask.
Where can I take my dog camping?
As I've mentioned before, dogs are allowed on almost all campgrounds.
Another great option is to go wild camping outside of a campsite, wherever this is allowed.
I've done that a couple of times with Baloo and I can tell you, this is just the best experience. Plus, it's free, really a win win!
For RVing, it's a lot easier. Mostly, you can just park your RV anywhere. If you don't leave any waste behind, no one will even notice that you've been here.
What do you do with your dog while camping?
When you go tent camping, your dog is always with you. This means he will sleep with you in your tent and you pretty much bring him wherever you go.
A tie out stake and cable can be a helpful tool to be able to leash your dog anywhere.
Theoretically, you can leave your dog in an RV. But this should only be done for short periods of time and if you're 100% sure the AC will work the whole time. A monitoring app can help you for this. For more information, check out the Outdoorsy's post.
Make sure to check out my post about your dog's sleeping place while camping to get a good overview over all the possible sleeping spots and sleeping gear that's required.
Is leaving a dog in a tent while camping possible?
Generally, the answer is no.
There are very few exceptions to this rule. I've covered this topic in detail in this post.
Here's a quick overview:
You can leave your dog in a winter tent. This is a very sturdy tent with an oven. It's not as sturdy as a house, though.
The only occasions where I'd leave my dog in a summer tent is after dawn. As soon as the sun hits the tent, it gets way too hot!
Camping with a puppy
If you take your dog camping for the first time, he might still be a puppy.
Well, there isn't that much of a difference to camping with an adult dog. The most important difference is that a puppy shouldn't walk for an extended period of time.
In fact, a puppy should only walk for 5 minutes per month of age until he's at least one year old. So, an ordinary backpacking trip isn't really feasible with a puppy.
If you want to learn more about how you can still take your puppy hiking or how to prepare him for a longer hike, check out the 10 things you need to know before hiking with a puppy.
In my opinion, RV camping is perfect with a puppy, though. You basically take your home with you and you can stop wherever you want. This means, you can perfectly adapt your schedule to your puppy's needs.
Pay attention to your puppy's special needs
Also for RV camping you shouldn't rush it.
As described before, let your puppy explore the RV first. Then spend the first night in the RV in front of your house.
Only after you've done that, you can try how he's doing on a short trip. First, take a few short drives just around your neighborhood and see how your pup's doing. If he's still doing fine after an hour-long drive, he's ready for the first weekend trip.
In case your puppy isn't used to being in a car, I recommend you first consult my essential guide to traveling with a dog in a car. You can also start practicing in the RV straight away. But I think it's best to start with the car, as you'll be driving in your car more often than in the RV.
Go on your first RV weekend trip
A good schedule to start would be a total driving time of 3 hours per day on 2 consecutive days. You can split it in 3 times 1 hour or 2 times 1.5 hours. If your pup is already used to being in a car and is doing fine, I think you can straight away go for the 2 times 1.5 hours version. Otherwise, better stop after the first hour.
During the breaks you can go for a short walk. Keep in mind that walks in a new environment are really exhausting for a puppy. All those sounds and smells need a lot of energy to digest. So, keep it short and then let him rest again.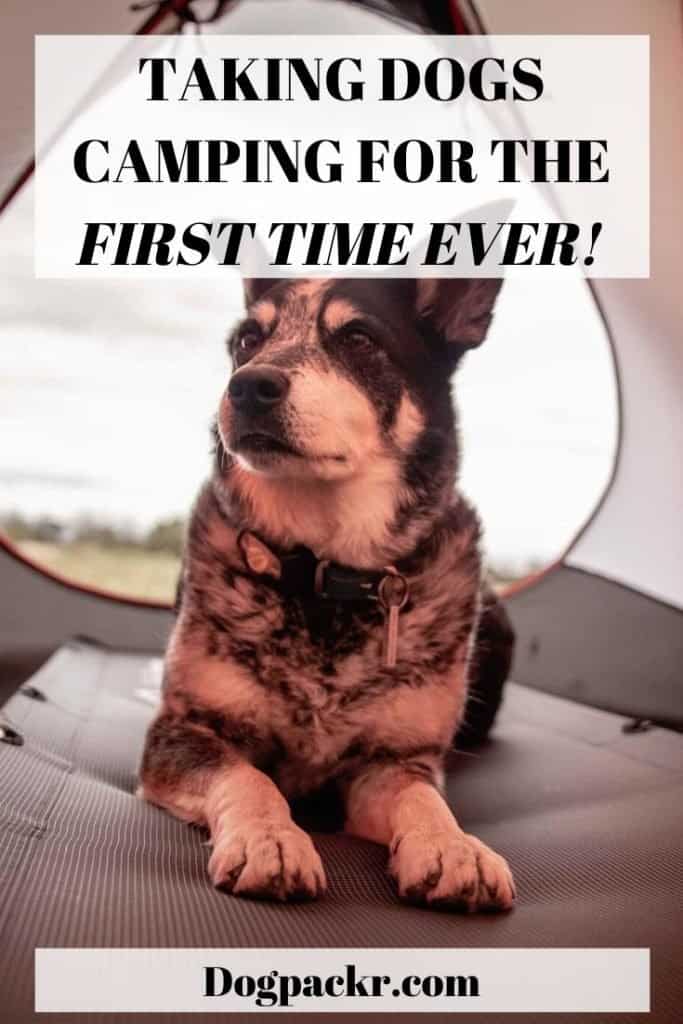 Dog camping checklist
Let's be honest: a camping trip can be a nightmare without proper planning. This is why I highly recommend you use a packing list to pack your things. This is the safest way to think of all the essentials for you and your dog.
However, I want to point out a few very important things for 2 specific kinds of dogs: puppies and older dogs.
Essentials for camping with a puppy
One thing that I highly recommend you bring along when camping with a puppy is a dog backpack carrier. This makes it so much easier if your little pup gets tired.
You can also use it as a little comfy sleeping hole. If he's used to sleeping in a crate, you can alternatively also bring a foldable crate, such as this one.
However, this adds a lot of unnecessary weight, so I'd probably only bring it for RV camping.
There are two more things that I would like to highlight:
harness: it's generally recommended to only use a harness for puppies, no collars. A puppy's bones are still very soft. So, putting too much pressure on his neck can lead to injuries or deformations.
dog sleeping bag: puppies don't have all their muscles fully built up and might not have a sufficient layer of fat to protect them from the cold. This is why it's very important to keep them warm. The easiest way to do that is to get a dog sleeping bag. If you're not sure whether you need one or not, check out my article about this topic.
Other than that, you can just stick to my packing lists mentioned above.
Essentials for camping with an older dog
For older dogs, there's really one thing that I want to emphasize: you need a dog mattress or a dog bed for your dog to sleep comfortably.
Many old dogs suffer from arthritis or are just more sensible. So, it's vital that you have a good pad for your pup to sleep on.
Conclusion
Alright, so now you know everything you need to know before taking dogs camping for the first time. If you would like to learn more about camping with dogs in general, read the 12 tips and hacks you need while tent camping with dogs next.