*Disclosure: This post may contain affiliate links, meaning, I get a commission if you decide to make a purchase through one of my links, at no cost to you.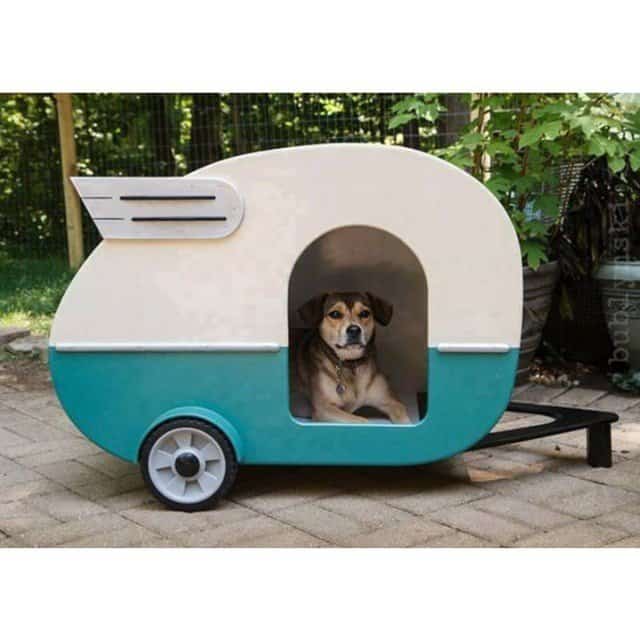 RVing is probably the best and easiest option to travel with your dog. Since you live in the RV, you don't have to think about pet friendly places to stay. And if you can't take your dog to some day trip activity, you can leave him in the RV (if it's not too hot). Most campgrounds and RV parks are dog friendly
RV camping is the perfect family vacation and of course, your pup is part of the family!
For those of you who aren't convinced, yet: here is list of reasons, why you should go RV camping with your pup.
1. Your dog loves to join you
Dogs are very social beings, that's why they make such good pets! Being left behind can be just as tough for you as it is for your dog but it's probably worse for him. Most pooches are happiest if they can be with their owners. Of course, you can't always take your dog along on holidays. Especially if your pupper is a bigger kind, he might not be able to join you on a flight, unless you want him to fly in cargo. It might also be difficult to have your furry family member join you when you're going on an all inclusive beach vacation. So how could you go on holiday with your dog? Exactly, you go camping! More specific, go RV camping. This is literally the perfect kind of holiday with your pupper. It gives you the freedom to go at your own pace and spend lots of time in nature. There literally isn't any better kind of holiday for a dog than that.
2. Most campsites allow dogs
That's a huge plus when camping, you usually don't have to worry about your dog being allowed or not. All pets must always be on a leash when outside the trailer, accompanied by his owner and shouldn't disturb others. Further, you always have to clean up after him. But I don't think this is too surprising. Other than that, you're free to enjoy the holiday with your doggo.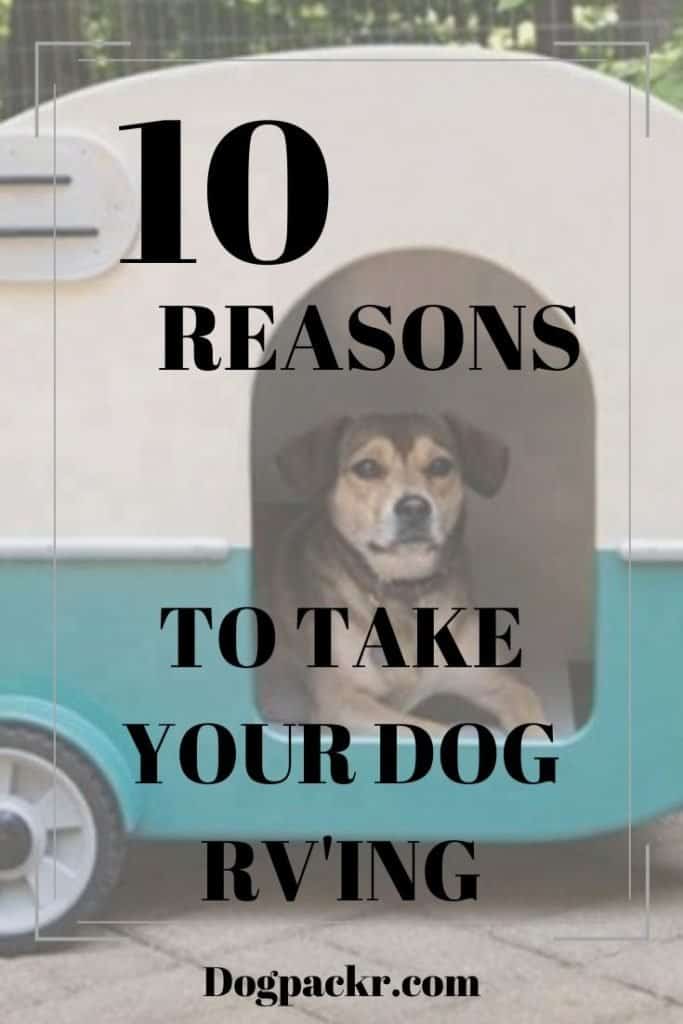 3. You can (almost) always leave him in the RV when needed
This is a big advantage over a regular car. Having a generator, you can always leave the AC on. If you leave your RV behind on the camping ground, you can even plug it in. This way you can even leave your pupper behind on warmer days. The Outdoorsy are making a valid point about the heat concern. In my opinion, the Canary monitoring system that they're presenting is a real life saver (literally for your dog). This way you can always make sure that the AC is on and the temperature is still at a bearable point. If something's wrong, you can immediately go back and let your dog out. This way you can absolutely minimize the risk of overheating.
In case you're wondering what might happen when it's getting hot in your RV, make sure to check out these 13 signs and symptoms for heat stroke in dogs.
4. Your kids are occupied
Let's be honest, when you're on holiday, you sometimes just wanna relax, read a book or chat with your spouse or newly made friends. Of course it's lots of fun having your kids around. But it can also be exhausting if you have to entertain them all day long. As soon as your kids are out of the toddler age, you can just let your pooch take care of that. Children usually love to play with their dog. You should still stay in vicinity, of course, as you always have to do with small children. But they'll entertain your dog and vice versa. Plus, your dog will most likely protect your children from anyone who looks hostile (dogs can smell and see that). So everyone's safe, entertained and happy!
5. You're dog will be super relaxed from all the adventures
When RV camping, your holiday is usually focused on nature. You can go hiking, go to the beach or explore your surroundings. Sounds like a perfect itinerary for your pupper. Dogs loooove to explore new areas. All those smells, new buddies (human and canine) and obstacles to manage, it's just so exciting! And being excited for some hours per day makes doggo soooo tired. Especially if you're having a high energy pup, you'll love him on your RV camping trip. He'll be so relaxed that you're probably not even gonna recognize him. Well, that makes your holiday even better, right?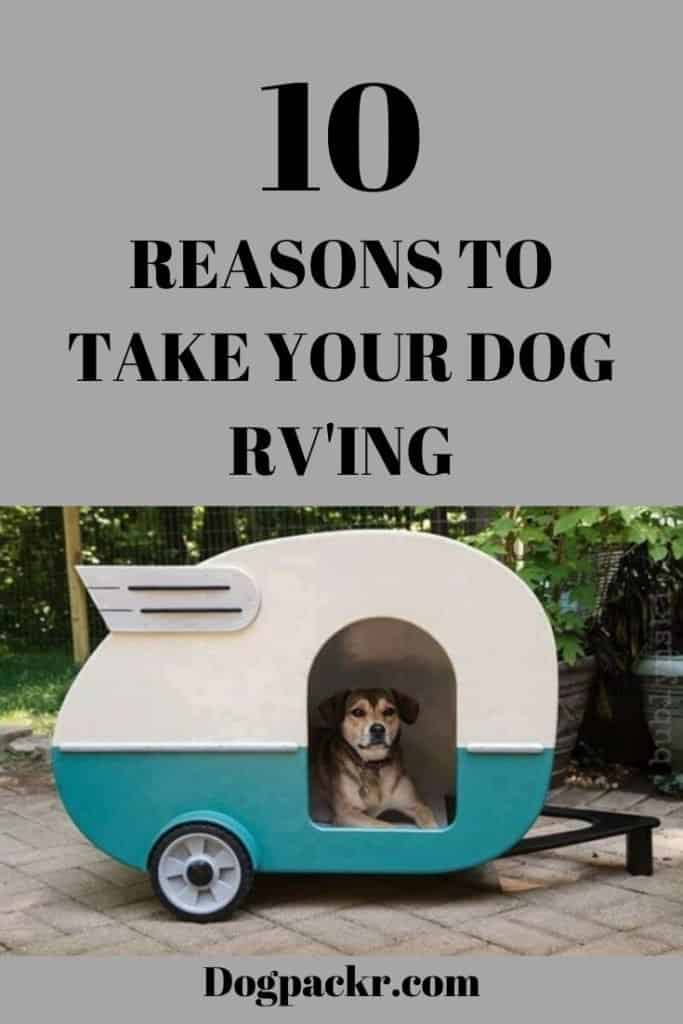 6. You can go at your own or your dog's pace
The good thing about RV camping is you're totally free. No need to go into crowded cities if your dog struggles with all the noise and people. Or if you're pooch is older and can't walk so far anymore, you can always drive close to the attraction and then take him for a short walk. You can also take lots of potty breaks whenever Fido needs it. If you don't make it to the campground on time, then you can always just park your camper somewhere and spend the night there. Just makes your holiday really relaxed.
7. You have your home with you
Many dogs find it very difficult to continuously adapt to new situations and "homes", such as different hotel rooms. In fact, dogs really love routine. If they know what's where and how your day is laid out, they are mostly much more relaxed. Now with an RV, you have your home with you. Your pooch can hence always sleep "at home" in his favourite spot. No need to continuously adapt to new places.
8. Lots of friends to make, for your dog and for you
RV camping or camping in general is a really social activity. You'll always meet lots of people on camping grounds. And many people actually bring their pet along as well. That means while you're chatting with your neighbor, your dog can get to know his new furry neighbor. That's ideal for your dog to socialize with lots of different other dogs.
9. You can take pretty much anything you need
Your dog can only sleep in his huge, heavy dog bed? No problem, just bring it along. Plus his food for half a year and the whole box of toys and and and. One huge benefit of RVing is that you have lots of space and you don't have to carry things. So you're free to take whatever your dog needs. This also greatly helps your doggo to have his routine. This way he'll be able to enjoy your holiday at its fullest.
10 It's the most cost efficient
If you've ever taken your dog along on a holiday, you probably had to pay extra at the hotel. And that can add up quite a bit, especially if you're traveling as a family. On campgrounds you have to pay too, of course. But generally it's much, much cheaper. And there is always the option to spend some nights out in the wild or on a parking space. Makes traveling with your pup much more cost efficient.
Related questions:
Preparation
Preparation is key for every holiday. Especially if you go RVing, you have to think of so many things. This is why I created a packing list specifically for RV camping. Check it out and start your holiday well prepared.
Another thing that I suggest you prepare in advance is finding local vets for everywhere you go. In case you end up with no phone connection somewhere and your pup injures himself, it's good to know where to go. This may calm you down significantly, whereas looking for a vet after something happened to your pooch can be really stressful.
Also, you should start slow. Let your doggo get accustomed to the RV life first. Start with a day trip, then go for a weekend and if he stays calm and manages to relax, you can go for a longer holiday.
Road safety
Now that you know how amazing RV camping with your dog can be, I'm sure you wanna start right away. One really important thing to think about before you start is road safety. And I don't only mean that for your pet, but also for yourself. Just as in a normal car, it can be really dangerous to have you pooch loose in your RV. First, he can distract the driver which is a risk for everyone in the RV. In case of an accident it's also a huge risk for your dog which will most likely end up with him being seriously injured or worse. So you need to think about how you can attach him. If your dog is crate trained, this is probably the safest option. Fix the crate somewhere in your camper and let Fido snooze the drive away. Another option is to buckle him up somewhere. There are lots of good seat belt harnesses. Just make sure to get one that fits properly.