*Disclosure: This post may contain affiliate links, meaning, I get a commission if you decide to make a purchase through one of my links, at no cost to you.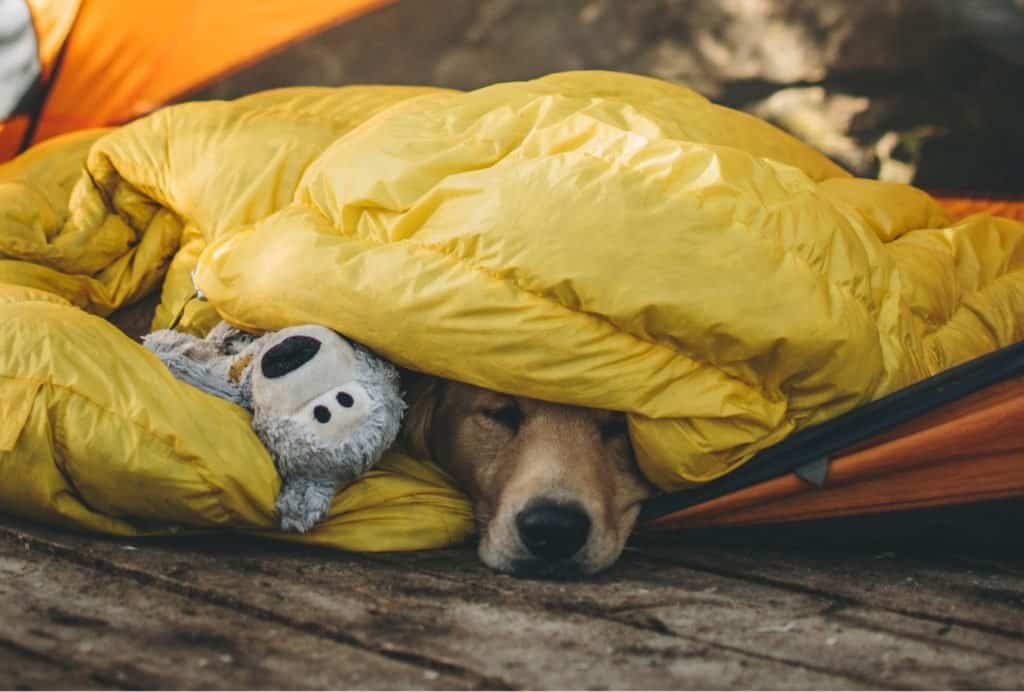 Are you going for a backcountry camping adventure with your dog? Then you've likely been wondering: where does my dog sleep while camping?
Well, once you have welcomed your furry friend into your life, he becomes a family member. It is only right then that he enjoys a comfortable holiday adventure with you.
So, before you leave it's important to think about where your dog will be sleeping during your camping trip. Not only that, but you also need to figure out what kind of sleeping gear you need for your pup.
In short: Dogs should always sleep with you inside your tent, car, camper or RV. In terms of sleeping component, it depends on what kind of camping you do. Dog sleeping bags, elevated beds, foldable crates or kennels are the best options.
Where Do Dogs Sleep While Camping?
There are many available options to choose from when looking for an ideal sleeping place for your dog. The type and location of camping will influence the appropriate place. Let's look at some of the common sleeping places for pets for different kinds of camping:
Car camping
Car camping means you will have less space to install a sleeping bed for your dog. The best alternative therefore is a kennel or crate.
These sleeping gears are not only portable but will take less space. Besides, the dog is familiar with kennels and will not have any difficulty sleeping in them.
You can also use a foldable crate as it is easier to pack.
Before letting your dog sleep inside a crate or kennel, ensure you spread out crate pads or durable mattresses to make the sleeping place as comfortable as possible. The mattress should be durable and dirt resistant. A right kennel pad should also feature bumpers, plush covers, and memory foam.
There's a list for all the gear further down below.
Tent camping
There are many available options to choose from when tent camping with your dog. These depend mostly on if you drive to your camping site or if you hike there.
Hiking obviously requires you to pack as little as possible. Because you'll have to carry all of your own and your dog's things.
So, you can choose to place your dog in one of the following sleeping places (links to good products are further down below):
Dog sleeping bag- definitely the lightest option and therefor the best for backpacking and camping. I have a full article on sleeping bags for dogs and similar alternatives and I've got a guide for the 3 best sleeping bags for small dogs.
Self-inflatable bed– a self-inflatable bed is the second great option for backpacking. You can easily compress it down to a portable small bundle that won't take much space. The bed will inflate fast to provide a comfortable place for your dog to sleep at night. When buying a self-inflatable bed, ensure you go for a durable, lightweight, and waterproof brand.
Folding soft dog crate- another great tent camping place for your dog to sleep comes in the form of a folding soft dog crate. The benefit of this unit is that it doubles up as a dog carrier once you are done with camping. A functional unit should feature a steel-framed construction that is sturdy enough to hold the dog firmly and safely.
Elevated bed– the advantage with an elevated dog bed is that your pet will sleep free from mud or sand. The bed also leaves your dog cool or dry, depending on the weather conditions. They will also sleep comfortably without any rocks or twigs, poking their ribs to cause discomfiture. If you are camping in a cool, wet place, ensure you cover the canine with a soft, warm blanket and add a pad to the bed to make it warmer.
RVing
The nr. 1 advantage of RVing is that you'll have a ton of space to bring all your dog's stuff.
Here are 3 suggestions for you:
Memory foam mattress– If you are RVing with your dog, consider getting him the best memory foam mattress. The mattress is designed to support sore muscles and joints. It also provides exceptional warmth and coziness. The mattress features microfiber, faux shearling, and fleece that guarantee ultimate comfort.
A pop up kennel– Another great sleeping place for your dog is a pop-up dog kennel. The kennel is designed to be lightweight and collapsible for effortless packing, which makes it a great option for smaller campers. Besides, it won't take much room in your car or RV due to its compact design. A pop-up kennel has mesh sides that make it ideal for use during hot summer days due to the sufficient ventilation it provides. The kennel is also easy to clean and disinfect.
His normal dog bed– If you have a big RV, why not just bring your dog's own dog bed from home? This is his comfy place, which will make him love the RV instantly!
Hammock and beach camping
You will never run out of dog sleeping options if you are beach camping with your pet.
However, the most ideal place is inside a dog camping tent. The tent ensures your dog is protected from the cold at night. It comes complete with mesh windows and doors that allow sufficient airflow.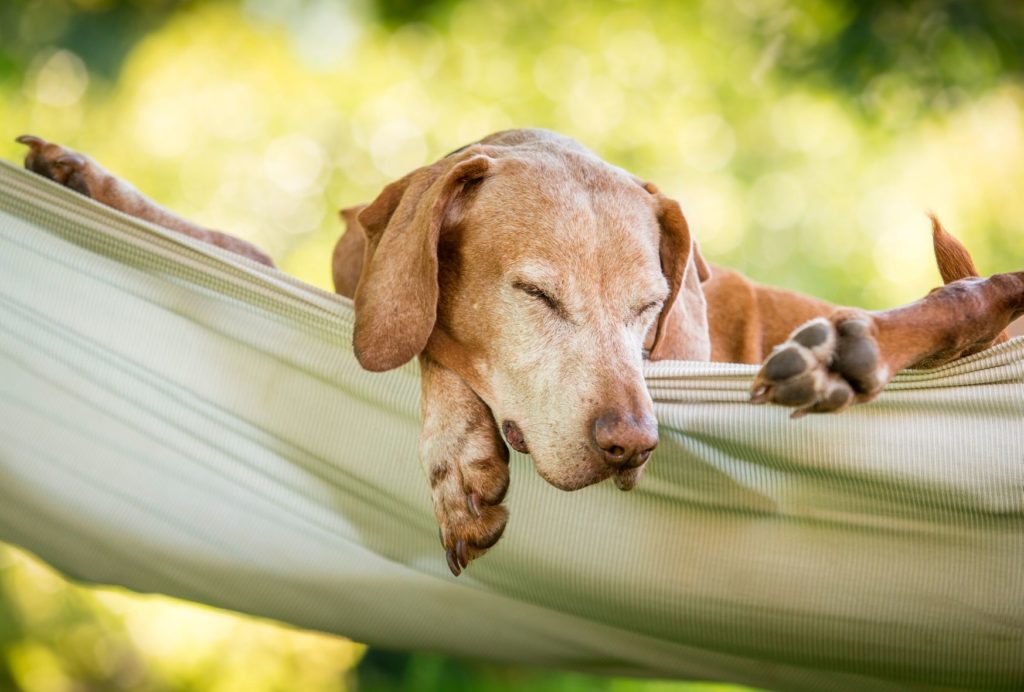 Where Do Dogs Sleep While Tent Camping?
Once you are done setting up your tent and you chose your dog's sleeping gear, you need to determine where exactly your dog will sleep at night. Well, the following are some of your available options to choose from:
In the tent
My favorite option is to let your dog sleep in the tent with you.
This is the comfiest and safest option, you never know what kind of wildlife is walking by at night.
As I've mentioned in my 12 tips for tent camping with a dog, you need to consider your dog's size when getting a tent. Unless you have a 9lb Miniature Poodle like my dog Baloo, who can curl up in one corner without you even noticing him, I highly recommend you get a tent for 1 person more than you are. E.g. a 3-person tent for 2 people + 1 or 2 dogs.
This will make your night much more comfortable!
Inside a vestibule
If the weather is beautiful and you're absolutely sure there's no wildlife around, you can place your dog inside the vestibule.
This definitely isn't my favorite option. But if your dog is used to sleeping outside and you can attach him somewhere, then this is an option, too.
In his dog tent
Alternatively, you can let your dog sleep in his own tent.
This only works if your dog doesn't suffer from separation anxiety, though. Otherwise he might freak out and tear right throw the tent walls!
Recommended sleeping gear for your dog
Now that you are familiar with the best places for your dog to sleep during camping, let's look at the ideal sleeping gear you should invest in before camping:
Dog sleeping bag
One of the essential sleeping gears to invest in is a dog sleeping bag. Because they are designed to be placed outside, sleeping bags are durable and weatherproof. An ideal sleeping bag comes with the following benefits
Versatility- it can be used for many purposes
It provides exceptional warmth
Highly durable and cost-effective
Available Options:
Good and relatively cheap option at $38.95.
2. Noblecamper 2-in-1 Dog bed and sleeping bag
At $199 for the medium size, this is the more expensive option. Therefore, you can use it as a dog bed and sleeping bag under virtually any circumstances.
Dog sleeping pad
The dog sleeping pad is simple but effective. It guarantees top comfort and coziness. An ideal sleeping pad will provide your dog with the following benefits:
Keeps the cold from the ground away
Keeps your dog cool in hot weather
Doesn't take up much space
Available Options:
1. The Green pet shop cooling mat
Price: $74.98
Price: $38.99
Foldable crate
A collapsible dog crate comes with several benefits, namely:
Makes traveling easy
Most are airline approved
Provides better padding and help your dog maintain body heat
You can use them as indoor pet beds to restrict your dog to a particular place
Available Options:
Price: $245
Price: $79.99
Kennel
Another essential dog gear to invest in before (car) camping is a dog kennel. A suitable enclosure provides you with the following benefits:
It provides a safe and comfortable shelter
It is a great training ground for a dog
Kennels are airline approved
Enclosures are secure for traveling
Available Options:
Price: $38.59
Price: $119.99
Inflatable dog bed
Let's look at inflatable dog beds next. An ideal bed comes with the following advantages:
Self-inflating
It provides exceptional comfort and support
Easy to clean and transport
Easy to pack and store
Available Option:
Price: $59.95
Dog tent
You might also need to invest in an dog tent before embarking on your camping trip. The best dog tent comes with the following benefits:
Keeps your dog safe and comfortable
Foldable and won't take much space
Light-weighed
Easy to clean
Available Options:
Price: $37.29
2. Ruff & Ruffus portable play pen
Price: $36.97
General Tips for Camping With A Dog
Traveling and camping with your canine will enable a better connection with nature and yourselves. Here are some general tips to help you have the best trip ever.
I've got a whole article talking about how to go camping with a dog. Make sure to check it out to get an even more in-depth guide.
Train basic commands
Training your dog the essential basic commands will not only bring a better connection but will also teach life skills and help establish a positive relationship.
The basic commands also increase your pet's sociability and make for better companionship and loyalty during camping. They're also absolutely essential if you want to let your dog off the leash at any point!
Related article: Why are dogs so loyal?
Related topic: For dog training in general I highly recommend you get a program that walks you through step by step, such as Braintrainingfordogs. Certified dog trainer Adrienne Farricelli teaches you to train your dog to be the best dog he can by be using mental stimulation! Check out Dogpackr's review to see if this is a fit for you!
Let him inspect the gear before you go.
Just like humans, dogs have feelings. They tend to react to sudden changes.
Taking him along with you during camping trip means he will be exposed to new surroundings that may trigger anxiety and stress.
To prevent this, let the dog inspect the camping gear before you leave your house. This inspection will help the dog cope with the new camping environment.
Camping with a dog checklist
Camping with a dog needs prior preparation.
This is why I've created a checklist that includes everything you and your dog need during your next camping trip.
Conclusions
A camping trip with your dog is a perfect way to experience new sights and establish a lasting connection. There are so many fun activities both you and your dog can enjoy.
However, camping with a dog requires a lot of thought and planning. All plans should be aimed at the dog as comfortable and safe as possible. The tips we have provided will be useful when looking for a safe and cozy place for your dog to sleep during your camping days.