*Disclosure: This post may contain affiliate links, meaning, I get a commission if you decide to make a purchase through one of my links, at no cost to you.
To go camping, a good sleeping bag and an insulating mattress are a must! And for your furry friend you might consider getting the same. At home, your dog also has his own bed and he always knows where his place is. So why should it be different when you're on the road? A dog should always have some kind of dog bed to which he can retreat and not be disturbed. It's also the place where you can send your dog to wait or to calm down when he's getting too excited.
But just imagine taking your pup's normal bed to go camping… It's probably a quite heavy, bulky thing that would be really inconvenient to go camping, especially if you're also backpacking!
So you're left with two options: either just take a light blanket as your dog's bed. This solution is fine as long as you stay in warmer climate. Or you get your doggo his own sleeping bag. This has the great advantage that your dog will love to curl up in it and will always stay warm. He can always decide whether he wants to snuggle up inside or just lie on top if he's feeling too hot. Another big advantage is that you can roll it up and make it really compact. Very convenient for backpacking!
In this post I'll show you the best sleeping bags for small dogs. Also, I'll also tell you what to observe when buying a dog sleeping bag.
If you're not sure, yet, check out my post concerning the question: does my dog need a sleeping bag?
Things to look for when buying a dog sleeping bag
Material
The right material is key. You definitely want to look for a water resistant or waterproof, easy to clean material. Polyester or nylon is a good choice. Definitely stay away from fleece on the outside. Such dog sleeping bags make great indoor dog beds. But they are of no use to go camping.
So any good dog sleeping bag will have an outside polyester or nylon layer that is water repellant. This is similar to a human sleeping bag. Also make sure that the zippers are well hidden, avoiding the danger that your pup's collar might get entangled.
Quality
You should definitely get yourself a high-quality dog sleeping bag. Just imagine the sleeping bag gets dirty and you can't machine-wash it! Or it gets tears if your dog jumped on it a bit too enthusiastically. It's mostly cheaper to get a high-quality product in the first place than having to replace a less expensive one every few months.
The most respectable brand for hiking and camping dogs is Ruffwear. They have all kinds of products specially designed for adventure dogs. While I really like their Highlands sleeping bag, it only comes in one size. So it's not ideal for small pooches.
Easy to clean
I can't stress the importance of this fact enough! I don't even remember how often I have washed Baloo's bed because he threw up on it or it just had a very strong smell from whatever… Now imagine how it's gonna be with a dog sleeping bag for camping. You guessed it, ten times worse! You will definitely want to wash that thing frequently. So make sure it's machine washable. Everything else is just gonna be such a pain!
Size and weight
Also a very important factor, especially for small pooches. Small dogs can't carry their own things, so you will have your pup's things on your back as well. This is why you should definitely make sure that you can find your dog a small sleeping bag, this will save you at least a little bit of extra weight.
Sleeping bag kinds
There are 5 different kinds of sleeping bags for dogs:
The Cup: actually looking like a cup, that's the perfect choice for a curler.
The Cave: this one is created to mimic ancient dog sleeping styles. Wild dogs would usually dig some kind of cave for themselves to lie inside and find shelter.
The Pod: similar to the cup but more plush. Also good for very sensitive curlers. This is more of an inside seeping bag
The Flat: looking most like a traditional people sleeping bag, your dog can stretch or curl in it as he likes.
The Bed Style: a very simple form consisting of basically just a bed and a cover.
Favorites
So these are my top 3 choices for sleeping bags for small dogs:
Noblecamper
The Noblecamper is my favorite. It's a cup style, so ideal for a curler. In my opinion, this dog sleeping bag has literally anything you could ask for! It's made out of ripstop polyester. So it's durable and easy to clean. It also comes in different sizes, which I think is a huge plus. You can take size small for your small breed pooch. This will leave you with about 1lb (450g), which I think is a really nice weight for a dog sleeping bag.
So you can either just put it down and let your pupper curl up inside. If he's still cold, you can unzip the sides, unfold them and cover him. That makes it a really comfy and versatile option.
It comes with a stuff bag so you can make it really nice and compact.
The small version measures 18 – 22 in (46 – 56 cm), so that should even be enough if your pup prefers to sleep stretched out.
It's on the pricier side but definitely worth its money.
Hurtta Outback Dreamer
The Hurtta Outback Dreamer dog sleeping bag is an even more lightweight option that also comes in different sizes. It's sort of a flat cave style. Size S measures 22 in (50cm) in diameter and weighs 0.5 lb (230g). So that's probably the lightest option you can get. It doesn't have a zipper, so no risk of entangling and also no risk of your dog chewing it up. It also comes with a travel bag, so you can roll it up and make it nice and small.
Further, it's really well designed with a heat-reflecting foil inside of the lining. This reflects your dog's body heat to keep him warm at all times. Plus, there is a nice wadding between the inner and outer layer. Of course, it's also water repellant and machine washable.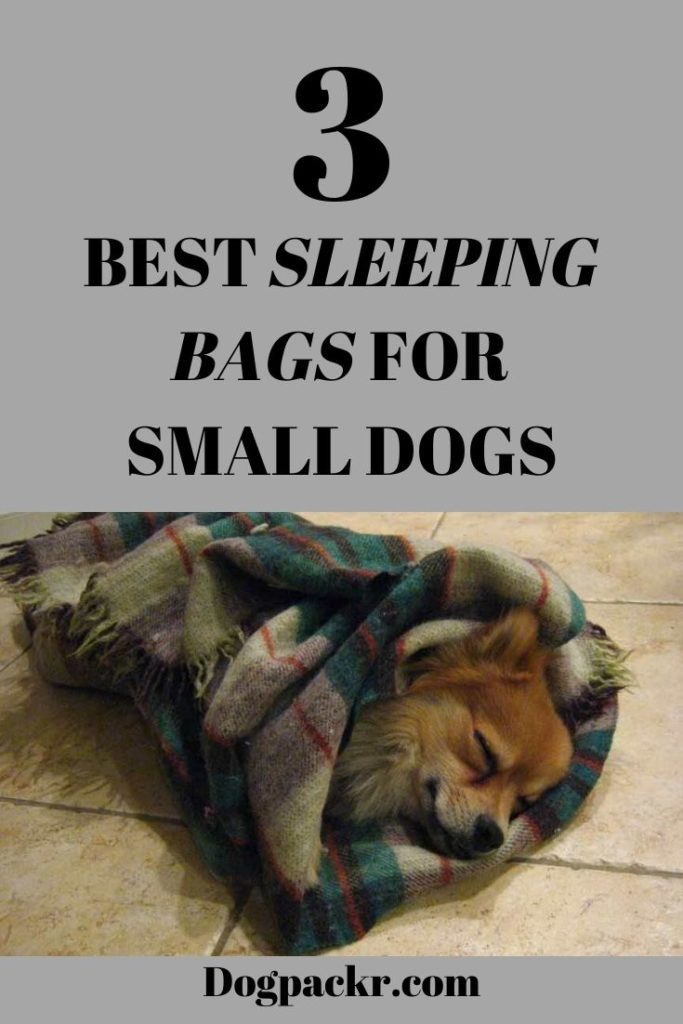 Ozark Trail
The Ozark Trail dog sleeping bag is sort of a flat cave. It's specifically recommended for small dogs weighing up to 25 lb (11 kg). It's 22 in (56 cm) wide and 28 in (71 cm) long. A big plus is that you can roll it up and stuff it into the travel bag that's coming along. The outer layer is made out of ripstop easy to clean polyester. And it's machine washable.
What I don't like so much about it is it's weight. It weighs 2.5 lb (1.13 kg) , which is more than my own sleeping bag. Also, according to customer reviews, it's still pretty big, since much bigger dogs also fit in it. It's also not the super highly insulated one. So if you want to use it in deep snow, that's not gonna be right one for you. I recommend this as a low-cost sleeping bag to try out if your pup even wants to sleep inside something.
Do you also need a mattress?
Generally, you should be more than fine with a sleeping bag for your pup. Like this he will be insulated from all sides. But if you go camping in extreme cold (like under 32° F, 0° C), a mattress is also recommended to add an extra layer of insulation.
In this case, Ruffwear's Highlands Pad is a great option. It's waterproof, cleans with a shake and insulates very well through closed-cell foam. Plus, it's easily packable thanks to its accordion-fold design. That said, I think it's not the best option for small dogs because it only comes in one size. So you're getting a rather big mat, while your pup will only need a small part of it. That might also be difficult in a 2 people tent where a small pooch usually easily fits into a corner. Personally, I would probably just put something underneath Baloo, that I anyway carry with me. E.g. his foldable dog backpack carrier or my empty backpack.
Note: this article applies mostly to tent camping. If you go RV camping, you'll usually have a heating system and much more capacity to carry a bigger dog bed. If you need some inspiration, here are 10 reasons why you should take your dog RVing. And once you wanna go RVing with your dog, make sure to check out my post about how to choose the best RV for traveling with pets.