*Disclosure: This post may contain affiliate links, meaning, I get a commission if you decide to make a purchase through one of my links, at no cost to you.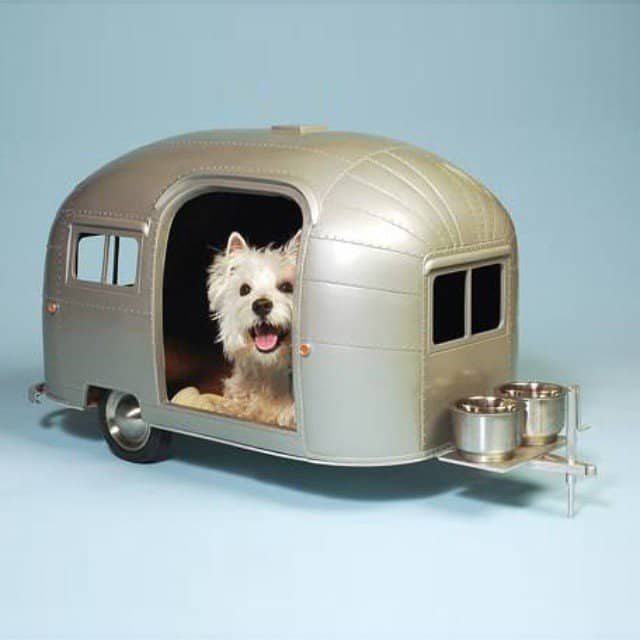 RVing is probably the easiest and most comfortable for traveling with pets. You can take your time, you have your home with you and you're really flexible. If you buy yourself an RV and use it several times a year, it's probably also cheaper than flying with your cat or dog.
Not every RV is suitable for traveling with pets, though. So I've put together a list of the best RVs for traveling with pets and what to look for specifically.
What is an RV?
An RV is a recreational vehicle. RVs are usually divided in 6 groups: Motorhomes, camper vans, caravans/trailers, fifth-wheel trailers, popup campers and truck campers. The outdoorsy distinguishes between towable trailers motorhomes, that are simply referred to as RVs. Motorhomes are distinguished into class A, B and C, depending on their size and equipment, while class A is the biggest and class B the smallest. The terms "motorhome" and "camper van" are sometimes used as synonyms. However, I think camper vans are rather big cars, often refurbished by the owners themselves. The bigger version of this would be a class B motorhome. Something like a VW Camper "California". This is pretty much my dream vehicle =)
What to look for in an RV when traveling with pets?
The goal of an RV is to have your home with you. This is also an ideal setting for your pet because most pets, especially dogs, feel most comfortable at home. So you wanna make sure that it actually feels like home on wheels.
Size matters
Depending on the size of your pet, you might have to adjust the size of your camper. For small dogs, that's not a big deal because they fit in everywhere and they get to join you on walks. But for cats and bigger dogs, you'll have to think about space. If you're taking your cat with you, you'll probably have to leash train her anyway, though, just as Bill & Kayla have done. Otherwise she will have very limited exercise. All campers are limited in space, of course. On the other hand you should still consider the fact that there might be size restrictions for some state or national parks and it's also more difficult to drive a bigger vehicle.
Temperature control is a must!
This is absolutely key in order to go RVing with your pets. But it's even more important if you wanna have the possibility to also leave your dog in the RV every now and then. RVs heat up just as quickly as cars. So you absolutely need an AC system to keep them cool.
No carpet
At home it's quite easy to clean a carpet, even when it's full with dog or cat hair. With a good vacuum cleaner this shouldn't be an issue. But when you're on the road, cleaning is the last thing you wanna do! Of course you need to clean your RV every now and then but don't make your life unnecessarily difficult. Stick to an easy to clean tile floor. When your traveling, it's enough to mop it every now and then and that's it.
Window sizes
This totally depends on what kind your pet is, especially if it's a dog. Some dogs and cats love to see what's going on outside and are happy to relax on the window. If you're dog is a chaser or barker, though, you should definitely consider the RV's window sizes and probably abstain from floor-to-ceiling windows. Because it can actually be really dangerous if your dog spots a squirrel outside and decides to jump right at or through the window!
Easy access
This is most important for bigger dogs but can also be a concern for older dogs or cats in general. You should always make sure that the RV has an easy access for your pet. Because it they can't walk or jump into the RV by themselves, you'll have to carry them every time! It's best to have a wide access, so that you can walk next to your dog in order to help him and also not too many steps.
Optional: washer/dryer
I mean this is generally a really good idea, even without pets. But if your traveling with pets, you should definitely consider choosing an RV with some washing options. Just think about your dog getting car sick and having to vomit or if he has a diarrhea accident or something. You definitely wanna be able to wash his things immediately!
Best RVs for traveling with pets
So this is a list of my favorite RVs for traveling with pets
Motorhomes
This is by far my favorite motorhome for traveling with dogs, since it's been specifically designed for that reason. It has a separate compartment for your pup, making it super safe and flexible for you to travel. The compartment is basically a crate built into the back of the RV. You can put your doggo there while driving or when he's getting a bit too excited and needs a break. Otherwise, you can always let him sleep wherever you like but I think it's a really nice feature to have.
This is a European model, which are generally a bit smaller than the ones in the US. European also don't distinguish between class A, B and C motorhome.
These are all the "fur features":
Extendable dog light
Detached dog area in the rear of the vehicle (170 x 65 cm)
Doors inside and outside with sliding protective grille
Rear exterior door with integrated dog window
Integrated "antischlabber" cup with 1400 ml
Dog area with comfortable cushioned dog mat
Color camera in the dog area for the observation of the dogs
Two buckles in the front floor area
Two stop rings on the outside of the vehicle for attaching the dogs with leashes
Outdoor dog shower
Pros
Perfect size at 23'9"
Reasonable price, starting at 63'745 Euros
Enough space for 2 big dogs
You can see your dog on camera while driving
Dog ramp allowing every dog an easy access
No carpet
Cons
It's only available in Germany. So only an option if you're traveling in Europe
Maybe not as roomy as other motorhomes, especially no slides
Some national parks have a 30 foot limit, so I'd definitely stick to that, unless you wanna limit yourself to RV parks.
While not exactly being my favorite, the A.C.E. class A motorhome has some specific dog friendly features which is a really nice thing. It's pretty much a mix between a class A and a class C motorhome. I've also added it to the list, because this one's available in the US and Canada.
Pros
Lots of storage space, especially base storage
Vinyl or porcelain tile floor
Special pet gadgets such as a pet bowl drawer
Good size at 28′ 9"
Cons
Quite pricey, costs $ 126'750
I don't like the design 😉
Camper vans/class B motorhomes
Camper vans are probably the most perfect home on wheels for backpackers. They're much smaller than Motorhomes and force you to downsize your lifestyle much more, which I really like. However, this is only an option if you're traveling with a dog or cat and love having them really close all the time. I can't imagine how you would travel with smaller pets in a camper van, though. No matter what camper van you're getting yourself, you can always install a an AC/fan that you plug in using energy from a solar panel or a generator.
One downside to vans in general is that they usually don't come with a bathroom or a shower. If you're traveling with pets, you definitely want something where you can clean them. And especially in colder climate, doing that outside isn't much fun.
This is a smaller version of a camper van that's specifically built for dogs.
Pros
Built in kennel underneath the bed
Dog ramp allowing every dog an easy access
Outdoor shower
Pop up roof makes a second sleeping space
Cons
It's basically an interior upgrade, so you first have to get the van and then let them add the interior. The interior starts at $ 52'000, so all together isn't exactly cheap for a camper van.
Doesn't come with solar panels or a generator
Winnebago Travato 59K (class B motorhome)
Probably most class B motorhomes have about everything you could wish for. In my opinion, this is the best RV option when traveling with pets. One that caught my eye in particular, is the Winnebago Travato 59K.
Pros
Lots of space and a big bathroom
Vinyl floor
Comfy bedding
Cons
Also very pricey, starting at $ 114'455
Otherwise it seems pretty perfect
Caravans/Trailers
Airstream Flying cloud
I really like the Airstream trailers. They have such a classy, yet modern design and so many models and lengths to choose from.
Pros
No carpets
Silent and efficient heating or cooling
You can choose the length between 19′ and 30′
reasonably priced, starting at $ 67'400
Cons
No washing machine, which should be possible to integrate with this size.
Pop-up campers
A pop-up camper is like a mix between a tent and a trailer. The big advantage of this is that it doesn't need much space and is relatively light and can therefore usually be pulled by a normal car. If you consider a pop-up camper, keep in mind that it's more like a tent in terms of leaving your dog behind, so it won't be possible at all times.
This is a really well-equipped pop-up camper, it even has a tiny bathroom in it.
Pros
Huge sleeping spaces
Fan system
Indoor and Outdoor stove
Bathroom included
Cons
No AC system
I couldn't find any prices
Truck camper
The cool thing about a truck camper is that you can theoretically always put the camper down and then just use your truck. So this gives you a lot of flexibility, especially if you also plan to visit cities, which might be rather uncomfortable with a giant motorhome. Even with the camper on the truck it's much smaller than all the other options.
My favorite Truck Camper for traveling with pets is the Lance 650 Truck camper. However, I think it doesn't matter so much which truck camper you choose, the differences are minor.
Pros
AC system
quite roomy for being the smallest model
reasonable price at $ 27'800
Cons
High entry without a ramp
So these are the best RVs for traveling with pets, in my opinion. There are many factors to consider when choosing the right model. I hope this could give you a bit of a guideline.
If you're still not convinced, here are 10 reasons why you should why you should absolutely take your dog RVing. Check out the full post here.
1. Your dog loves to join you
Dogs are very social beings, that's why they make such good pets! Being left behind can be just as tough for you as it is for your dog but it's probably worse for him.
2. Most campsites allow dogs
That's a huge plus when camping, you usually don't have to worry about your dog being allowed or not.
3. You can (almost) always leave him in the RV when needed
This is a big advantage over a regular car. Having a generator, you can always leave the AC on. If you leave your RV behind on the camping ground, you can even plug it in.
4. Your kids are occupied
Let's be honest, when you're on holiday, you sometimes just wanna relax, read a book or chat with your spouse or newly made friends. Of course it's lots of fun having your kids around. But it can also be exhausting if you have to entertain them all day long. As soon as your kids are out of the toddler age, you can just let your pooch take care of that.
5. You're dog will be super relaxed from all the adventures
Especially if you're having a high energy pup, you'll love him on your RV camping trip. He'll be so relaxed that you're probably not even gonna recognize him. Well, that makes your holiday even better, right?
6. You can go at your own or your dog's pace
The good thing about RV camping is you're totally free. No need to go into crowded cities if your dog struggles with all the noise and people.
7. You have your home with you
Many dogs find it very difficult to continuously adapt to new situations and "homes", such as different hotel rooms. In fact, dogs really love routine.
8. Lots of friends to make, for your dog and for you
RV camping or camping in general is a really social activity. You'll always meet lots of people on camping grounds. And many people actually bring their pet along as well. That means while you're chatting with your neighbor, your dog can get to know his new furry neighbor. That's ideal for your dog to socialize with lots of different other dogs.
9. You can take pretty much anything you need
Your dog can only sleep in his huge, heavy dog bed? No problem, just bring it along. Plus his food for half a year and the whole box of toys and and and.
10 It's the most cost efficient
If you've ever taken your dog along on a holiday, you probably had to pay extra at the hotel. And that can add up quite a bit, especially if you're traveling as a family. On campgrounds you have to pay too, of course. But generally it's much, much cheaper. And there is always the option to spend some nights out in the wild or on a parking space. Makes traveling with your pup much more cost efficient.
Also check out my post on 10 reasons to take your dog RVing for tips on preparation and safety.
If you want to learn more about how to go camping with a dog, check out my other article about this topic.