*Disclosure: This post may contain affiliate links, meaning, I get a commission if you decide to make a purchase through one of my links, at no cost to you.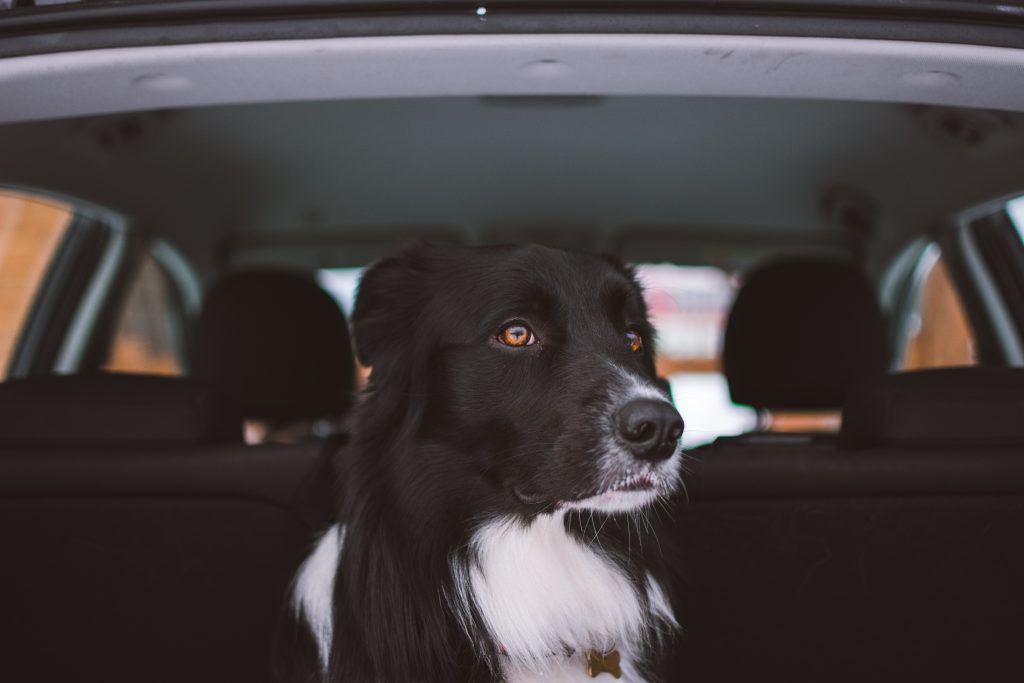 If you have a dog, you will be traveling with him in the car sooner or later!
I don't own a car myself but I even I am traveling with my miniature poodle Baloo by car from time to time.
Now, if you don't drive with your pup on a daily basis, you probably have a few questions on how you can best take him in the car.
So in this post I'll cover everything you need to know about traveling with a dog in a car.
How to prepare for a road trip with your dog
A good preparation is half the battle!
Preparation is especially important for longer road trips. But it's also really important to think about what to bring and how to get ready before you go for a drive with your puppy for the first few times.
Build it up slowly
First of all, it's really important to get your dog used to being in the car. If you're driving with your dog for the first time, make sure it's a nice and pleasant experience. Don't start with a 4-hour ride! Let him get accustomed to being in the car.
If you're planning a longer road trip, make sure you keep this in mind and plan accordingly. In case your dog was never in a car before, I would plan in at least 3 months of practicing before you take him on a road trip of more than 2 hours.
Things you need to bring
When you're traveling with your dog for more than a few hours, there are a few things to think about.
Here's a quick list so that you don't forget anything:
Dog blanket

Favorite toy

2 collapsible bowls

Dog food

Treats

Chewing treats

Extra water bottle for your dog

Poop bags

Paper towels (for accidents)

Medication (if needed)

Cooling mat (in summer)

Documents (see next point)
You want to make car riding for your dog as comfy as possible. Think about how your dog looks when he's peacefully sleeping in his dog bed at home. This is what we want to achieve in the car!
In order to get your dog to relax in the car, it's important that he has things with him that he knows and loves. I highly recommend that you take one of his blankets and a plush or chewy toy. These smell like home! And home is a relaxed place. So it should help your pooch to settle in in the car.
If you're going on a longer road trip you also need 2 bowls for food and water. I highly recommend collapsible bowls. They're cheap and need no space at all!
Don't forget medication in case your dog needs any.
If you're going for a multi-day trip, check out my full packing lists for: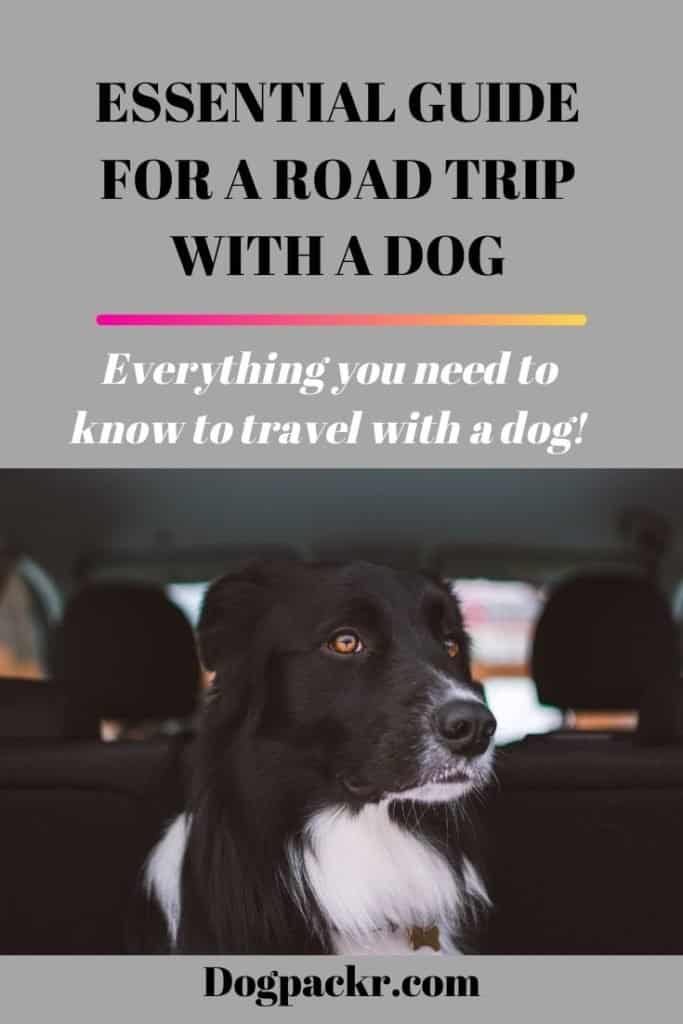 Documents
Now that we've got all the doggo stuff, let's look at another important thing to remember: documents.
If you're traveling cross state borders, you definitely need to prove that your dog is vaccinated against rabies. Some states further require you to bring a health certificate , proving that all his vaccinations are up to date. Plus you need a registration tag. For more information click here.
Wear your dog out!
I'm not gonna lie, before every longer car travel, you'll need to wear your dog out.
And I mean, really wear him out!
A tired dog is a happy, and more importantly, a well-behaved dog.
Wouldn't it be amazing if your dog just slept through the whole 4-hour journey to your destination?
Yep, this is possible if you let him run and roam before you get in the car.
She's explaining it very well:
What if my dog gets car sick?
If you know that your dog tends to get car sick, preparation is even more important!
I've written a whole article about what to do if your dog gets car sick. Check it out here.
Out of experience I can tell you that your dog is far less likely to get sick when he's tired. If he can sleep, he won't get excited. And excitement is the number 1 cause for car sickness!
What's the safest way to travel with a dog in the car?
Okay, let's jump to the next VERY important topic: safety in the car!
Now I can't stress this enough, it's absolutely crucial you make sure that the way your dog travels with you in the car, is the safest possible! For your dog and your owns sake!
Let's get into it!
What's the law on dogs traveling in cars?
While there isn't any law across all states, there are a few states where your dog needs to be restrained in the car by law.
But even if this is not the case, you can always get fined for being distracted in the car. And a loose dog can be just as distracting as your phone. So even if it's not directly regulated by law, there really isn't any good excuse for why your dog should be unrestrained in the car.
Do I need a crate?
A crate is the best thing you can get to travel with your dog in the car! It's the safest and, if properly trained, the most comfortable for your dog.
However, you can only put a crate in large cars, such as SUVs or trucks. If you own a smaller car, let's look at the other options.
Are dog seat belts safe?
Yes and no.
Dog seat belts get tested. However, the result is more focused on the strength of the material, than on your dog's safety. But what's even more shocking is that the models that were first tested, had a 100 percent failure rate!
In the meantime, there are better models, of course. However, there are only 3 models that are CPS certified. This means that they are crash test certified by the Center for Pet Safety.
So if you want to get a dog seat belt, I highly suggest you choose one of those models.
Ruffwear have designed a seat belt harness, too. But it only passed the CPS test for the sizes small and medium. Read this to find out all about the history and safety of dog seat belts.
How can I make car riding as comfortable as possible for my dog?
So we've covered a little of that question in the preparation part. In my opinion, most of the problems you might have with your dog in the car can be eliminated with proper preparation.
But let's just look at some more specific questions about how you can make car riding the most comfortable for your pup.
What if my dog is anxious in the car?
Okay, so if your dog has been anxious in the car ever since your first car ride, this isn't an issue that you can solve overnight. You'll probably have to work on that for weeks or even months.
This is a good explanation how to get that problem solved:
If you just need a quick solution, I guess the easiest thing to do is to really wear your dog out. Another thing that can help is to get a crate with a cover, or just put a blanket over it. This will make your dog feel like he's in his little comfy cave and will help to calm him down.
Another thing that owners of anxious dogs had great success with are thundershirts. This is also a tool to make your dog feel more comfortable.
In my article on how to cure dog car anxiety I cover this topic much more in-depth.
Now, in case your dog just started to become anxious in the car as of recently, I've written a whole other blog post on that topic. Over there, I cover all the possible reasons for sudden anxiety in the car. Plus, I go over all the things you can do to help your dog overcome his fear.
So make sure you check it out!
Make it as cool as possible
In summer, cars can get really hot! So a cooling blanket can be a huge relief for your pup.
Also keep in mind that the AC might not fully reach the back side of your car. I remember that my parents' dog (Golden Retriever/Hovawart mix) used to try getting to the back seats of the car all the time in summer. After a while we realized that it was way hotter in the back than in the passenger seats.
Never leave your dog alone in the car!
Now one more very important note: Never leave your dog alone in the car! At least when the outside temperature is more than 62° F (20° C). The car will get much hotter than the outside temperature. Countless dogs, and even children, have died this way! Please don't add another one!
In my opinion, it's fine to leave your dog in the car for a few minutes if the outside temperature is between 41° F (5° C) and 68° F (20° C). If it's colder you also have to keep in mind that the car will get as cold as the outside temperature. For a dog who's not used to sleeping outside, this can mean that he'll get hypothermic.
How long can a dog ride in the car?
Dogs are pretty adaptable!
Most dogs are happy when they're with their owner and relaxed when their owner is relaxed.
So if you like being in the car, chances are, your dog will love it too!
I don't think there's a definitive answer for all dogs out there. It really depends on your dog.
As a rule of thumb you can just think of how many hours your dog sleeps at home.
Dogs should sleep a whole lot! Unfortunately, most domestic dogs are actually sleeping a lot less because they're over stimulated. But even if your dog sleeps less than 18 hours per day, I'm sure there are times when your pup sleeps for a few hours at a time.
This is a good measurement for how long your dog can ride in the car before you have to take a longer break.
How often do I need to stop for potty breaks?
Some people recommend going for potty breaks every two hours.
While you can certainly do that, I recommend to take fewer breaks but therefore make them longer.
When you're at home, your dog certainly won't have to go potty every two hours. So I assume that about every dog can hold it for at least 4 hours. So why not stop after 4 hours and go to a dog park or play fetch with your pup for an hour?
If you stop fewer times, your dog will really get the chance to relax and sleep! Once you stop, you can exercise him again and he'll be ready for his next snoozing session.
In case you'll want to stop more often for your own comfort, then sure, take a walk with Fido, too!
How do you travel with a puppy in a car?
When you're traveling with a puppy, your car travel will look slightly different.
Of course a puppy has to go potty more often. Bear in mind that a puppy can also be prone to nervous peeing. So I would also do it similarly to when you're at home. If you're going potty every hour, then do the same while traveling in a car. A short walk and maybe some very short playtime should be enough to make your puppy sleepy enough for the next hour.
I also wouldn't go for a cross country trip with a young puppy. Let him get accustomed to the feeling of being in the car. And slowly work it up from there.
Alternatives and other traveling ways
If you made it this far and are feeling like you don't want to travel with your dog by car, then here are a few other ideas on how to travel with your dog.
How to travel with a dog without a car
I've written another post about how to travel with a dog without a car.
Make sure you check it out if you're looking for alternatives to car travel.
Tips for traveling with a dog on an airplane
For longer distances, traveling by plane can also be an option.
Keep in mind that only small dogs, ESA dogs and service dogs are allowed to fly in cabin. Bigger dogs will have to fly cargo.
If you have a small dog and wonder how it is to fly with a dog, check out my other post on how to manage a long flight with a dog in cabin.
Traveling with a dog in an RV
So RV travel is slightly related to car travel but it's still a whole different experience.
If you're thinking about taking your dog RVing, make sure you check out my post about how to choose the best RV for traveling with pets.