*Disclosure: This post may contain affiliate links, meaning, I get a commission if you decide to make a purchase through one of my links, at no cost to you.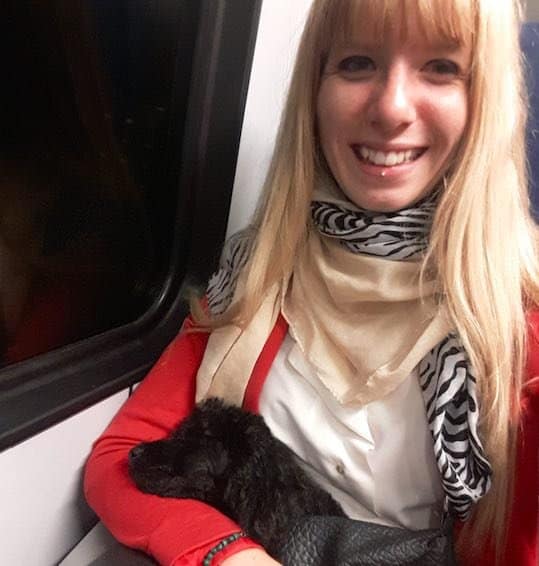 Have you ever wondered if it's possible to travel with a dog without a car?
Well, you're not alone! The majority of people think you absolutely need to have a car if you own a dog.
After several years of owning a dog myself, I'm here to tell you: YES, it's no problem to travel with a dog even without owning a car. You can basically choose between the following options:
Cycling
Public transport
Cab, Uber or Pet taxi
Airplane
Ship
Train
I don't own a car myself, so I'm in a good position to explain you how I do it. I have to admit that it's really easy to live in a city in central Europe without a car. It's really very rare that I actually need one at all. And if I do, I can always just rent one. Living in a city, it wouldn't make any sense to me to have a car. Because this would mean much more expenses due to petrol, high parking fees (especially the ones for the parking space for my flat) and spending a lot of time in traffic.
Bear in mind that you might need to have a car if you live in a more rural area. If you live in a city with good public transport, then owing a dog without a car is absolutely no problem!
I've divided this post into two sections of short and long distance traveling.
For some of the means of transport, some preparation is required. So let's get right into it!
Transportation within a city
Cycling
I looooove cycling, so naturally this has to come first =) The cities in Switzerland are relatively small, so I do pretty much everything by bike. And of course I take my Miniature Poodle Baloo along.
He can comfortably relax in his dog backpack carrier while I do the muscle work. What I like most about cycling is that you're exercising "on the go". There's no need to go to the gym in the evening when you're tired from a long day at work, if you're cycling for about an hour a day.
Btw, make sure to check out my post about the 6 best dog backpack carrier for hiking. They also work very well for cycling.
In bigger cities this might be more time consuming. But with e-bikes becoming more and more popular, you'll probably be able to go about twice as fast as by normal bike.
If you think that this is too strenuous, maybe my next suggestion, public transport, is the better option for you. But bear in mind that during high traffic hours you're most likely gonna be faster by bike, especially because you can take all those shortcuts where cars can't go. Your choice… 😉
Public transport
In most cities, subways are the cheapest, fastest and easiest way to get around. But also with a dog?
Not all subways in the US allow dogs but most allow small dogs in carriers. The AKC has listed some examples of subways where dogs are allowed with some restrictions. If you need more inspiration, check out these creative "dog carriers" on Instagram.
Cab, Uber and Pet taxi
I've taking Baloo on numerous Uber rides without any problem. But to be sure, better call your driver after confirmation to make sure, he's ok with transporting a dog.
For emergencies, there are pet cabs in some areas, such as Pets.cab in Pennsylvania and New Jersey.
Domestic and international travel
Airplane
When traveling internationally, the first step is usually to take a plane. One of the big advantages of owning a small dog is that he can fly in cabin. This makes flying practically risk free for your pup because he can always be close to you.
Not all airlines will allow pets in cabin. Some don't allow any pets at all. Here you'll find an overview over US/Canadian airlines that allow dogs.
If your dog is bigger than what is allowed in cabin, he has to fly in cargo (support and service dogs excluded). With the right preparation, this usually isn't a problem.
But bear in mind that there have been accidents where dogs were lost or found dead after a flight. If your dog can't fly in cabin and you're doubtful if he'll manage a flight in cargo, then consider the other options. For bigger dogs, the best solution can sometimes be to leave him at home with a family member, friend or at a boarding kennel.
If you plan on traveling with the whole dog club or are on a limitless budget, you might wanna consider becoming a member of the dogtravel company. They offer super pet-friendly traveling, where your dog actually travels like a human!!!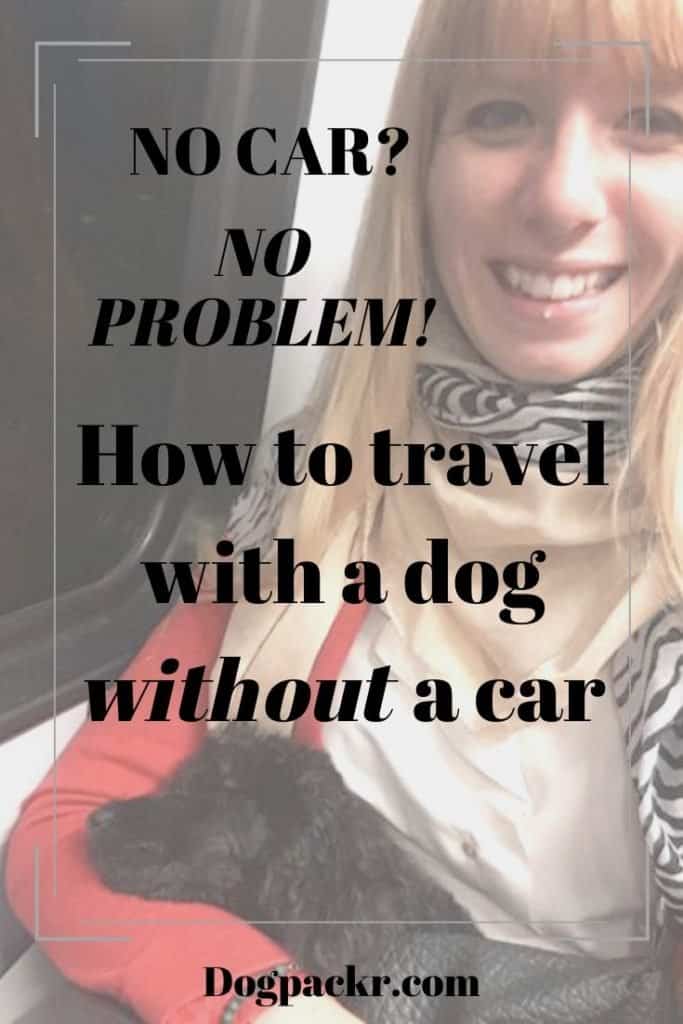 Preparation
Carrier
Before you book a flight, make sure the airline accepts dogs in cabin. Also check the conditions under which you're allowed to take Fido along. Most airlines require your dog to be in a soft or hard shell carrier which has to stay closed during the whole flight and it has to fit under the seat in front of you. Here's a full guide on what to think of if you're flying with your dog in cabin.
Another important part of the preparation is crate training. Check out my article about crate training to learn more.
Also make sure to check out my article about safety when flying with a dog in cabin to help your dog feel as comfy as possible.
Vaccinations
Always make sure you check your destination's regulations regarding vaccinations well in advance. To bring your dog to Europe you also need a pet passport.
Ship
Unfortunately, not many cruise ships allow dogs on board. For a crossing to Europe, Queen Mary 2 is your only option.
I've written a whole article about everything you need to know when traveling to Europe by boat with a dog.
If you're looking for a furry-friendly ferry crossing from mainland Europe to the UK, your options are bigger. Here's a good overview for the possibilities.
For sightseeing cruises in the US, check out this overview from USA today.
Train
For long-distance train traveling in the US, the national rail operator Amtrak is the best option. Amtrak now allows small pets up to 20 pounds on most routes for trips up to 7 hours. They have to be in a pet carrier with the maximum size of 19 in (length) x 14 in (width) x 10.5 in (height). This way your dog counts as a carry on luggage.
Note that you have to make a reservation for your dog and that there is a limit of 5 dogs per train (service dogs excluded). Here are some general tips on traveling with Amrak.
Almost all trains in Europe allow dogs in carriers. Bigger dogs are usually allowed as well, but cost extra. Usually, there isn't any requirement for a reservation for a small dog. But always check it in advance.
Let me tell you a little secret though: In his dog backpack carrier, Baloo normally doesn't even get noticed. So even if I don't make a reservation for him, it looks, as if I'm just taking my backpack along. This is mostly possible because we're frequent train travelers and Baloo naps during the whole journey =) I try to make train journeys not longer than 4 or 5 hours. Otherwise I split up the journey to take a break.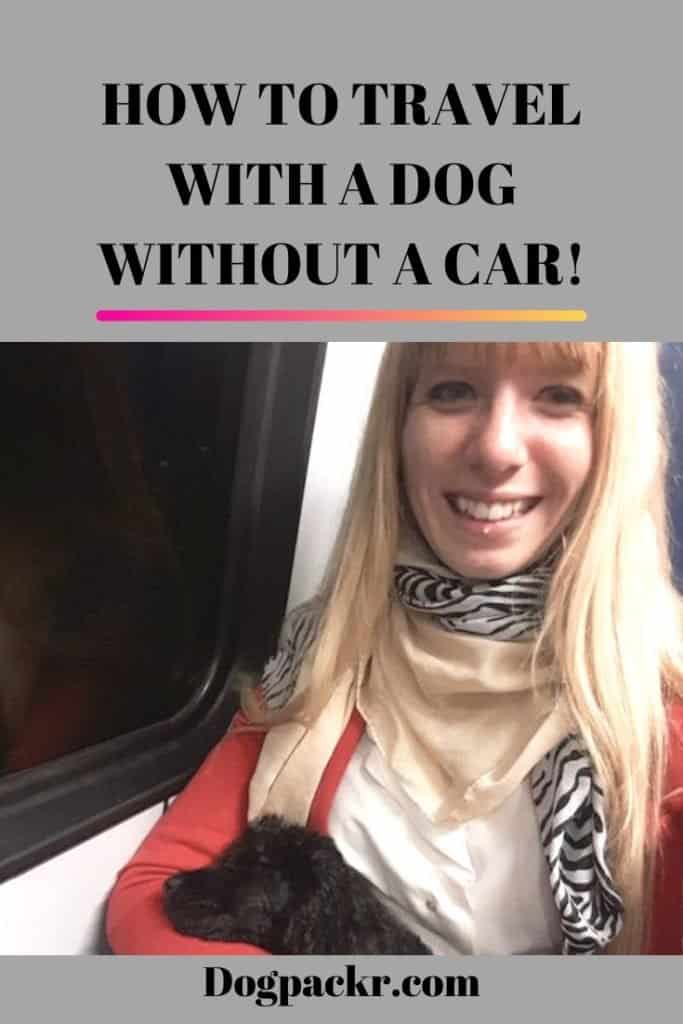 Conclusion
Traveling with a dog without a car is absolutely possible. It can even provide extra work out if you're cycling!
Most of the options are super easy with a small dog. With a larger dog, some more planning might be required. However, it's still feasible. Don't put your wish for a dog off, just because you don't own a car!
If you're thinking now that you'd rather travel by car, after all, make sure to check out my essential guide to traveling with a dog in a car.