*Disclosure: This post may contain affiliate links, meaning, I get a commission if you decide to make a purchase through one of my links, at no cost to you.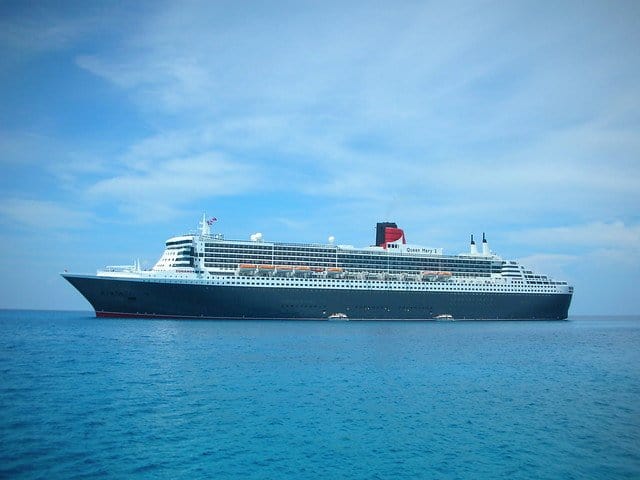 Do you plan to travel to Europe and take your furry friend along? In this case you basically have 2 options: flying or going by boat. For some people, flying isn't an option, either because they're afraid or because their dog has health issues and can't fly. Or maybe because they don't want their dog to fly in cargo. If this is you, there's finally another option for you: you can also go by boat!
First and foremost, I have to tell you that there's currently only one option to travel to Europe by boat with a dog from the US and that is on Cunard Queen Mary 2. If you choose to take your dog on this cruise ship, both you and your dog will be spoilt! But that comes at quite some cost: the crossing will set you back about $ 2'000 for you and your four-legged friend! But I'll show you everything you need to know about it.
In case you're just wondering about the options, I'll also give you an overview about flying to Europe, the other possibility.
Preparation
Before you travel to Europe by boat with a dog you need to get some things organized in order for your dog to be allowed to come along. Plus your dog will spend a lot of time in a crate on board of the boat, so you wanna prepare him for this as well.
Also keep in mind that there's no vet on board, so make sure you visit one in advance. If you've ever noticed that your dog gets motion sick, ask your vet about that as well.
Health requirements
Luckily, it's really easy nowadays to take your dog into Europe. These are the only requirements:
Microchip

Pet passport or EU health certificate

Rabies vaccination. It only counts after the implementation of the microchip and has to be done at least 21 days before you enter the EU.
You'll arrive in the UK, so let's first look at their health requirements for a dog to enter. This means that you also need to have a tapeworm treatment done on your dog, between 24h and 120 h before you enter the UK. And you need to get the health certificate for the UK. It's also possible to add an extra 2 nights and go to Hamburg, Germany.
Making a reservation
It's recommended to book your cruise experience at least a year in advance, as there are only 24 kennels per boat (they expanded in 2016). Call them well in advance to make sure that there's space for Fido before you make your own booking.
Crate training
In my opinion, crate training is essential for all kinds of traveling with your dog. Whether it's in the car, on a plane or on a boat, there are so many occasions where a dog has to be in a crate, so you wanna make it comfortable for him. And the best way to achieve this is to teach your doggo to love his crate. Check out my guide on crate training in my post about the question if a dog can have fear of flying.
On the boat
So as I've mentioned before, there's really only one option to travel to Europe by boat with a dog, and that is on Queen Mary 2.
You'll basically be a VIP, you and your dog are allowed to board and disembark the boat first. Once on board, you'll surely receive lots of questions from interested fellow travelers. Here you can get a glimpse of what life is like for your dog on board of Queen Mary 2. Here's another article about the life on board.
Queen Mary 2 has a dedicated pets only area on deck 12 where only the pets and their owners are allowed. There are 2 indoor rooms, one is the sleeping room with the kennels in them. The other one is an indoor play area. Plus there's an outside area for the dogs to play.
Duration
This cruise ship crosses the ocean from New York to Southhampton (UK) or to Hamburg (Germany). The ocean crossing takes 7 nights from New York to Southhampton (UK). If you wanna go Hamburg (Germany), it takes 9 nights.
His "cabin", aka crate
There are two sizes:
Upper kennels' dimensions: 27″ high, 35 1/2″ deep, 30″ wide.
Lower kennels' dimensions: 36″ high, 35 1/2″ deep, 30″ wide.
The smaller ones cost $ 800, the bigger ones cost $ 1'000. It's also possible to book 2 kennels for your dog to have more space. You can take the separation walls out so you can make one giant kennel box.
Daily routine
While dogs are not allowed in guest staterooms or public areas, there are visiting hours, during which you can visit your pupper. These are:
8:00am to 10:00am

11:00am to 12:00pm

3:00pm to 6:00pm

8:00pm to 8:30pm
In order for you to spend the time on the cruise as a real holiday where you don't have to take care of anything, the staff will look after your doggo. Pets will be walked, fed, played with, cleaned after and even receive a welcome gift! Pettravel says: "Cunard's "Pets on Deck" program, including adding a range of pet-friendly services and amenities such as fresh-baked biscuits at turn-down; a choice of beds and blankets; and even a QM2-logoed coat. As part of the enhanced program, traveling dogs and cats also receive a complimentary gift pack featuring a QM2-logoed coat, Frisbee, name tag, food dish and scoop; a complimentary portrait with pet owners; a crossing certificate and personalized cruise card."
Michy Binkley has actually taken a video tour on the pets area of the boat. Make sure to check it out, it's a great way to know what to be expected.
Dog friendly cruises in Europe
Once you've arrived in Europe, it's not that difficult anymore to find boats that allow dogs. Here's an overview of pet friendly ferry crossings from the UK to mainland Europe.
Alternative
Flying
The only alternative would be to go by plane. In my post about how to manage a long flight with a dog in cabin you'll find everything you need to know if you're flying with a small dog. In case your dog has to fly in cargo, here are some things to look out for. Also make sure to check out my article about safety when flying with a dog in cabin.
Be aware that your dog is only allowed to enter the UK in cargo of an airplane. Dogs aren't allowed to enter the UK on a plane in cabin.
Comparison
| | | |
| --- | --- | --- |
| | Boat | Airplane |
| Costs per person | $ 899 – well over $ 2'000 | from about $ 300 |
| Costs per dog | $800 to $ 1'000 | from about $ 50 |
| Duration | 7 nights | 7h (New York to London) |
| Comfort | Luxury treatment for you and your dog, therefore much longer | Short but no option for your dog to stretch his legs |
| Overall canine experience | Pretty good if he doesn't suffer too much from separation anxiety | In cabin: very good. In cargo: can be very stressful, therefore only for a few hours |
Conclusion
For me personally, I'd always prefer to take a plane over a boat for long distance traveling with my dog. I'm a frequent flyer, though and I have a small dog who can fly in cabin. So for Baloo it's really comfy, he can just sleep at my feet, absolutely nothing to worry about. While on a boat he'd have to be alone and around other dogs which is double stressful for him. So flying is the cheaper, more comfortable and faster way for us.
If you suffer from fear of flying, though, going by boat might be the better option for you. Given that you have the time, an ocean crossing on a boat can be a really cool experience. Also, it's more of a luxury feeling, spending 7 nights on a gigantic cruise ship.
For your dog it can either be just as luxurious as for you or really stressful. If he likes being around other dogs and is crate trained, he'll probably have a blast. But make sure that you start planning and training early so that he's definitely ready for it.
Another thing to concern is that you'll land in a specific port if you're traveling by boat. From there you'll have to take a car or public transport to get to other countries. This can be lovely if you have the time. If you only have limited time, flying allows you to immediately go to you final destination which is generally easier.