*Disclosure: This post may contain affiliate links, meaning, I get a commission if you decide to make a purchase through one of my links, at no cost to you.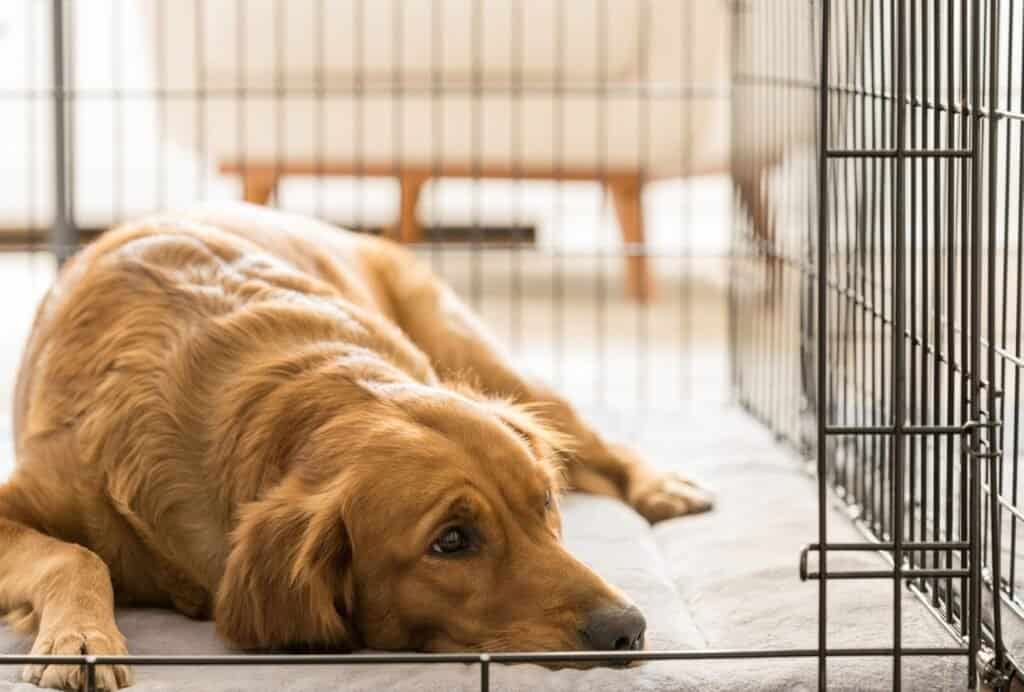 You've trained your dog since he was a puppy to stay in his crate. And it all seemed to be going well! But one day, your dog seemed to have taken ten steps backwards.
Now he won't settle down in his crate at all!
So what's going on? Why won't your dog go in his crate like he used to?
It's entirely possible that your dog is regressing on his crate training. Some dogs, especially younger dogs, go through phases where they regress a little bit. While it can be frustrating, it's also very normal for this to happen.
Luckily, it's totally possible to get your dog back on trick.
So in this article you get 5 tips for crate training regression. But before that, let's look at the if and the why.
Can Dogs Regress in Crate Training?
Unfortunately, yes.
But the good news is: this happens to almost every dog owner. Dogs don't have a linear learning curve. Sometimes they regress a little in their training before they can improve again.
We'll get into the reasons why this happens, and how you can help re-establish your dog's crate as a positive space. But make sure you check out these articles if you need any more information on crate training:
Why Does Crate Training Regression Happen?
If your dog used to be more than happy to hang out in his crate but suddenly doesn't want anything to do with it, that can be really confusing. After all, you've worked so hard to make his crate a comfortable space for him!
Usually, crate training regression is just a phase your dog goes through. Sometimes crate training regression can occur if you haven't been consistent enough with his training.
But there are a few other reasons why your dog might be regressing.
It's Normal for Puppies to Test Their Boundaries
Puppies are just like human kids. They're still learning about the way to world works, and exploring everything around them.
Part of that exploration might involve trying to figure out what he can and can't get away with.
While your puppy may have gone along with crate training at the beginning, you may find that he goes through a phase where he wants to test what his boundaries are.
While these phases can come up at any age, they tend to occur while your puppy is around six months old. This is when your puppy is the dog version of a teenager. And as part of this stage of development, your puppy might start acting out a little more than usual.
This is normal, and usually not anything to worry about! Just be gentle and firm with your puppy until the phase passes.
Something Uncomfortable Happened in the Crate
If your puppy is suddenly refusing to go in his crate, then it could be something about it made him uncomfortable.
Perhaps your dog was acting out, and you put him in his crate to punish him. Unfortunately, that has built up a negative association with the crate.
Or, maybe your dog had an accident in the crate, and now he's hesitant to go in.
Either way, the important thing is going to be to build up positive associations with the crate. If your dog has had an accident in the crate, then check out these 11 tips to stop a puppy from peeing in the crate.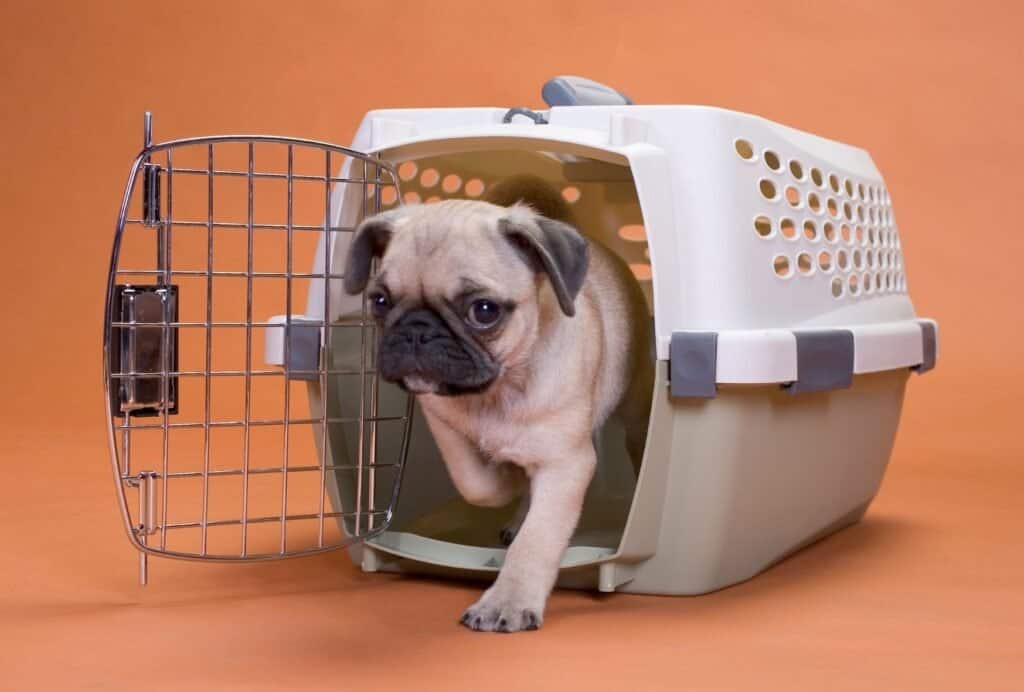 He Might Have Been Shy in the Beginning
When your puppy first comes home, he'll probably be a little freaked out. This might be his first time away from his littermates and his mama. Now he's in a completely new environment with someone who's basically a stranger!
You'd be pretty freaked out too!
Initially, your puppy's shyness may have prevented him from acting out over his crate. But now that he knows and loves you, and he's feeling a little more confident, he may be more willing to push his boundaries.
Again, this is normal! Just stay patient and consistent with his training.
5 Tips for Crate Training Regression
Dogs can regress in their crate training for a variety of reasons. No matter what the reasons are, the same general tips will apply for helping to get him to go into his crate easily again. Let's get into them.
1. Start Crate Training Again
Yes, that's right. You might need to start all over again.
If your dog has built up negative associations with his crate for whatever reason, then you'll need to help build up positive ones again. And that will most likely mean taking it once more from the top.
It might be a pain, but you've already crate trained him once. You can crate train him again! And, since your dog has already been through all the steps, with any luck it'll be faster the second time around.
If you need a refresher on the crate training process, then check out how to crate train a dog easily in 13 steps.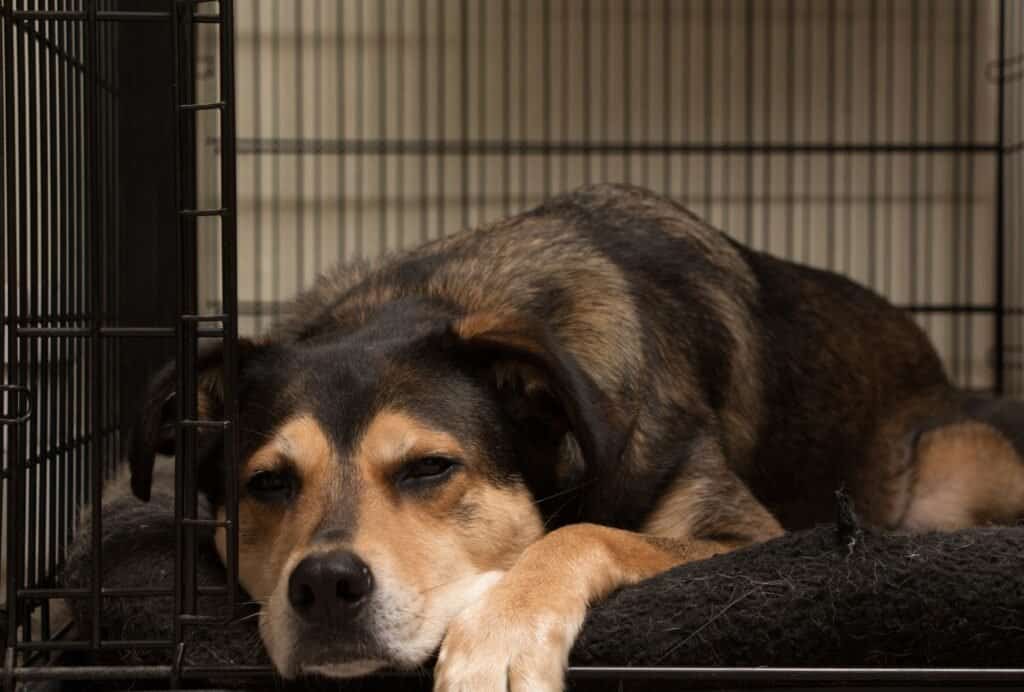 2. Make the Crate a Fun and Comfy Place
No matter what, your dog's crate should always be a super fun and comfortable place.
You can do this by playing some crate games with your dog. This will help build up positive associations with the crate. You can also try leaving one or two of his favorite toys in there.
You'll also want to make sure that his crate is super comfortable. That will help make it a place your dog wants to hang out in! Set him up with a comfy dog bed or blanket to make his crate extra nice to be in.
You should also make sure that the crate itself is good for your dog. For more advice, check out the 6 best crates for dogs to sleep in.
3. Feed Him in the Crate
Dogs love to eat. You've probably seen your dog get really excited when it's dinner time!
Because you're working to build up positive associations with the crate, you'll want all of his favorite things to happen in there. And that includes feeding him his meals!
Make sure you stay consistent with feeding him in his crate. With time, your dog will be more than happy to jump into his crate for his meals!
4. Give Him the Best Treats and Chewies Only in the Crate
Does your dog have any favorite treats? Or maybe he just loves chewing on those bully sticks you give him.
No matter what his preference is, you should make sure to only give them to him when he's in the crate. This is one of the best ways to build up positive associations.
Stick with this, and as soon as you pull your dog's favorite treats or chewies out of the cupboard, you'll see him race towards his crate to enjoy them!
5. Take Small Steps
Being firm with your dog's crate training is important. This is especially true if your dog is just trying to test you.
But at the same time, you really don't want to rush your dog.
If you go faster than your dog is willing to, that's only going to make him more anxious about the crate. And that's the opposite of what you want!
Stay consistent, but also pay attention to your dog. If he's really resisting going inside his crate, it's time to slow things down. Just be patient, don't give in, and go at your dog's own pace for the best results.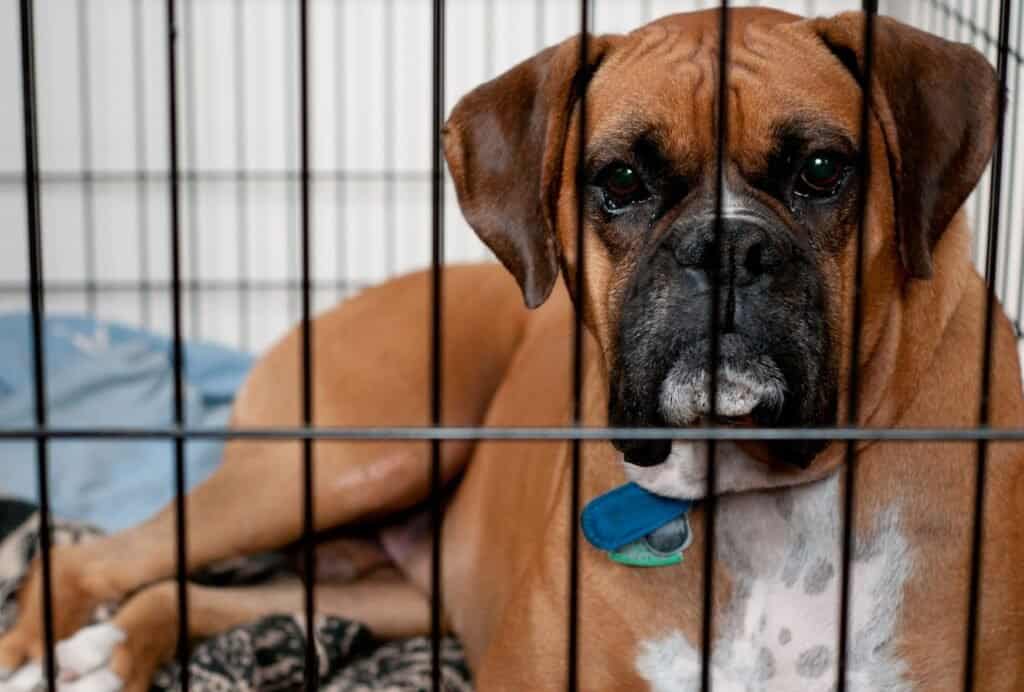 Why Does My Dog All of a Sudden Hate His Crate?
There are a few reasons why your dog might suddenly hate his crate with seemingly no warning.
If your dog's environment has changed, that could make him anxious. That, in turn, might make him hesitate to go into his crate!
If he's had any accidents in his crate, then that might also bring up some negative associations. So can keeping your dog in his crate for too long.
If you'd like more information on this and how you can help your dog, check out this article: Your Dog Suddenly Hates His Crate? Do This!
How Do I Get My Dog to Stop Crying in His Crate?
A dog crying in his crate can be pretty frustrating—for both of you! This is especially true if you're trying to get your dog to sleep at night.
Your dog might be crying in his crate because he's anxious about being in there. It could also be that he needs to go outside, or maybe he's still getting used to the crate.
If you're looking for ways to help him, check out these 7 tips to stop your dog from whining in the crate.
Conclusion
Your dog's crate is a really useful tool. But it gets significantly less useful if your dog refuses to use it!
While it's frustrating and feels like a major setback, it's normal for many dogs to experience a little bit of crate training regression. Usually, it's nothing for you to worry about.
But it does mean being proactive and intervening! If your dog is experiencing crate training regression, then it's time to start building up those positive associations again.
So follow the above tips and help your dog remember what a great, fun, comfortable place his crate can be.