*Disclosure: This post may contain affiliate links, meaning, I get a commission if you decide to make a purchase through one of my links, at no cost to you.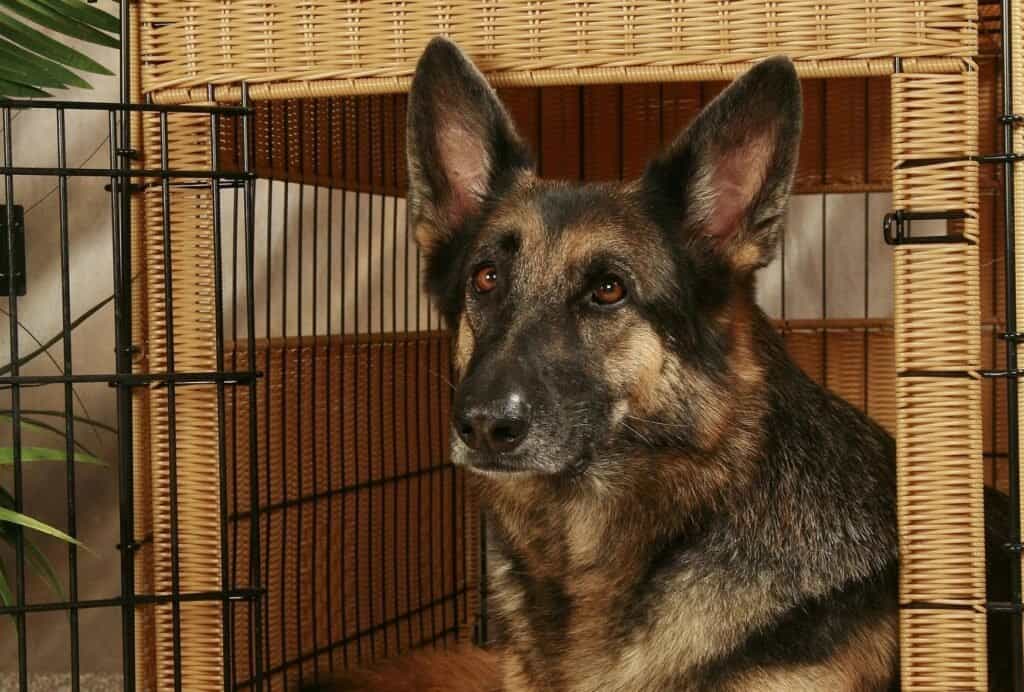 Having a dog that loves his crate is a blessing!
Crates are incredibly helpful to train your puppy or dog, especially when it comes to potty training.
Not only that, it's also particularly helpful if your pup is the super hyper kind, like my Mini Poodle Baloo.
It's gotten much better in the meantime, but when he was a puppy, he literally zoomed around 24/7! That's at least what it felt like.
He literally couldn't lie down on his own.
So, I needed the crate for him to sleep in. That was the only place he could calm down!
You surely want your dog to feel comfortable, though, right? Especially when it comes to sleeping, your dog should get the best experience.
This is why I've put together a list of the 6 best crates for your dog to sleep in.
There's an option for every kind or budget and kind of dog. So, I'm sure you'll find something that fits your needs.
How to Choose the Best Crate for Dogs to Sleep In
Crate training a dog is really important. It helps with behavioral problems like anxiety, and gives your dog a place to sleep.
When you're crate training, it's really important to choose the right crate. Today, we'll discuss some good crates to use while you're crate training a dog. We'll also discuss important things to consider when you're choosing a crate.
Get the Right Size
The first and most important thing to consider is to choose a crate that's the right size for your dog. Having a crate that's too small can be very detrimental for your dog's health.
On the other hand, you don't want to pick a crate that's too big. Not only will it take up unnecessary space in your house, but a crate that's too big won't be effective for your dog's training.
The crate should be a small, confined space where your dog can feel safe and settle down.
When choosing a crate size, consider that your dog should have enough space inside to be able to stand up fully and turn around.
There are general guidelines for the best crate sizes for your dog's breed and size. Always make sure to take your specific dog's height and weight into account while you're choosing a crate size.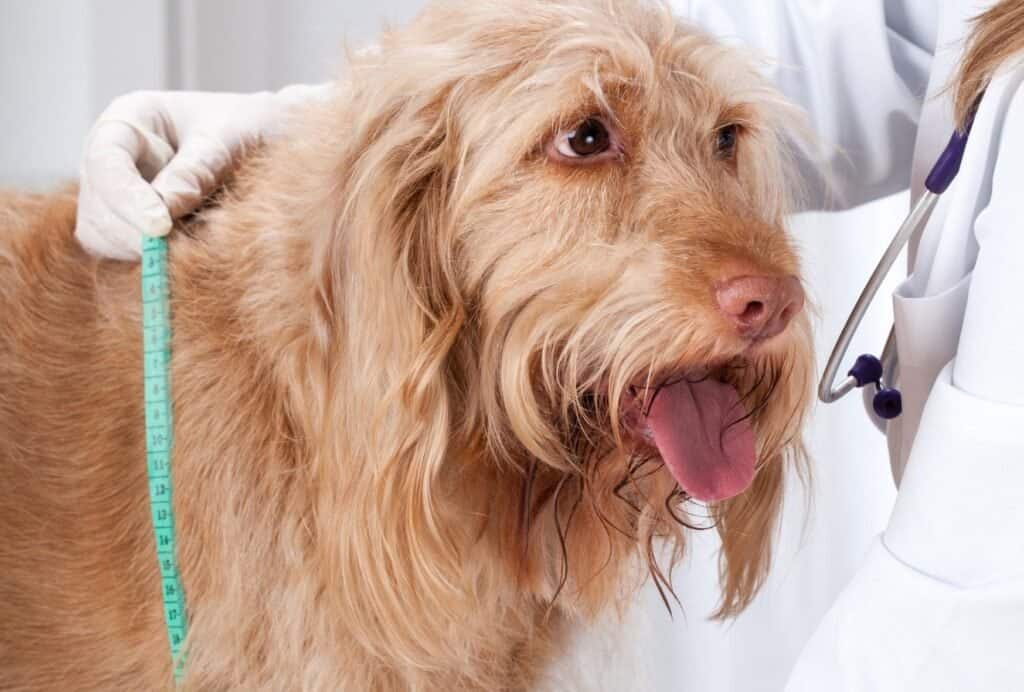 Think About the Material
Another thing to consider when you're buying a crate is the material it's made of. You want to choose a material that works for your lifestyle, as well as your dog's.
For example, a plastic crate isn't a good idea if your dog is a heavy chewer. This is especially true if your dog tends to chew as a way of self-soothing his anxiety. Crate training can initially be stressful for a dog, and plastic will be far too easy for your dog to chew his way through.
On the other hand, if you're planning on moving this crate around a lot, a heavy metal crate isn't going to work for you.
So before you go out and buy your crate, make sure that you're choosing the material that works for you and your dog.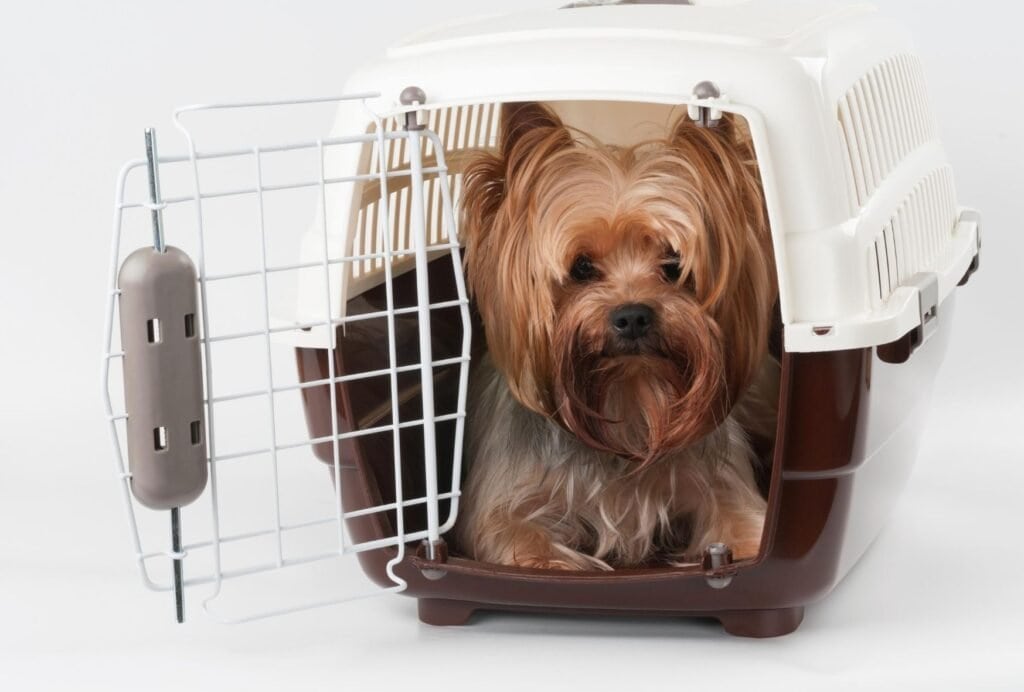 Durability
Your crate should last you a long time. Crates can be expensive, and they aren't the sort of thing you want to be replacing often.
While it might be more expensive to choose a good quality, durable crate, in the long run it'll be worth it.
Easy to Clean
Your dog's natural instincts should keep him from wanting to soil his sleeping space. But it's still important to recognize that accidents do happen.
It doesn't even need to be pee. Baloo has kind of a sensitive stomach and throws up every few weeks. Once he must have felt really bad and threw up in his dog backpack carrier… Consider things like that as well.
Besides, you'll still want to clean and sanitize his crate once in a while. He deserves it!
This is another thing to consider when you're shopping for a new crate. You want to make sure it's a crate that you'll be able to easily clean. All types of crates require different cleaning methods, so look into which methods each crate requires and decide which method you can see yourself dealing with.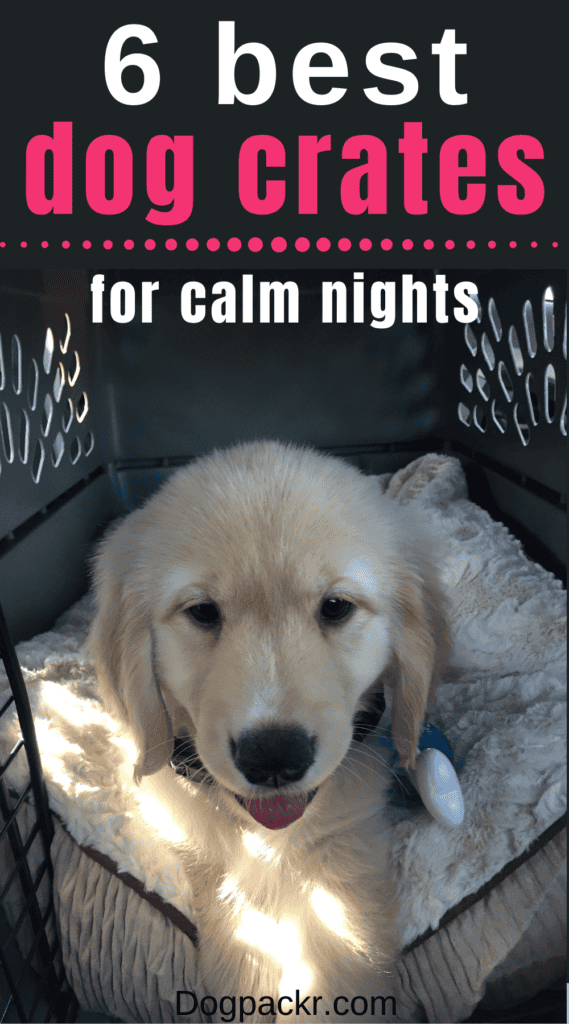 6 Best Dog Crate for Dogs to Sleep In
Now that we've talked about some of the basic things you should consider when buying a crate, let's take a look at some of the best crates on the market.
So, here are the 6 best crate for dogs to sleep in.
Price: $16.99 to $69.69
If you're shopping for a crate that won't put a dent in your wallet, this crate is an awesome option. The prices vary by size, with a 30-inch crate costing $31.99.
Pros: the price of this crate is a huge pro. Crates can run upwards of $100.00, so having a cheaper option can be really helpful for people on a budget.
Cons: some people have reported that this crate may not latch very well. If you're crating your dog because he tend to get into things and cause trouble, this is probably not the crate for you.
Price: $55.99 to 104.61
This crate, which costs $69.99 for a 30-inch crate, comes with not only the crate itself, but a few accessories. You'll be getting a cover for your dog crate, 2 dog bowls, plus a pet bed.
Pros: this crate comes with everything you could possibly need. If you don't already have a dog bed, this crate will provide you with one. Even if you do have one, it never hurts to have another! It's definitely the perfect crate for a first-time dog owner.
Cons: Some owners have reported that this crate might be easily bent. If your dog tends to be destructive or a bit of an escape artist, you might want to look into a different crate, like number 6 on this list.
Price: $142.49
Costing $142.49, this crate is specifically for giant breed dogs. It's made to be sturdy, easy to clean, and will be the perfect fit for your Great Dane or Irish Wolfhound.
Pros: this crate comes as a single-door option or your can order it with two doors, which makes it easier to position the crate. It also has a removable bottom tray to make cleaning easy. If you have a giant breed dog, this crate should be your go to.
Cons: The main con for this crate is probably the exact same reason why you'd buy it—it's big. This crate will take up a lot of space in your home. But if you're planning on crate training your giant breed, it'll be worth it.
Price: $42.99 to $79.99
This option is best if you plan on traveling a lot with your dog. Like all crates, the price for this one varies by size. You can expect to pay $64.99 for a 30-inch crate.
Pros: soft crates are great because they're lightweight and easy to travel with. This one will fold up easily for quick storage. It also comes with a carrying bag, which you'll find super helpful during travel. If you're going to be traveling a lot with your dog, definitely check out this crate.
Cons: because this crate is soft and collapsible, you won't want it for your everyday use. It's great for traveling, but you'll have to buy a second crate for the one you use in your home.
Price: $91.17 to $449.99
Costing an average of $152, this crate works as a place for you dog to sleep, as well as an end table. Who knew a dog crate could be so stylish—and functional!
Pros: As useful as dog crates are, they don't tend to be very pleasing, aesthetically. Big metal or plastic boxes in your home can be an eyesore. The ecoFlex Pet Crate/End Table shows that dog crates don't have to only contain your dog. They can look nice, too!
Cons: some owners have stated that while its looks are great, it's not the sturdiest crate on this list. This crate will be best for a dog that's already crate trained, and is able to calmly spend time in his crate without trying to escape.
Price: $357.31 to $420.28
Don't expect your dog to be able to chew his way out of this one! This crate, which costs $357.31 for the medium version is perfect if you're looking for a strong, durable crate for your dog.
Pros: if your dog has chewed through every other crate on the market, this one is probably your solution. Its 20-gauge steel is reinforced with steel tubes, making it almost impossible for your dog to tear through. Its wheels allow for easy movement—but don't worry, they do lock.
Cons: the major con for this crate is probably its price. Because it's such a heavy-duty crate, it will take out a fair chunk of your paycheck.
Related Questions
Now, this list hopefully helped you made a decision on which crate is the best for your dog to sleep in.
Once you've made the decision, you'll likely have some more questions. Let's look at these now.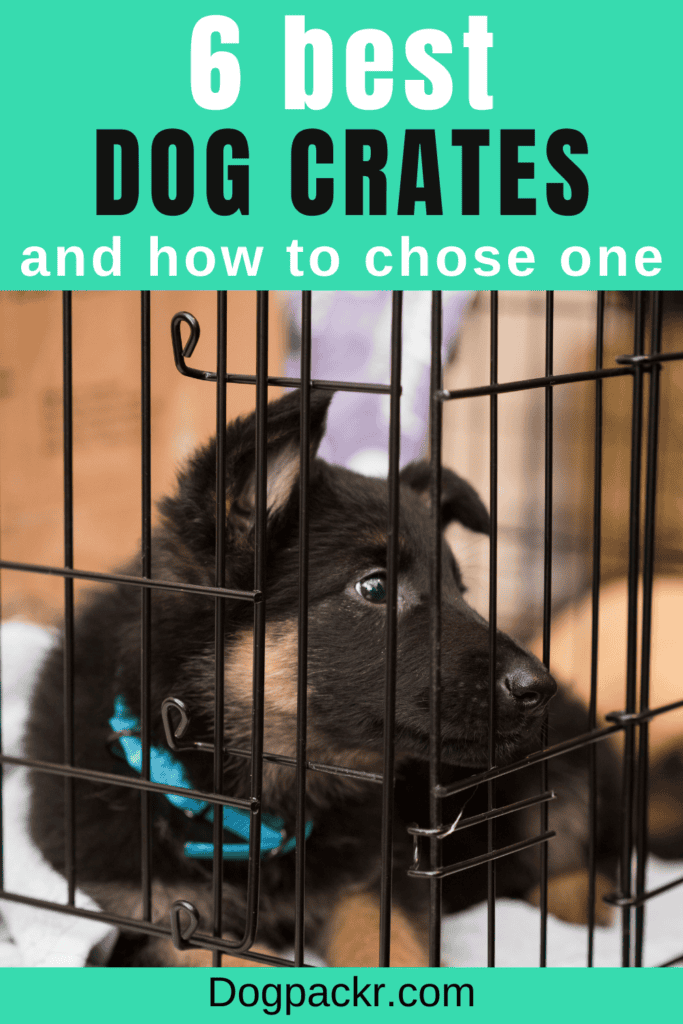 How to Crate Train a Dog
Crate training takes advantage of your dog's natural den instinct. This instinct comes from his wolf ancestors, and compels him to seek out small spaces where he can feel safe.
Dogpackr has written several articles about crate training already. Check out this one if you're looking to crate train a puppy or a young adult dog.
Have an older dog? Don't worry, it's not too late. Dogpackr has an article for crate training older dogs too!
The main thing to remember when crate training any dog is patience and consistency.
Some dogs will take to crate training right away, but for others it might take a little longer. Remember to be patient, and go at your dog's own pace. And remember to never use the crate as a punishment. It should always be a positive space for your dog.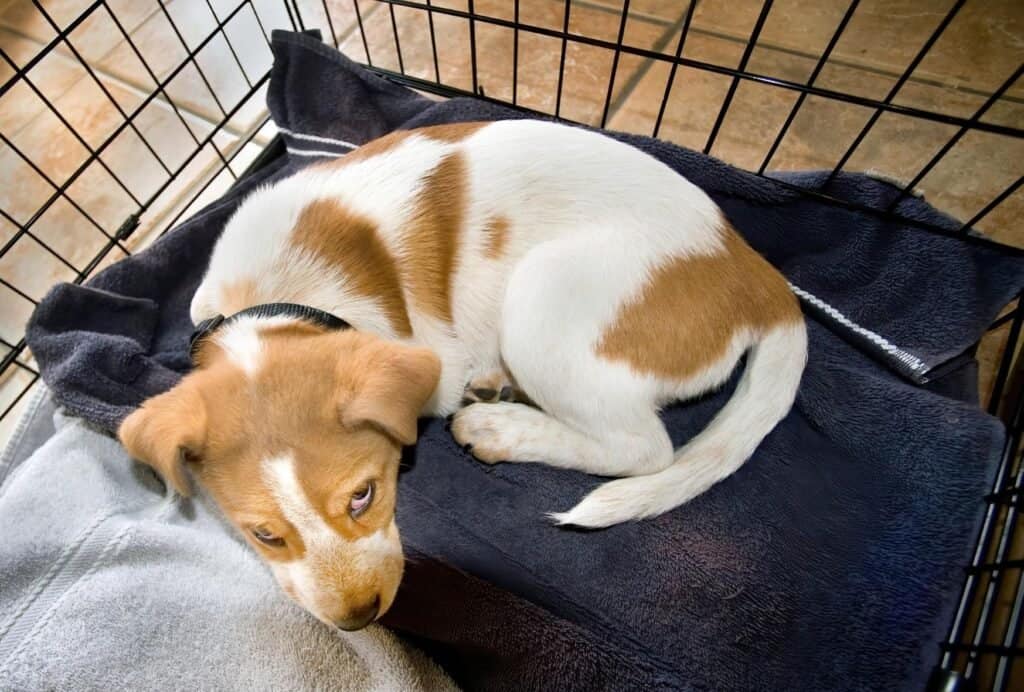 Is It Cruel to Put My Dog in a Crate at Night?
Keeping a dog in a cage all night seems cruel… right?
Well, as Modern Dog Magazine points out, viewing the crate as a cage trapping your dog is just one perspective. Lots of owners—and dogs!—view their crates as a cozy hideaway, like a bedroom.
We can talk about the den instinct here again. Your dog's ancestors purposefully sought out small, confined areas where they could settle down, feel safe, and sleep.
Instead of thinking of your dog's crate like a prison cell, think of it as a place where your dog can get away from the stressful bustle of everyday life, and lie down for a good sleep.
As I've mentioned before, the crate is honestly what saved my sanity when Baloo was a puppy. It was the only place where he could relax and sleep.
If you have a super active dog too, make sure to get my free guide for a calm dog to learn the 3 easy steps that helped me calm Baloo down!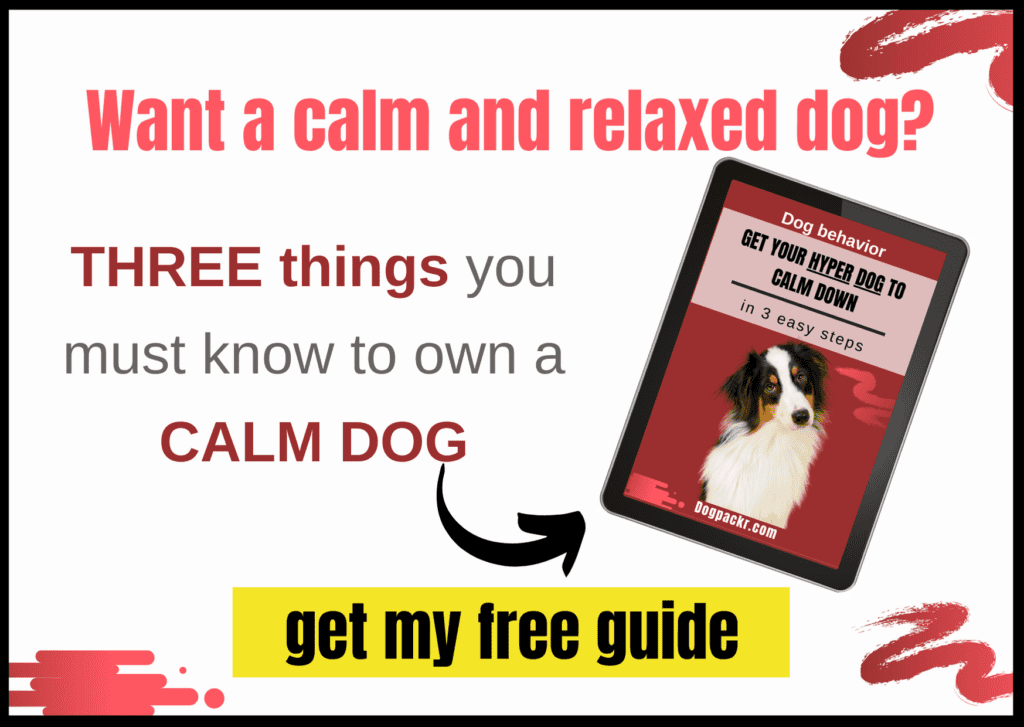 Where Should I Put My Dog's Crate at Night?
While you're first training your dog to sleep in his crate at night, you should put it in your bedroom with you.
You want to position it so your dog can see you. This will make him less anxious as he gets used to sleeping in the crate. If you're crate training a puppy, you'll want him close by so he can let you know if he needs a potty break.
As your dog gets used to sleeping in his crate, you may be able to move it to a corner of your room farther away, or even a different room completely.
What Size Crate Should My Dog Sleep In?
Your dog should sleep in a crate that's the right size for him. He should be able to stand up and turn around comfortably in his crate.
As long as he can do this, and you've made the crate comfortable for him with cozy blankets and a dog bed, he'll be perfectly fine in his crate.
When Can I Let My Dog Sleep Out of the Crate?
If you want to transition your dog from sleeping in his crate to sleeping outside of it, it's entirely a personal choice when you want this to happen.
Some owners choose to continue having their dogs sleep through the night in their crates. But others prefer to use the crate as a tool to help housebreak their dogs, and then let their dogs sleep elsewhere.
If you're looking to allow your dog to sleep outside of his crate, there is a good rule of thumb. You should spend at least 2 months with your dog sleeping through the night easily in his crate before letting him sleep outside of it. This will ensure that your dog is actually able to sleep through the night, and won't come pester you during your own shut-eye.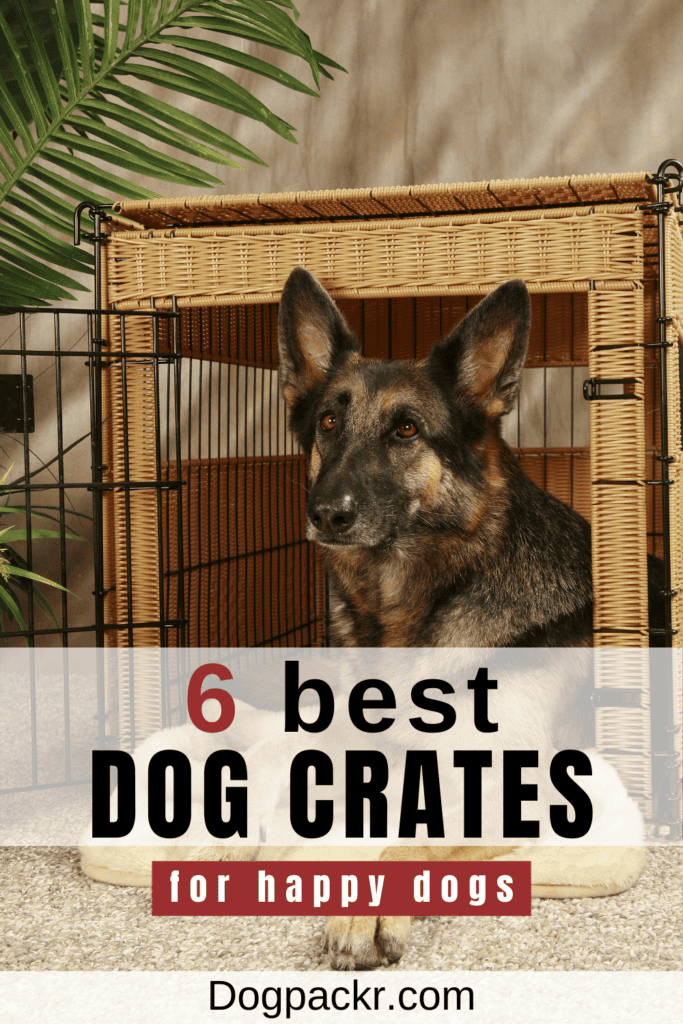 Conclusion
Crate training is an awesome tool for dog training—assuming you do it right, of course.
As long as you put in the work, remember to be patient and consistent, and go at your dog's own pace, you'll find yourself with a dog who loves his crate!
Of course, the first step to achieving this goal is to make sure you have the right crate! That's especially important if you want your dog to sleep calmly in it.
You should consider your dog's size and weight. Also consider that you want the crate to be long lasting and durable. You'll need to clean it, so pick a crate that you know you'll be able to clean.
Once you've chosen the right crate for your dog, you can start treating it like your dog's own little bedroom. Keep it cozy and comfortable, and your dog will love it—and so will you!
And don't forget to get my free guide for a calm dog to get the full process for a calm and happy dog!