*Disclosure: This post may contain affiliate links, meaning, I get a commission if you decide to make a purchase through one of my links, at no cost to you.
Are you sometimes seeing your dog sniffing the air like there's no tomorrow?
You probably don't smell anything weird and might be wondering: why on earth is my dog sniffing the air? There's nothing unusual.
Well, the truth is that dogs have an incredibly strong sense of smell. So, just because you don't smell anything, doesn't mean that there isn't some super interesting information flying around in the air.
But there are actually a couple more specific reasons for this curious dog behavior.
So, in this article I'll show you all the reasons why your dog might be sniffing the air.
Why Is My Dog Sniffing the Air?
If you've ever caught your dog with that focused look in his eye while sniffing the air, you might be wondering what that's all about. If there's nothing that you can see that might be triggering his sense of smell, then what is he sniffing?
We love our dogs, but sometimes they can be a bit of a mystery! Your dog probably performs many behaviors that confuse you. And if he spends a lot of time sniffing the air, that might be one of them!
Here are some related articles about weird dog behavior you might have been wondering about:
If you're trying to get a better understanding of your dog, here's why he might be sniffing the air so much.
Dogs Have a Very Strong Sense of Smell
You've probably heard before that a dog's sense of smell is extremely strong.
But how strong is it, exactly?
Your dog's nose is somewhere between 10,000 to 100,000 times stronger than ours. This means that your dog's sense of smell is even stronger than your vision.
Because your dog's nose is so sensitive, he's going to pick up on smells that you couldn't possibly be aware of.
Your dog's breed also plays a role in his ability to smell. Breeds like Bloodhounds and Basset Hounds tend to have stronger senses of smell than breeds like a Shih Tzu. This is because hounds needed to have noses that were as strong as possible in order to track other animals.
He Might Have Heard Something and Is Trying to Figure Out What It Is
Just as dogs have a strong sense of smell, they also have extremely sensitive hearing.
In fact, if you're wondering why your dog barks at night, then it could very well be because he's hearing something you can't.
If something triggers your dog's incredible sense of hearing, then he might start sniffing the air. When he does this, he's trying to pinpoint exactly what it was that made that sound!
He Picked Up Another Dog's or Animal's Scent
All dogs will be interested in the scent of another animal. If there's another dog nearby, then your dog could be sniffing the air because he's trying to figure out who it is.
Likewise, if your dog picks up the smell of another animal other than dogs, then that's something he'll probably be pretty interested in too.
All dogs have a prey drive—in some dogs the prey drive is just stronger than in others. If your dog smells another critter nearby, then his prey drive could be triggered. He might be sniffing the air because he's trying to track down what and where that other animal is!
He Smells Food
As a general rule, dogs love food!
And since your dog's sense of smell is so strong, he'll be able to smell food even from far away.
Whether it's your dog's next meal that he's sniffing or someone else's being prepared in your house, your dog will be pretty interested in whatever's going on.
Context will, of course, help you determine if this is why your dog is sniffing. Is someone cooking? Or are you preparing your dog's food bowl? That's probably why he's sniffing the air.
Why Is My Dog Sniffing the Air And…
Okay, so now you know the general reasons why your dog might be sniffing the air. Now, let's look at a few other behaviors your dog might be displaying when sniffing the air.
Licking?
Sniffing the air is one thing. But when you combine your dog's air sniffing with licking, that can be really confusing.
There are a few reasons why your dog might be doing this. First, he might be licking because he's hungry. Bear in mind that your dog's sense of smell is very closely connected to his sense of taste.
If he smells food, he might start licking because he's getting ready to eat!
Excessive licking can also be a sign of stress or anxiety. Your dog might have picked up on a smell that's making him nervous, like another dog.
Pacing?
If your dog picks up on an interesting scent, then it's pretty normal for him to want to check it out. He might get up and walk around a bit to try and track it down.
But if your dog is pacing rather than just exploring, that's a sign there might be an issue. Dogs tend to pace when they're nervous, just like humans do.
So if your dog is pacing as he sniffs the air, he's probably picking up on a smell that's making him anxious or nervous.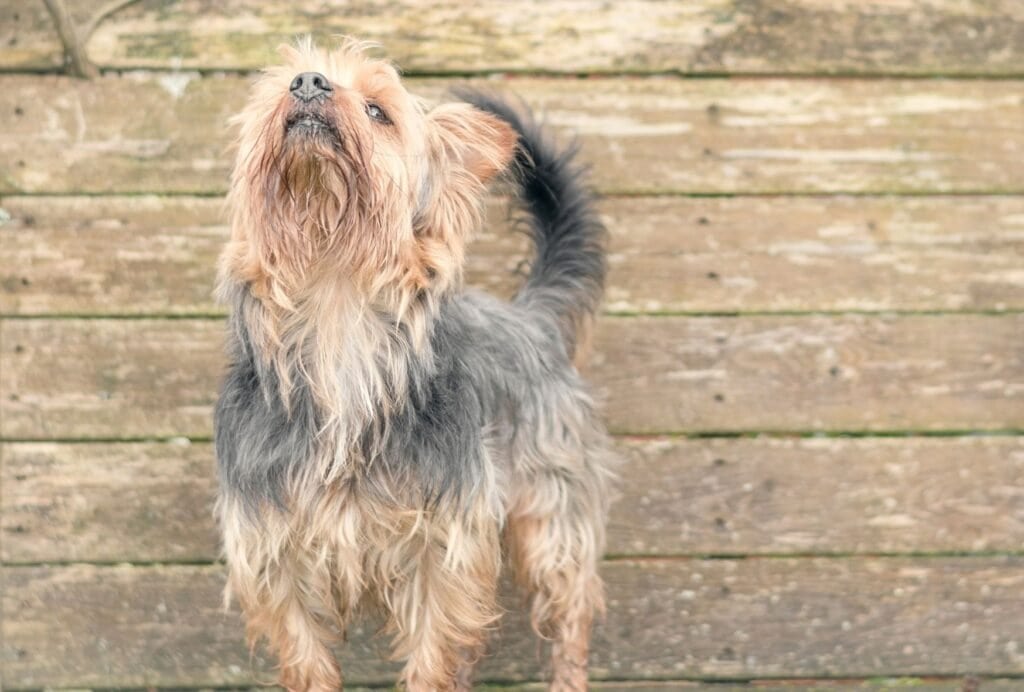 Barking?
Dogs bark for a lot of reasons. Usually, they bark because something is exciting them. Your dog might be sniffing the air and barking because he smells something interesting nearby.
Maybe there's another dog close by and he's trying to greet him—or warn him to stay off his territory!
Sometimes dogs bark when they're trying to get attention or something else from you—especially if food is involved. This could be your dog's way of saying, "Hey, I smell food and I'm hungry!"
Finally, dogs might also sniff the air and bark because they're bored. You can help keep your dog from getting bored by checking out these 10 brain games for dogs to play at home.
Whining?
There are many possible reasons why your dog is whining. He might want your attention or he might be bored.
But when you combine whining with sniffing the air, then the most likely cause is that he smells something that's exciting him or stressing him out. Your dog might smell another animal nearby, and that's worrying him.
Sniffing and whining could also be for attention. Just like sniffing and barking, your dog might be trying to get food from you, or he might just be trying to get you to focus on him a little more.
Shaking?
If your dog is sniffing the air and shaking, that's a major sign that he's feeling stressed about something.
If your dog frequently does this, then you should work to find out what exactly is making him so nervous. Figuring out why your dog is stressed out and removing the stressor is the best way to help him.
Why Does My Dog Keep Sniffing and Licking Me?
Well, you go a lot of places and do a lot of things throughout the day. As you go about your daily activities, you pick up a lot of smells. And, once you get home, your dog is going to be pretty interested in those smells!
He might spend some time sniffing you, especially if you've been somewhere new. And since your dog's sense of smell is very closely connected to his sense of taste, he might start licking you too.
This is pretty normal behavior! Of course, if it's starting to get annoying, it's something that you can train out of him.
Why Does My Dog Sniff My Private Areas?
If your dog is sniffing your crotch, then this is just one example of the many differences between our two species.
Dogs sniff each other's rears to get to know each other. Your dog might sniff your private areas for the same reason.
Your dog could also be sniffing your private areas because of your apocrine glands. These glands tell your dog a lot of information about who you are.
Unneutered males tend to be especially avid sniffers. So if your male dog isn't neutered, he's more likely to get pretty intense about his sniffing.
Why Does My Dog Blow Air Out of His Nose?
If your dog is blowing air out of his nose pretty forcefully, then you might be wondering what that's all about. Most of the time, it's really nothing to worry about.
Some dogs get clogged nasal passages because of colds or allergies. In these cases, your dog may blow air out of his nose to try and clear out his nostrils.
It could also be something that some people call a "reverse sneeze." When dogs have a reverse sneeze, they may inhale very quickly and then snort or make a gagging sound. Many owners worry when they see or hear their dogs do this. But don't worry—it's super normal!
You will also see him blowing out air of his nose after he sniffed something intensively. Where air goes in, air has to come out again…
While most of the time a dog blowing air out of his nose is nothing to worry about, there are some cases where it could signify a problem. If your dog's breathing is generally labored, then it might be time to take a trip to the vet.
Conclusion
Your dog is your best friend. But that doesn't mean you understand everything that he does! There are many behaviors that dogs perform that are so different from our own that they can be pretty confusing.
Dogs sniffing the air is very normal behavior for dogs, but it might seem weird to us! But once you understand how powerful a dog's sense of smell is, it makes sense that he's sniffing around so much. He's just smelling something that you're not aware of!