*Disclosure: This post may contain affiliate links, meaning, I get a commission if you decide to make a purchase through one of my links, at no cost to you.
When your puppy is still young, it's normal for him to jump, bite and bark. All of these things are part of your puppy growing up and learning about the world!
If these things are bothering you, it's just a matter of reinforcing good behaviors while ignoring bad ones.
But what if your puppy is actually showing signs of aggression? How can you tell? What are the differences between a puppy just displaying annoying puppy behavior and actual aggression?
We'll go over all of that, but first let's talk about what normal puppy behavior looks like.
When Is a Puppy Aggressive?
Alright, before we cover the 6 signs of an aggressive puppy and how to stop it, I'd like to first take a look at what kind of puppy behavior is completely normal.
He'll normally outgrow this behavior with time or some simple training.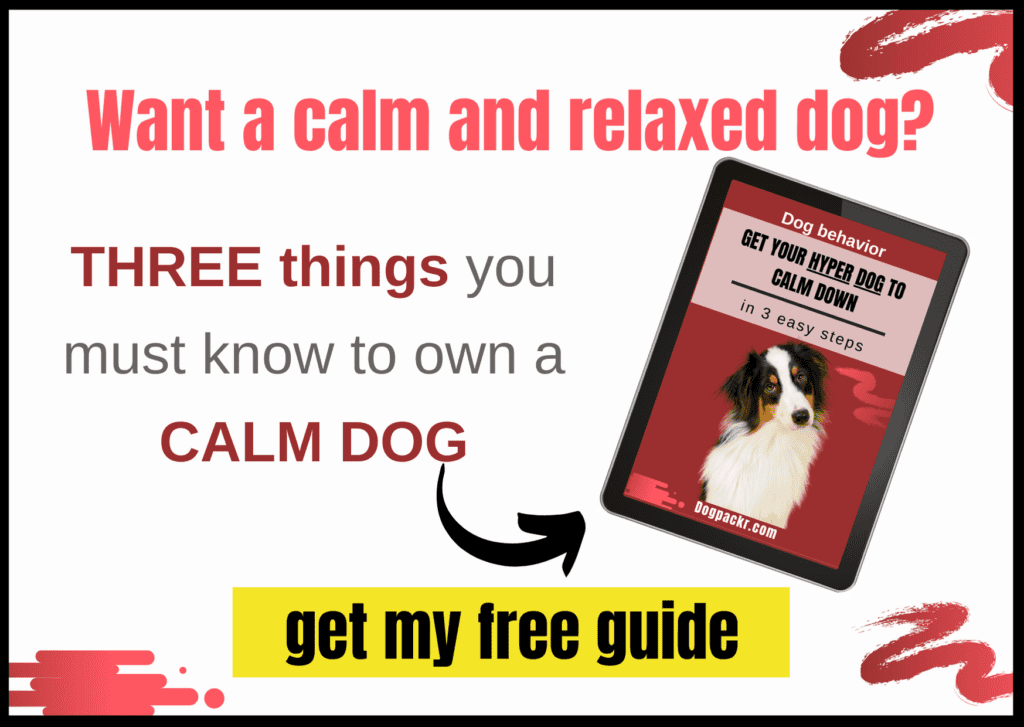 What's Just Normal Puppy Behavior?
Lots of people see puppies playing and watch the puppies bite each other. Or maybe your puppy is chomping down pretty hard on your arm. You might be worried that those are signs that you've somehow ended up with an aggressive puppy!
The reality is that those signs are rarely anything to really worry about. Most of the time, a puppy biting hard is just a sign that your puppy has bad bite inhibition. This means that your puppy just doesn't understand that he's biting too hard, and needs to learn not to.
If you're struggling with that, check out this article: "How to Stop Your Puppy's Biting Habit for Good."  
Some puppies also naturally have rough playstyles, which is something that concerns many puppy parents. Just like with bite inhibition, a rough playstyle is something that you can train out of your dog.
Biting, barking, jumping, and rough play might seem like cause for concern. But usually, it's just something that your puppy needs to grow out of—with your help, of course!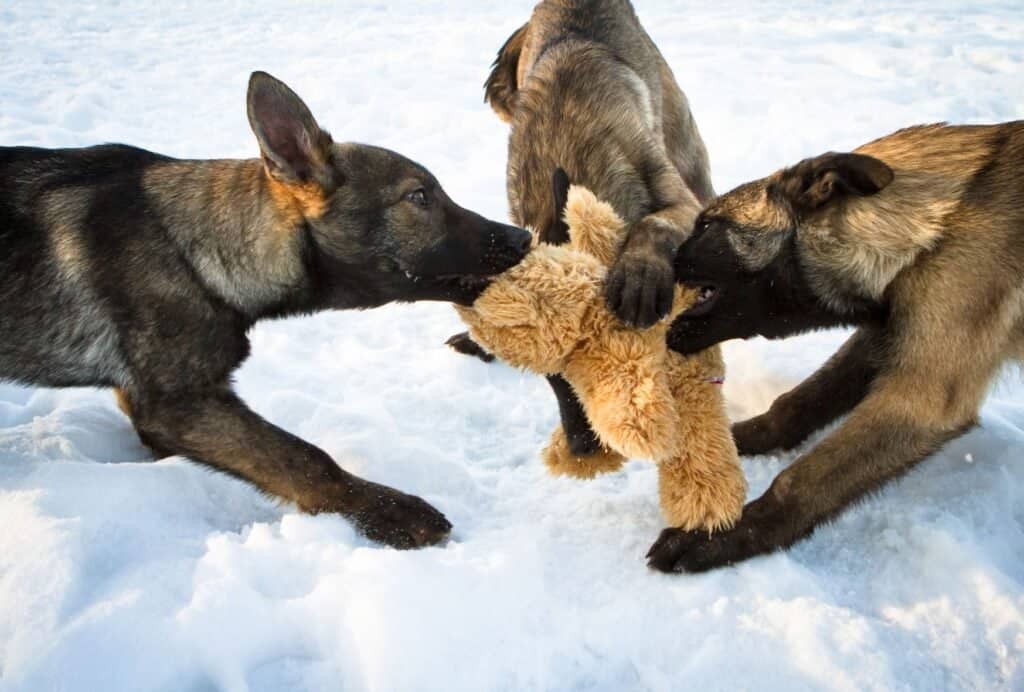 How Can You Tell If a Dog Will Be Aggressive?
Even though most of the time the things new puppy owners worry about are completely normal parts of puppies growing up, there are some things you should be aware of.
Keep an eye on your puppy's behavior as he's growing up. If you notice any behaviors in your dog that are signs of aggression, it's important to nip them in the bud right away. This will prevent your puppy from growing up into an aggressive dog, when the behavior will be much more difficult to manage.
You should also bear in mind that aggression isn't breed-specific! Any breed can be aggressive. And remember that most of the time, aggression is a dog's response to fear.
So with that said, let's get into the signs you should be watching out for.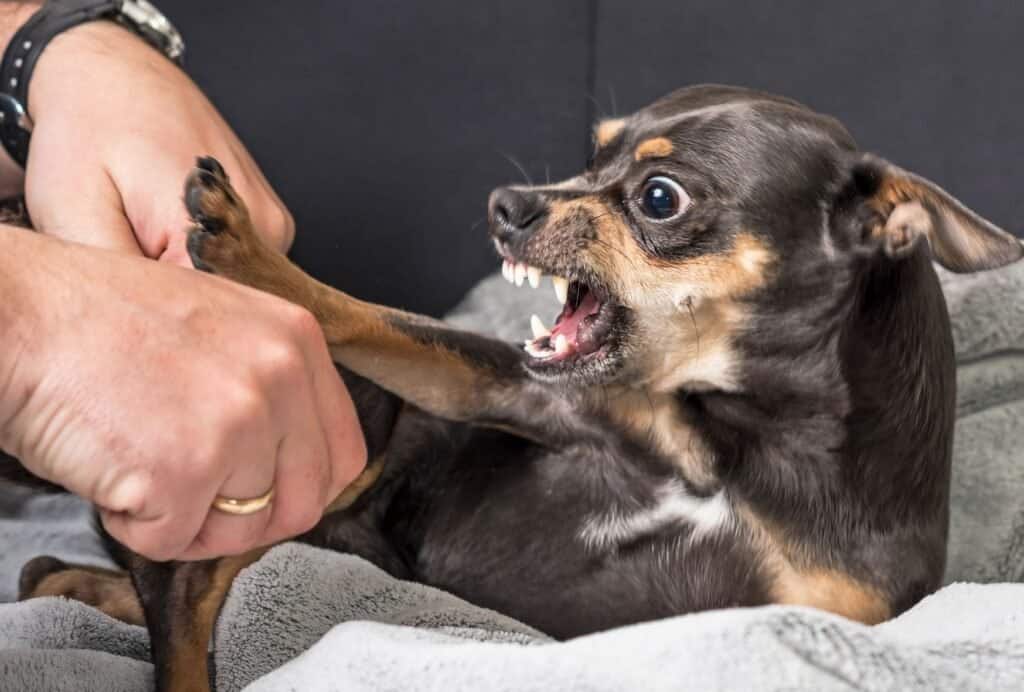 6 Warning Signs of an Aggressive Puppy
1. Growling or Snarling
A little bit of growling during playtime is perfectly normal for some puppies. But if your puppy is growling or snarling excessively, that's a sign he might be showing some aggression.
This is particularly true if he's snarling or growling when you or other dogs approach his toys or food.
2. Snapping
Puppies often bite as part of playing as well as a way to explore the world. But sometimes that biting is a sign that your dog is feeling a strong negative emotion about something.
Here's how you can tell the difference between play biting and aggressive snapping: Play biting can easily be redirected towards a toy, and your dog shows signs of happiness like a bouncy, upright tail.
Aggressive snapping will be paired with aggressive or defensive body language, like rigidness, showing teeth, or lunging.
3. Baring Teeth
Baring teeth is one of the biggest signs of aggression. When your dog bares his teeth at you or another dog, he's saying, "Back off!"
Some puppies tend to show their teeth when they're playing. But like most of the behavior on this list, if this behavior is paired with stiff body language and growling, that's a sign that your dog isn't playing.
4. Lunging at Other Dogs or People
It's pretty normal behavior for puppies to jump around when playing or exploring. A puppy who's enthusiastic about the world and wants to check things out and explore is nothing to worry about!
On the other hand, if your puppy is straining at his leash to get to other dogs or strangers while he's baring his teeth and growling or snarling, that's more than a warning sign. You'll want to get some help for you and your puppy!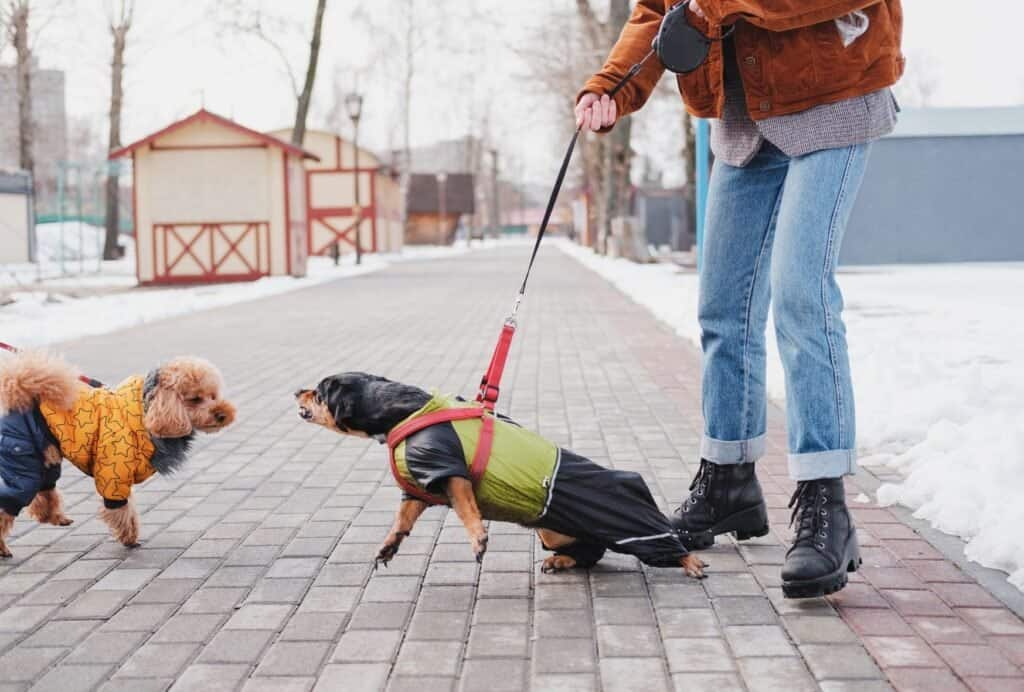 5. Bite and Hold onto Littermates While They Cry
Puppies usually learn bite inhibition by playing with other dogs. The way this works is that a puppy will bite one of his littermates too hard during play, the bitten puppy will usually yelp loudly and stop playing. This usually startles the biting puppy, and shows him that that game was no fun. Both puppies usually take a few seconds to cool down, and then it's right back to playing!
Just like humans, not all dogs are great at reading social signals and might not understand at first that "no" means "no." But if your puppy grabs hold of another puppy and won't let go even when that puppy cries, that's a major sign of aggression.
6. Overly Possessive of Food and Toys
Resource guarding is normal dog behavior, but it can become dangerous if left unchecked. It's also pretty usual to see in young puppies.
Resource guarding usually looks like your dog growling, snapping, or showing other signs of aggression when you or another dog approaches food or toys. You're more likely to see this in puppies who have been fed from the same bowl, or who had to share toys.
It's important to get your puppy from a reputable breeder and avoid puppy mills where many dogs end up with behavioral problems. Some dogs just tend to lean towards resource guarding because of their personalities, but going to a reputable breeder is the best way to avoid puppies who resource guard.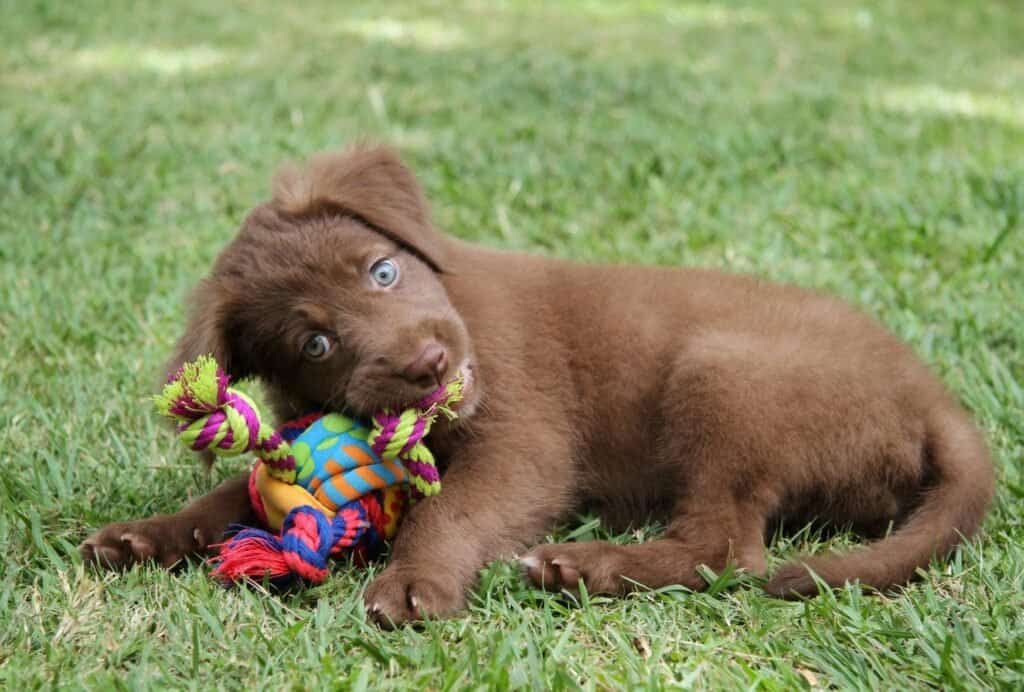 How to Stop a Puppy from Being Aggressive
Okay, you know the signs of an aggressive puppy. Now, let's look at what you can do to stop this behavior.
Interrupt the Behavior by Startling Him
If your puppy is showing signs of aggression, it can be hard to get your puppy's attention.
Making a loud noise to startle him and get him to notice you is one way you can interrupt the behavior. This way you can redirect his attention to a better behavior. This won't be a permanent fix, but it's a good way to stop him in the moment.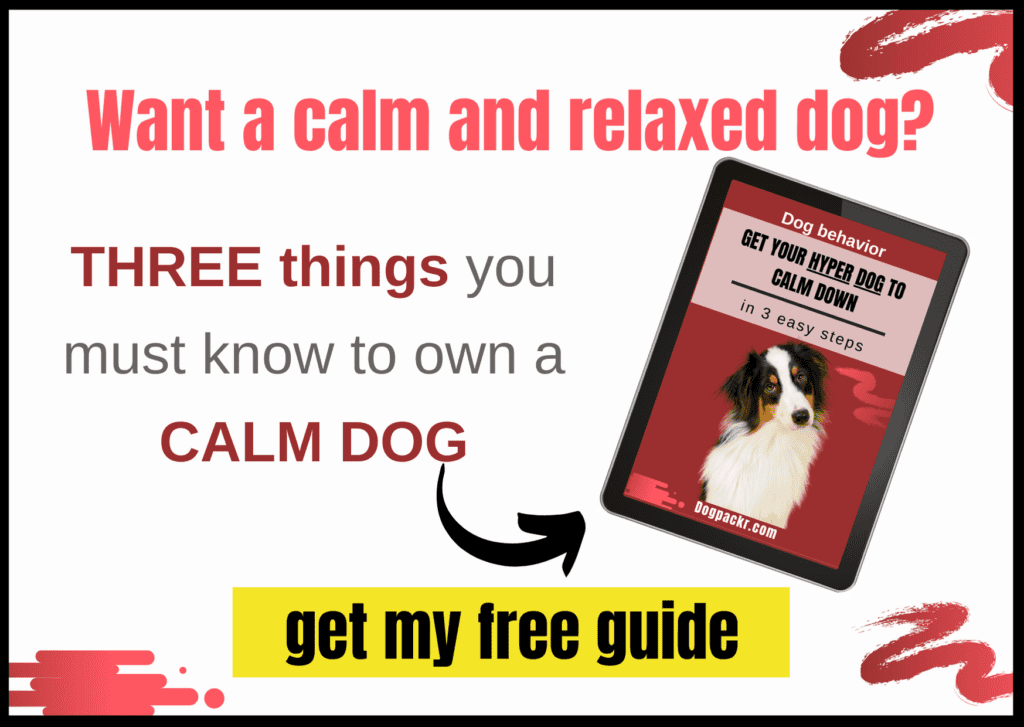 Give Him a Time Out
Your dog's crate is a useful tool for situations like these. If you haven't crate trained your puppy yet and don't know where to start, here is how to crate train a dog easily in 13 steps.
Putting your dog in his crate for a time out when he's showing signs of aggression is a good way to get your dog to cool down. It ensures that everyone is kept safe!
If you have a puppy-safe room, this is an even better option. I prefer to keep the crate a positive-only space. And while you can still keep it that way even if you're putting your puppy in there for a time out to cool down, it's more efficient if you do it in a room that he doesn't have a strong connection with.
The bathroom works great, for instance. The time out shouldn't be long, a few seconds are usually enough. It's just to get him out of the situation and get him to refocus.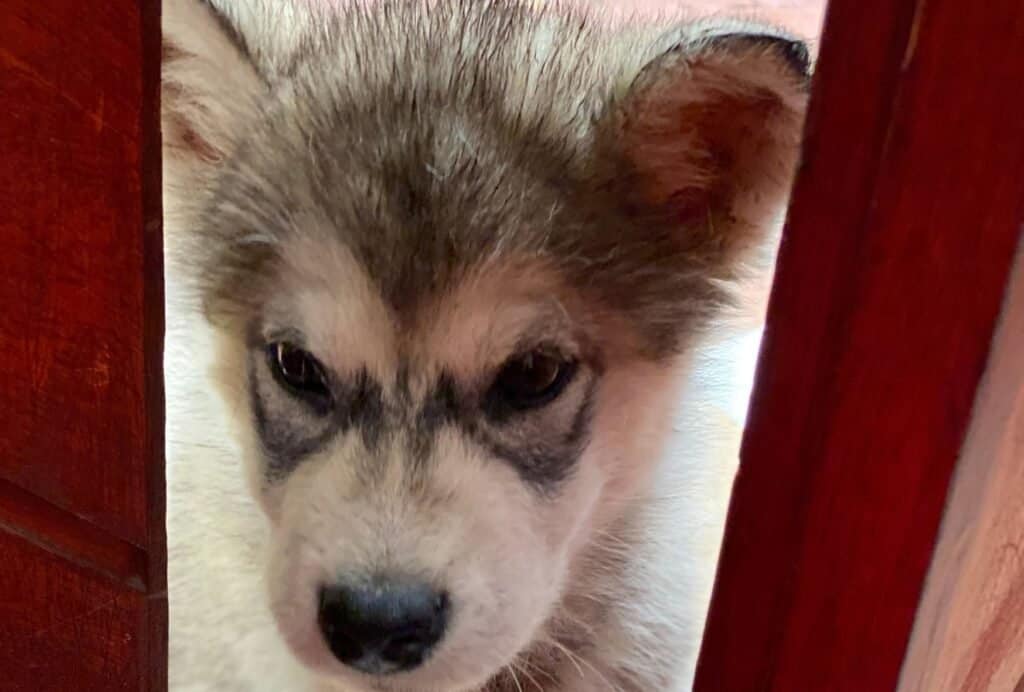 Provide Socialization
It's really important to socialize your puppy properly so that you can avoid these kinds of behavioral problems. You'll want to make sure you're socializing your puppy with other dogs, and with humans too.
It's also important to socialize your dog as early as possible! It's much easier to teach a puppy how to interact politely with other dogs and people than it is to teach an older dog not to be aggressive.
Redirect the Behavior
A lot of the time, aggression comes from a dog's fear or anxiety about something. That's why it's important to teach your dog how to redirect his behavior.
One example of this is counter-conditioning. For example, if you have a puppy who lunges on walks, pay attention to his triggers.
Then, once you know his triggers, interrupt the behavior by getting your dog to look at you as soon as he sees his trigger and give him a treat. Over time, your dog will learn that his triggers aren't scary, and that they'll actually get him some tasty rewards.
Talk to a Dog Behaviorist
There's no shame in asking for help, especially if it's for something as serious as dog aggression. Look around your city for local dog trainers, and find one that specializes in aggressive and reactive dogs.
You should also look for trainers focusing on positive reinforcement instead of punishment-focused methods. Positive reinforcement will help build confidence, reinforce good behavior, and is overall a far more effect way of training!
Conclusion
When your puppy is still young, it's normal for him to be mouthy. Some puppies naturally bite more than others, and some are just naturally rough players. This is all behavior that you can help your puppy grow out of!
But if your dog is showing serious signs of aggression, like resource guarding, baring his teeth, lunging and snarling, and not letting go when he bites, that's a sign you might need some help.
Positive reinforcement training is the best way to go, and taking preventative measures as soon as you get your puppy will also help. Make sure your puppy is being properly socialized, teach him how to redirect his aggressive behavior, and interrupt him in moments where he is showing aggression.
And when in doubt, talk to a professional! They'll help you and your dog be the very best you both can be.