*Disclosure: This post may contain affiliate links, meaning, I get a commission if you decide to make a purchase through one of my links, at no cost to you.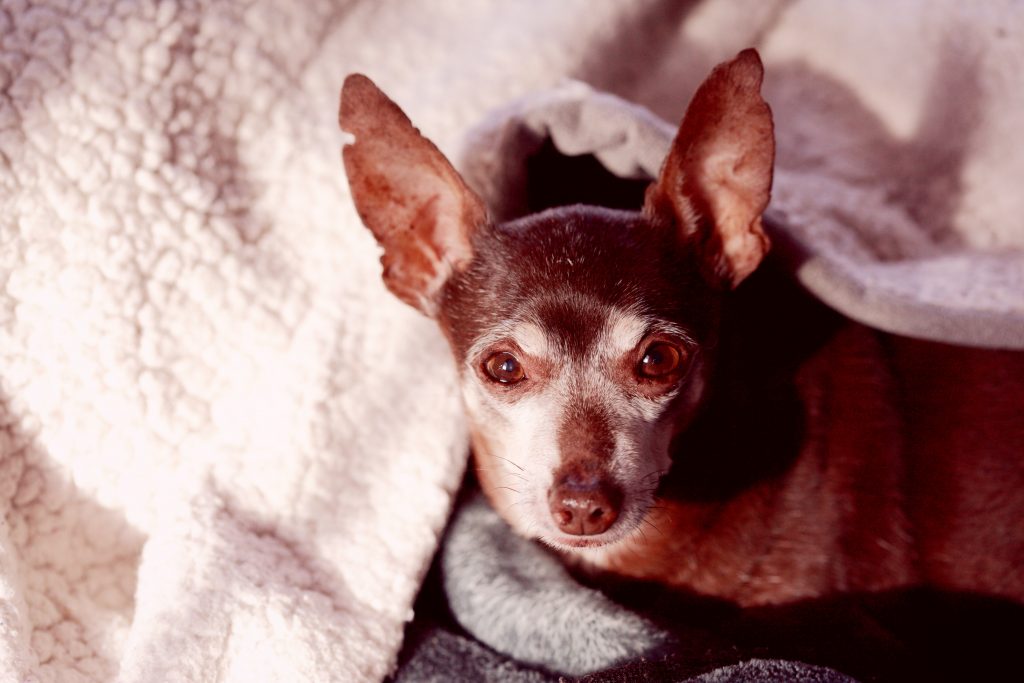 When we think of old dogs, we think of calm, rather slow-moving pups, right? If an old dog suddenly gets hyperactive, then this raises a lot of questions.
In this article, we'll first go over the basics of sudden hyperactivity in dogs. Then we'll look at old dog behavior in particular and why old dogs become suddenly hyperactive. And lastly, we'll look at how to calm your hyper old dog again.
Sudden hyperactivity in dogs
Why do dogs suddenly become hyperactive? That's probably one of the big mysteries for dog parents.
The most common reasons for sudden hyperactivity in dogs are:
He's feeling uncomfortable/itchy
He's overwhelmed/overstimulated
He's over tired
Your behavior
I've answered this question in detail in this post. But let's quickly look at two important points of sudden hyperactivity in dogs that are particularly important for old dogs.
My dog is acting weird hyper
If your dog isn't just displaying his average zoomie-mode but actually looks like he's losing his mind, then there might be something wrong with him. It's possible that he has ingested something he shouldn't have, like medicine or chewing tobacco.
I he can't calm down, even after you tried the tips listed in this post (how to calm an over excited dog quickly), his pupils are dilated and his heart races, then you should consult your vet!
My dog is acting hyper and restless
If your dog can't settle down at all, is pacing around and panting heavily, then there might also be something wrong with him.
High energy dogs tend to be hyperactive quite frequently. However, this is more of a very energetic behavior. If your dog is also restless in the sense of being unable to lie down over a long period of time, it could be because he's not feeling well. In that case I'd also check with a vet.
Old dog behavior
Old dog change in behavior
A dog's aging brain starts to change. This may result in different behavioral traits you've never seen in your dog before.
Our first dog Mirco used to have issues with people and was sometimes barking and them when they came close. When he grew older, this went away. Instead, he was now barking at other dogs.
This is not uncommon. One of the most frequent changes in a senior's dog behavior is aggression towards other dogs. Actually, aggression in general is quite common among older dogs. This could be because they can't fight/play like a young dog or they can't run away. So, by displaying signs of aggression they're trying to keep scary things away from them.
Along with that, it's also very common for senior dogs to become confused or develop some kind of anxiety.
The reason for these changes is that the chemicals helping the learning and memory part of the brain decrease. To find out more about behavioral changes in old dogs, click here.
Why do old dogs act weird?
As I've just said, old dogs' brains work differently. This is why they might behave totally different than what you used to know them like.
Some senior dogs also suffer from decreasing eyesight or hearing. When these 2 senses are weakened or even gone, then this usually also leads to a different behavior.
It's also not uncommon for older dogs to have arthritis or other diseases that make moving painful or, on the other hand, makes them restless. We'll get to that in a minute.
These are all factors that lead to a seemingly weird behavior displayed by old dogs.
Why is my old dog is suddenly hyperactive?
While it's possible that his behavior is a reaction to one of the things listed above, it could also be something clinical. If your dog used to have hyper phases on a regular basis for all his life, then I wouldn't worry too much. However, sudden changes in an old dog can be a sign of pain or a disease. This is why it's recommended to always check with your vet in those cases.
Here are a few other things that may cause your old dog to suddenly be hyperactive:
Changes in routines or environment: Dogs love routine! It gives them comfort. While young dogs can adapt to changes relatively easily, it's a whole different story for old dogs. Senior dogs struggle a lot with changes in routines or their environment (such as relocation). This might be a reason for sudden hyperactivity in your dog, he's simply overwhelmed.
Pain or discomfort: It's possible that your pooch suffers from some kind of pain or discomfort and tries to get rid of it by jumping around.
Personality changes: As mentioned above, your dog's brain changes with age. This can lead to a previously lazy dog feeling a second youth and getting all hyped up about it.
Getting more sensitive: Your pup's behavior could also change in a way that he's suddenly much more sensitive. Sensitive dogs react very strongly to their owners mood. More agitated moods, such as being angry, sad, excited or stressed, have a big impact on such dogs. They don't know what to make of it and start to hyper. My Miniature Poodle Baloo is a very sensitive dog and he's the perfect measurement for my mood 😉
Lack of physical or mental exercise: as dogs grow older, it might look like they don't need that much exercise, anymore. While this is mostly true for physical exercise, most dogs should still get mentally stimulated. A lack of it can also lead to hyperactivity. If you need some ideas, here are 21 fun things to do with your dog at home!
For more behavioral changes in old dogs, click here.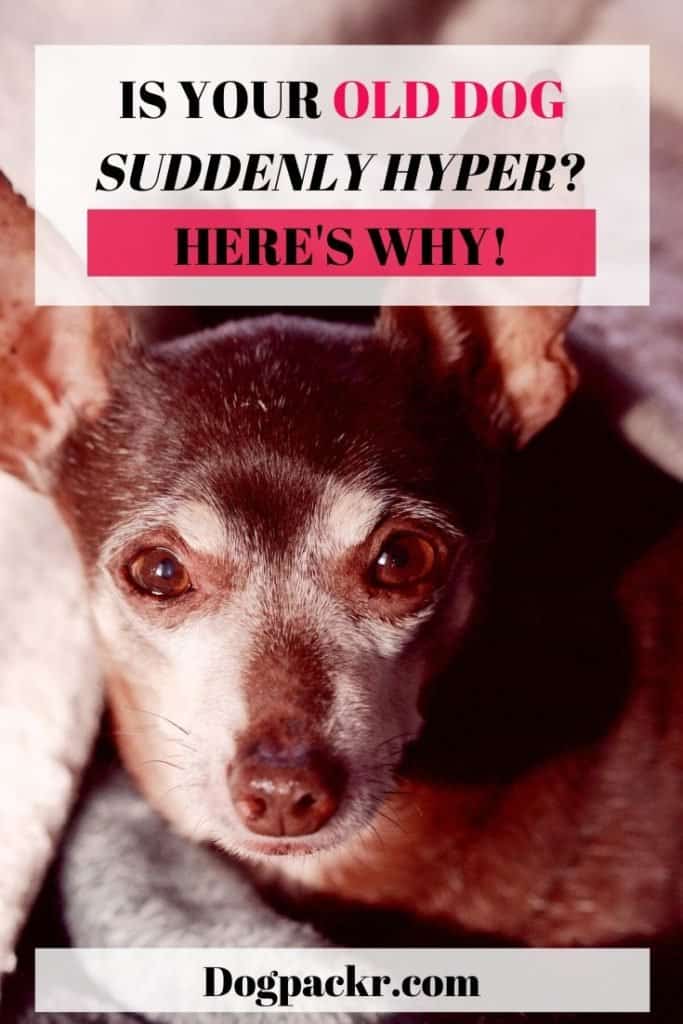 Why is my old dog so hyper at night?
It's quite common for older dogs to become hyper and restless at night.
The three most common reasons for this behavior are: sundowning, arthritis and dementia.
Sundowning in dogs
Sundowning is one symptom of Alzheimer's disease and describes the agitation that patients have when it's getting dark. However, this isn't exclusive to people, dogs can suffer from it, too. This article describes it very well.
Arthritis
Many older dogs, particularly large breeds, suffer from arthritis.
This makes getting up particularly painful. But it can also be painful to lie on an uncomfortable surface. It's possible that your senior dog would like to lie down and sleep. But he can't because it hurts. So, he basically gets sleep-deprived, which can lead to hyper behavior.
Dementia
Similar to Alzheimers desease, dementia can also have a huge impact on your dog's life.
Many old dogs suffer from it and it makes them very forgetful. This means that they may forget where their sleeping place is, or what they're supposed to do at all. They could literally forget anything. Some dogs get very restless because they're just really confused.
To find out more about the signs of dog dementia, click here.
Remedies for when your old dog is suddenly hyperactive
Since the reasons for an old dog being hyperactive are different from the reason that causes young dogs to be hyper, the solutions also look a little different.
One remedy that isn't listed here but can help him calm down as well is using a crate. Make sure to check out my article on how to crate train an older dog to learn more.
Make his life as easy as possible
Since an old dog is approaching the last years or months of his life, I recommend making it as easy as possible for him.
He tried his best being a good dog for all his life. I wouldn't be too strict in his senior years anymore.
Most of the reasons why a senior dog is hyperactive are clinical anyway. So, trying to correct him probably won't help. He either doesn't understand you or he simply can't act any differently.
If pain causes him to be restless, make sure he has the comfiest, softest bed. In case he's a sundowner, try flooding the room with light (will only work if he still has sufficient eyesight). Or if dementia causes him to roam around aimlessly, show him his bed again.
Just think of simple things you can do to help your oldie.
Feed him the right food
There is a reason why there's different food for senior dogs. Just as there is a different puppy food. Senior dogs have special nutritional needs. Feeding your dog the right food can help prevent diseases in his joints (such as arthritis), heart and stomach. This means less pain for your dog and hopefully more quiet behavior.
Once your large dog is over 10 or your small dog is over 13, you should transition to a senior dog food. Here's an overview of the 5 best senior dog foods.
If your old dog isn't eating properly and is restless, this could also be one reason. Full bellies make them tired. So, consider trying a few different kinds of food until you find something he likes.
Related article: my dog's stomach is gurgling very loudly
Calming medicine
If you think that anxiety (due to behavioral changes or diseases) is the cause for your old dogs hyperactivity, then it might help to give him something to calm down.
There are a number of natural remedies. Seniortailwaggers had great results with natural pheromone products.
If you feel like your dog needs some medication, here's a list of the 10 medications for dog anxiety. These have to be prescribed by your vet.
Now, keep in mind, if your dog suffers from any kind of disease, you should always talk to your vet first!
Check with your vet
I know I'm repeating myself, but this is really important for old dogs. If you discover any kind of unusual or weird behavior in your old dog, you should always consult a vet.
Unlike with younger dogs, old dogs' weird behavior, such as hyperactivity, is often by something clinical. It's important to doublecheck with your vet to get you the right kind of medicine, if needed.
Conclusion
There are different reasons why an old dog is suddenly hyperactive. The most common are:
Changes in routines or environment
Pain or discomfort
Change in personality
He's getting more sensitive
Lack of physical or mental exercise.
If your senior dog is suddenly hyper at night, it's most likely due to him being a sundowner, suffering from arthritis or dementia.
To help your senior dog, try making his life as easy as possible. Along with that it's important that you feed him the right food. You can also try calming medicine. And in any case where you're not really sure what's causing your old dog to be hyperactive, you should always consult your vet.