*Disclosure: This post may contain affiliate links, meaning, I get a commission if you decide to make a purchase through one of my links, at no cost to you.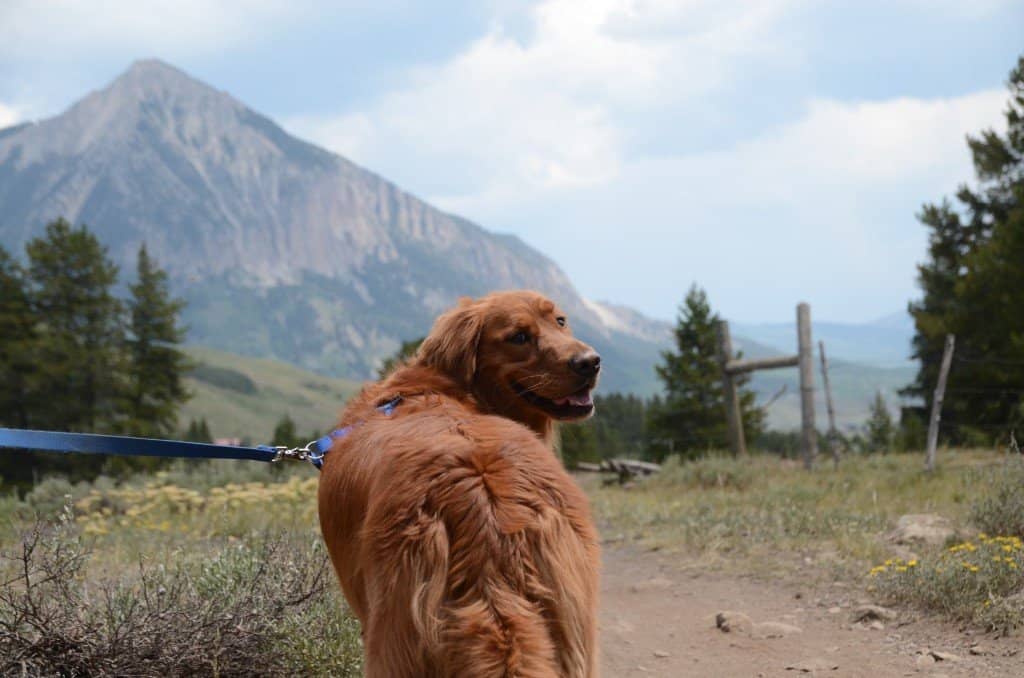 Thinking of hiking with your dog? You might be wondering what sort of gear and equipment you should have with you.
After all, we people put on at least a backpack and sturdy boots for a hike. When you go hiking with dogs, good gear is just as important for them as for you!
Here's everything you should know and need to have before you hit the trails.
How do I prepare my dog for hiking?
If you like going on adventures, having a dog with you will make them even better. Dogs are pretty active animals, and they'll love exploring nature with you!
Hiking is also a great way to get high energy dogs some much-needed exercise! Giving your dog the exercise he needs helps prevent behavioral issues your dog might run into because of his hyperactivity.
But before you hit the trails with your dog, there are a few things you should know. Just like you need to be prepared for your hike, your dog needs to be prepared too!
Make sure that you're giving your dog the preparation and gear he needs to keep him safe and to make sure you both have the best time possible.
Before we get into the specifics of what you should bring for your dog, make sure that you check out these related articles: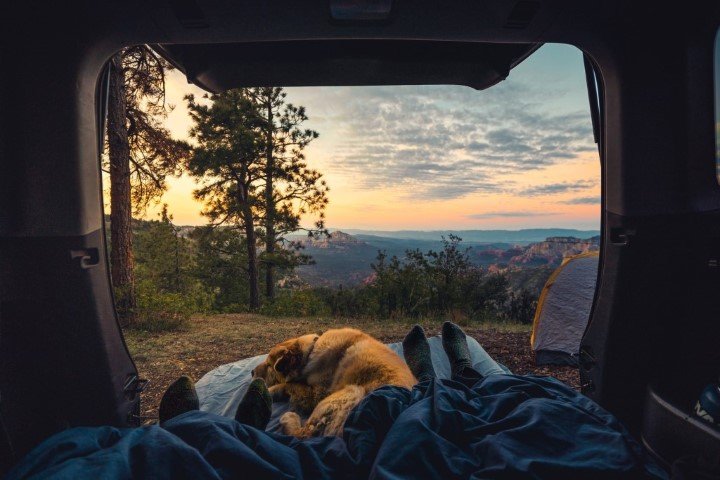 Do dogs need hiking gear?
When humans go hiking, we bring gear with us. It's important for us to have the right shoes, clothing and equipment. Having all of this necessary gear will help ensure that your hiking trip is as safe and successful as it can be.
When you take your dog hiking, it's important to make sure he has all the equipment that he needs, too. While he may not need the same kind of gear that you do, making sure that he has this equipment will help him a lot.
You should always take a collar or harness and a leash as gear when hiking with dogs, even for off-leash treks. You'll also need food, water, and bowls to put them in. A dog backpack lets your dog carry some of this, too.
Other equipment might come in handy, too, depending on where you're going and how long your hike is. You might also want to pack a blanket, a jacket, boots and helpful products like pest sprays or paw balm.
Can my dog hike 30 miles?
You might be wondering about the distance you can take your dog on for a hike. We've got an entire article about how long a dog can walk, but let's quickly rehash the two main things the answer depends on.
One is your dog's breed. Some dogs are simply more active than others, like Golden Retrievers, or Poodles. Other dogs are a little more laid back and would prefer to relax at home.
The other thing is much regular exercise your dog currently gets. If you want to hike 30 miles with your dog, but you currently only walk a couple of miles a day, you're going to need to work your way up.
You should also be aware that 30 miles is a pretty long distance! Keep an eye on your dog to make sure he's not getting too tired or even injures himself.
With the right training, you can definitely get your dog hiking 30 miles!
Can you put a dog in a hiking backpack?
If you have a little guy, you might be wondering how you can carry him over more difficult terrain. A dog backpack might be a super useful piece of gear for you when hiking with small dogs.
There are specialty dog backpack carriers that you can put your small dog into and carry easily. These backpacks are super useful if you're crossing ground that might be too challenging for your dog.
This is something you might want to consider investing in for you and your dog, especially if you hike frequently! To learn more, take a look at the 6 best dog backpack carriers for hiking and how to choose one.
Best must have gear for hiking with dogs
When you take your dog hiking, you should make sure that you have the right equipment for him. There are a few different things that you might need.
Here are a few products that you'll want to make sure you check out, and the pros and cons of them all.
Collar or harness
Pros: This collar is super resilient, tough, and durable. It comes in several sizes and colors, so you'll be able to find the perfect one to go with your dog. The D-ring on the collar is also very strong.
Cons: Some customers have reported that the collar's color can fade quickly, and that it can color off onto their dogs' fur.
Pros: This is a great choice if you have a big dog. It comes with padding along the interior of the collar, preventing any chafing or discomfort on your dog's neck. There's also reflective stitching to help you keep an eye on your dog.
Cons: The sizing might not be consistent, as some customers have found that lower sizes are far too tight for their dogs while bigger sizes are too large.
Leash
While off-leash hiking can be great fun—provided you've prepared your dog well with recall training—bringing a leash is always a must.
Pros: One of the biggest pros is, of course, the fact that it's hands-free. The bungee absorbs shock, meaning that it's gentle on both you and your dog.
Cons: Some customers have reported the bungee in the leash snapping easily.
Pros: If your dog is well-enough trained to be able to run along on his own, then a long lead might be a better option. This one comes in several different lengths, so you can choose which might be best for your dog.
Cons: Reviews for this leash are mostly positive, but some do find that it wears out easily.
Dog backpack
Pros: This backpack is super easy and fast to put on your dog. There are two zipper pockets and even a spot for a water bottle.
Cons: Some customers have found that the material of this backpack wears out easily.
Pros: The backpack comes with a harness integrated into it, making it even more convenient than having to use a separate harness. It comes in a couple of different sizes and colors.
Cons: You might find that the straps are hard to adjust, and you may need to keep re-adjusting them.
Treat pouch
Pros: This treat pouch is super durable, sizeable, and comes in a few different colors. You can clip it on to the belt you're already wearing, or use the belt that it comes with.
Cons: Some customers have found that the spring mechanisms on the pouch can break with heavy use.
AUDWUD Silicone Dog Treat Pouch
Pros: You'll find this treat pouch super easy to open to access the treats inside. It's also dishwasher-safe, making for easy cleanup.
Cons: It might spill easily, so you'll need to be careful with it. The clip might also be a little flimsy.
BarkOutfitters Dog Treat Pouch
Pros: There's a lot of space in this pouch, which means you'll be able to fit in a lot of treats. The drawstring closure makes it easy to both open and close.
Cons: Some customers report that the seams on the pouch fray quickly, and that its large size can make it sit uncomfortably.
Poop bags
Pros: These poop bags use recycled material, so their production is gentler on the environment. They're also thick, so you don't have to worry about anything getting on your hands (yuck!).
Cons: These bags are not biodegradable.
Pros: You can get these bags scented or unscented. The packaging is made from easily recyclable materials.
Cons: Some customers have found the bags to be very thin and difficult to open.
Collapsible water and food bowls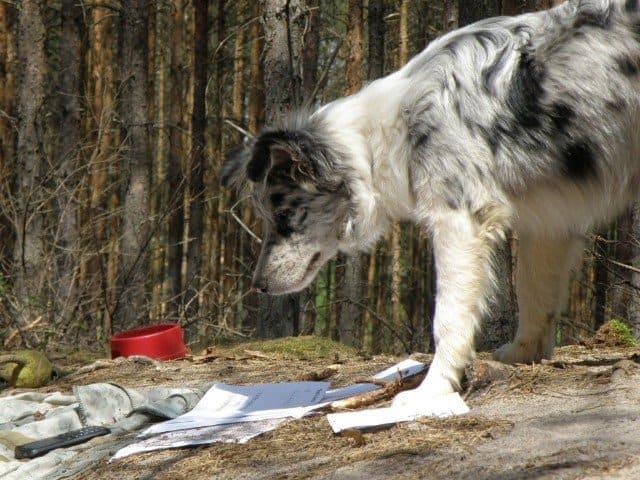 Pros: The bowl is made with food-grade silicon and is both heat- and cold-resistant. It's made sustainably, and it can easily be clipped to your belt or backpack.
Cons: Some customers have found that the bowl is too floppy and doesn't stay upright properly.
Pros: This bowl comes with a lid. Instead of having to fill the bowl when it's time to eat, you can just put the food in the bowl with the lid on and not worry about carrying an extra bag of food.
Cons: The rubber lining may come off, but it's not difficult to put back on.
Blanket or dog bed
Pros: This bed is made from breathable materials, and it's easy to hang up to dry if it gets damp. It's durable and low cost.
Cons: This bed is fairly thin, so if you're looking for a thicker option you might want to consider something else.
Pros: It's super easy to roll this dog bed up, making it a super portable option. It also comes with a lifetime warranty.
Cons: Some customers have found that it wears out easily.
Best optional gear for hiking with dogs
The above equipment is all very important for you and your dog to have, especially if you're going on longer hikes.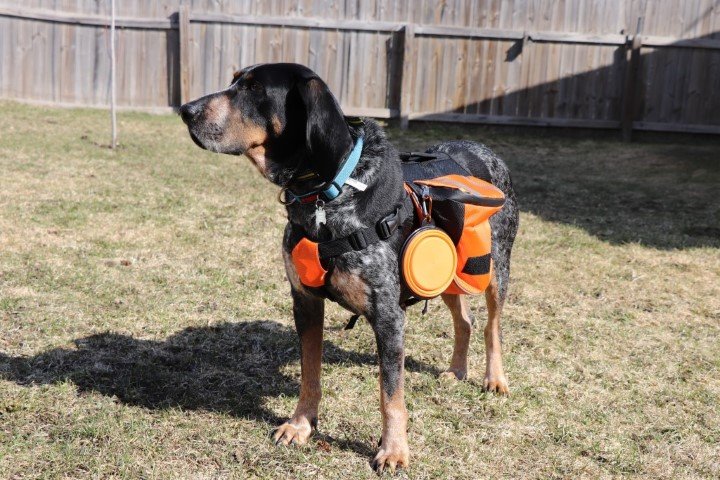 There are still some extra pieces of gear that you might want to look into to make hiking with dogs even better. Here are a few pieces of equipment to consider.
Dog backpack carrier
Pros: This backpack is padded, ventilated, and it has a waterproof bottom. It's also TSA airline-approved, making it a great option for people who like to travel a lot.
Cons: The poles in the backpack can come loose and you may need to re-adjust them frequently.
Pros: If you'd rather have a sling carrier than a backpack, then this might be a good choice for you. It's breathable and the design lets your dog keep his head out.
Cons: The sling is designed for right-handed people, so left-handed people might not find it comfortable.
PetAmi Deluxe Pet Carrier Backpack
Pros: This backpack carrier is lightweight, super breathable for your dog, and cushioned for added comfort.
Cons: The support bar might be uncomfortable for some people.
Dog jacket
Pros: This dog jacket is inexpensive and comes in several fun designs. The fit is easily adjustable.
Cons: The material is pretty thin, so it's not the best option for cold-weather hiking.
Pros: This coat is lined, so it will help protect your dog from the cold. It's also water-resistant and pretty durable.
Cons: The reviews for this coat are mostly positive, but some owners have found that it may not stay on properly.
Dog boots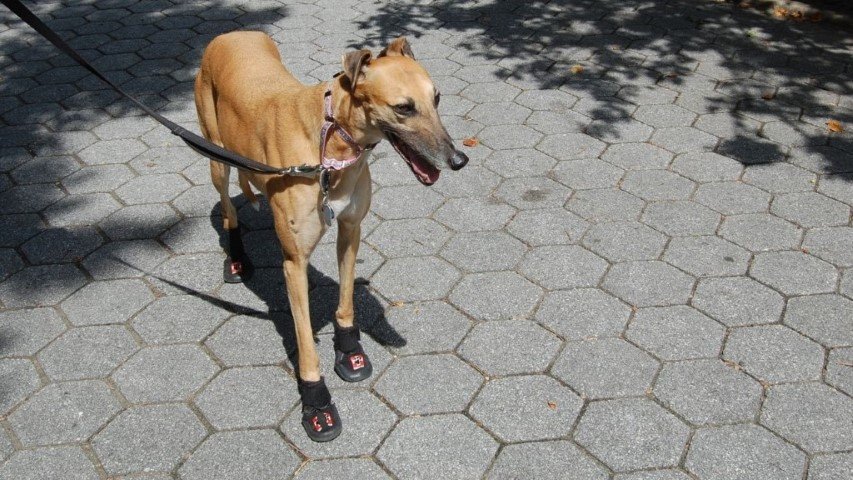 Pros: These boots are great if you tend to hike on slippery or cold terrain. They have anti-slip soles, are adjustable to fit your dog's feet, and easy to take on and off.
Cons: Customers might find that the boots slip off their dogs' feet easily.
Pros: These boots come in several sizes, and they're easily adjustable. They are soft and lined with fleece to keep your dog's feet safe, warm, and comfortable.
Cons: The boots may wear out easily.
Pros: Anyone looking for boots that are super breathable should consider these. They come with reflective material, and have several sizes available.
Cons: Keeping these boots on the feet of super active dogs may be challenging.
Dog eyewear
Pros: Consider these goggles if you're looking for something to protect your dog's eyes while you're hiking. They fit well, offer UV protection and are super durable.
Cons: Some owners find that the lenses scratch easily. Other than that, the reviews for these goggles are mostly positive.
Pros: These goggles are a great option if you want to make sure that your dog's eyes are kept safe from the sun, dirt, or other things that could affect their eyes.
Cons: Some owners have struggled to get the goggles to fit properly over their dog's eyes.
Cooling vest
Pros: Dogs need cooling gear for hiking in hot weather. This prevents your dog from overheating or potentially getting heatstroke. This cooling vest can help regulate your dog's temperature.
Cons: Some customers appear to have a difficult time finding the right size and fit for their dogs, so make sure you check the sizing guide before you purchase.
Pros: Most dogs seem to find this vest very comfortable to wear. It's a great option if you hike a lot in the summer and need something to help your dog stay cool.
Cons: You may find that the zipper on the jacket doesn't stay closed well and that you need to continue readjusting it.
LED collar or collar light
Pros: If you tend to go hiking in the evenings or at night, then this might be the collar you need. It lights up, which helps you keep a better eye on your dog.
Cons: The power socket on the collar doesn't have a protective cap, so grime might get in easily and make it difficult to recharge.
Pros: Visibility is important, especially if you go hiking in the dark. This collar will make sure that you always know where your dog is. It's available in several colors, and it's easy to recharge. The charge holds for a long time, too.
Cons: The collar's design is a bit unusual, but other than that the collar has extremely good reviews.
Pros: These collars are super durable and will help keep your dog visible. If you run into any issues, the company's customer service is super friendly and helpful.
Cons: This collar has most positive reviews, with the only potential issue being that some dogs are able to accidentally turn the collar off while scratching.
Flea and tick spray
Pros: This product is easy to apply and lasts for a long time. It's also waterproof and kills fleas, ticks, and larvae.
Cons: Some owners have found this product irritating for their dogs.
Vet's Best Flea and Tick Spray
Pro: This spray comes vet-recommended and is easy to use. It's an effective way to prevent ticks and fleas from affecting your pup.
Cons: Some owners and dogs found the smell to be very unpleasant.
Paw balm
Pros: This product offers a safe and effective way to keep your dog's paws safe, especially on rough terrain. It's fast-drying and non-allergenic.
Cons: It is difficult to wash any excess off, so be sure not to use too much.
Pros: It's made with natural ingredients and can be used on your dog's nose as well as his paws.
Cons: Some owners find the smell to be too strong.
Conclusion
Hiking with your dog is a great way to keep both of you in good, healthy shape. But you should make sure that you have the right gear with you. Remember to check out all the above products to make your adventures the best they can be.