*Disclosure: This post may contain affiliate links, meaning, I get a commission if you decide to make a purchase through one of my links, at no cost to you.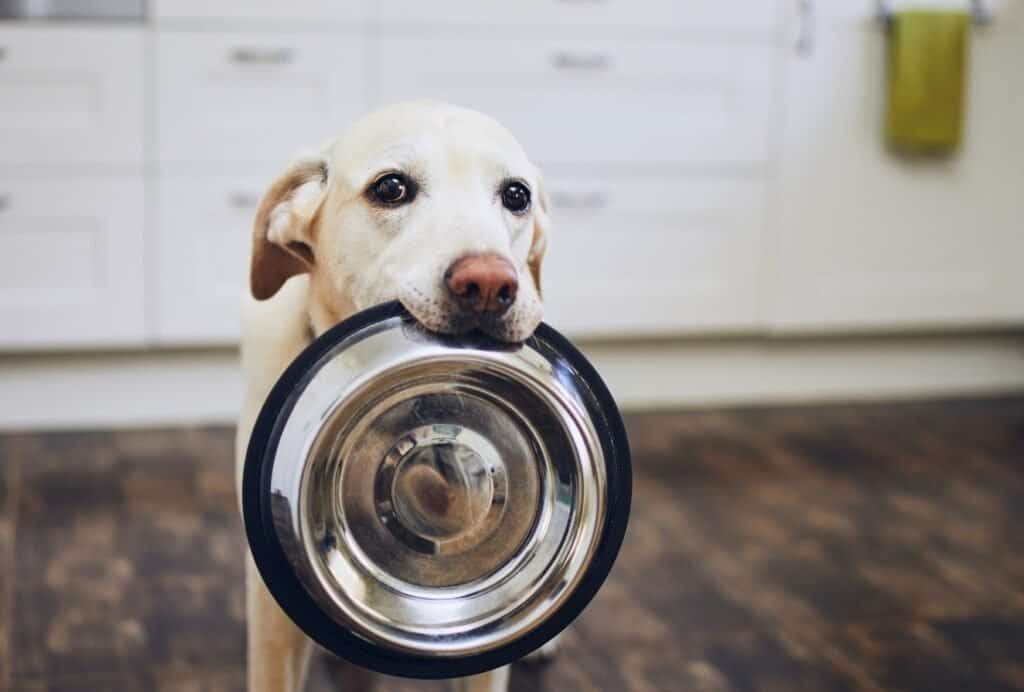 Isn't it the most annoying thing to be dragging a 30lb pack of kibble up your house?
I definitely find that one of the things that could be more convenient.
Luckily, there's an easy solution: dog food delivery service. But wait, it gets even better: there are a couple of dog food delivery service that deliver fresh cooked, human grade food!
That's right, you can get fresh cooked dog food that you'd even eat yourself delivered to your front door.
It definitely doesn't get any more convenient or any healthier for your pup!
In this article we'll go over the 5 best dog food delivery services for fresh cooked food. But before we dive into the list, let's first take a look at the different kind of food that you could feed your dog.
What Kind of Food Should I Feed my Dog?
When it comes to your dog's health, his diet is one of the most important things you need to think about.
Many people assume that buying a bag of kibble is all that it takes to ensure that your dog is well fed.
As it turns out, your dog's diet is a little more complicated than that! Plus, dog food comes in many forms, so it's important to choose the right one for you and your pup.
Let's go over some of the options you have when it comes to feeding your dog.
Kibble
Kibble is dry dog food. The ingredients in kibble are processed and then cooked all together. The ingredients as well as their amounts will be different depending on the brand. But all kibble is regulated by law to make sure that the nutritional value is right for canines.
There are lots of reasons why someone might choose kibble over raw or freshly cooked food. These reasons include easier storage, less expensive, reduces your dog's dental plaque, and there is a lower risk of bacteria in the food.
If you're choosing kibble, you'll want to look at the bag's ingredients list before purchasing. Even though kibble is regulated, there are still things you need to watch for. Make sure that the very first ingredient listed is a protein, and not a grain.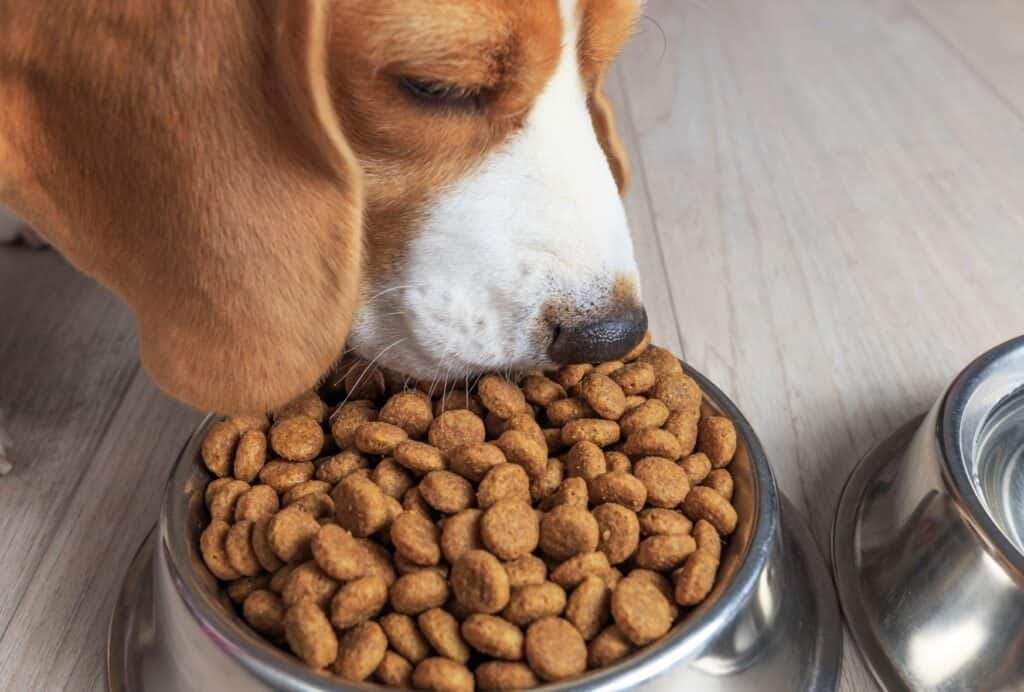 Raw
When people feed their dogs raw, the meat usually includes muscle and organ meat, bone, raw eggs, and fruits and veggies that are safe for dogs.
Although it might gross you out at first to consider feeding your dog raw, there are benefits. Your dog will probably have healthier skin, as well as a healthier, shinier coat.
There are, however, risks to feeding raw, especially since a lot of raw food available is unregulated. If you choose to feed your dog raw, you'll want to make sure that you're sanitizing the food properly, as well as the space where you're preparing the food.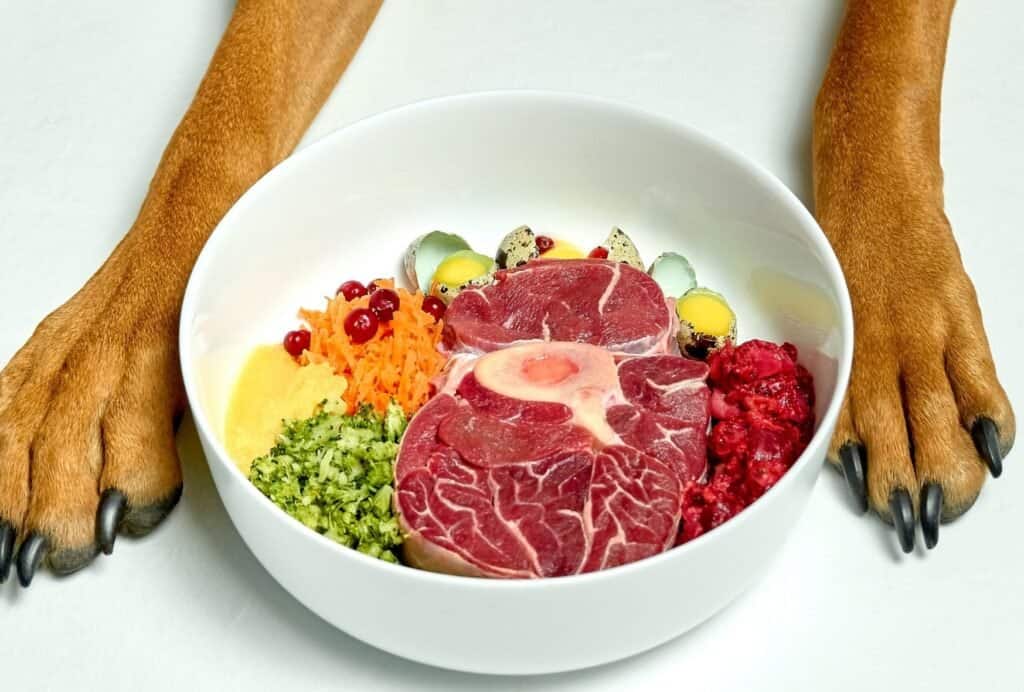 Fresh Cooked
The third option available to you is to cook your dog's food fresh for him. This way, you have full control over what goes into his diet. This is especially helpful if your dog has allergies, or tends to be picky.
If you want to cook your dog's food for him, you can certainly go out and get the ingredients yourself. There are, however, several companies that will provide the right ingredients for you.
Undoubtedly the easiest way is to get the fresh cooked food delivered to your doorstep!
Best Dog Food Delivery Service
What are some of the companies that offer dog food delivery service?
Let's take a look at some of the best out there, plus a few discounts for you and your pup!
Why not start with our absolute favorite?
Nom Nom is a cat and dog food manufacturing and delivery service. They gently cook all their food, which means that the nutritional value isn't cooked out of the food. They also make sure all their ingredients are carefully sourced, and ensure that their portions are right for you and your dog's needs.
But what's really cool is that they have a vet nutritionist on board. Their core mission is to make food that you'd eat as well! Feeding the right food can be incredibly helpful to prevent a whole lot of medical issues. With a vet on board, they're able to provide the best combination for your dog.
When you use Nom Nom, the first thing you'll do is fill out a profile about your dog. This will include his age, weight, and activity levels. Doing this will help Nom Nom create the right dog food combination for him.
As with everything in life, there are pros and cons to Nom Nom. Let's take a look at the pros first.
Pros: One of the great things about Nom Nom is that your first box will come with a guide on how to transition from processed kibble to fresh cooked food. This can be really helpful, since it might be a bit of a process.
Since everything is carefully sourced, portioned, and packaged, you can also be sure that everything you're getting is safe and healthy for your dog. You can customize your dog's meal too, which is awesome if you have a picky dog, or one with allergies.
Unlike other services, you can get Nom Nom food delivered on a weekly basis. This means you don't have to freeze the food. With Nom Nom, your pup will probably get the freshest food possible!
Cons: While it's possible to customize the recipes for your dog, you won't be able to do it through the website. Instead, you'd have to contact customer support and request changes with them. This can be an inconvenience, especially if your dog is super picky or has allergies.
Price: The average price of Nom Nom's delivery service is $35 a week. If you have a larger dog, expect to spend more.
Despite the price, Nom Nom is an amazing service, and our favorite for a reason! It's so customizable, super healthy, and requires basically no prep work since everything is portioned and packaged accordingly.
Our special deal: Interested in trying out Nom Nom? Use this link to get 50% off your first order!
Ollie was first started in 2016, by people who wanted dogs to get quality food. Like Nom Nom, you'll start by filling out a profile about your dog. Doing this allows Ollie to customize your dog's meals to his precise needs.
Ollie offers 4 different meat options. You can choose between beef, lamb, chicken, or turkey. They work with a canine nutritionist, to make sure that all their ingredients are healthy and properly portioned. That means your dog will be getting exactly what he needs with every meal. Plus, there are no added preservatives in their meals, so you don't need to worry about any funky chemicals in your dog's digestive tract.
Pros: By filling out a profile for your dog, you can be sure that you're going to be getting exactly what he needs. This is a huge pro compared to commercial food where you have no control over the content.
Ollie's meals are also only gently cooked, so that the nutrients in the food are preserved for your dog. All of the food is human grade, which means that you could eat it too! You can be sure that everything in your dog's meal will benefit him when you choose Ollie.
Cons: Ollie's meals will have to sit in your freezer before you feed them to your dog. Ollie offers two options, the "All Ollie" which delivers 28 meals every two weeks, or the "Some Ollie," which offers 28 meals every 4 weeks. Either way, you'll have to clear room in your freezer for all these meals, plus remember to thaw them out before you feed your dog.
Price: Depending on your dog's size and how much they eat, Ollie's website says that the average cost per dog will be about $6 per day. This works out to $42 a week.
Our special deal: If you'd like to give Ollie a shot, click here for 50% off your first order!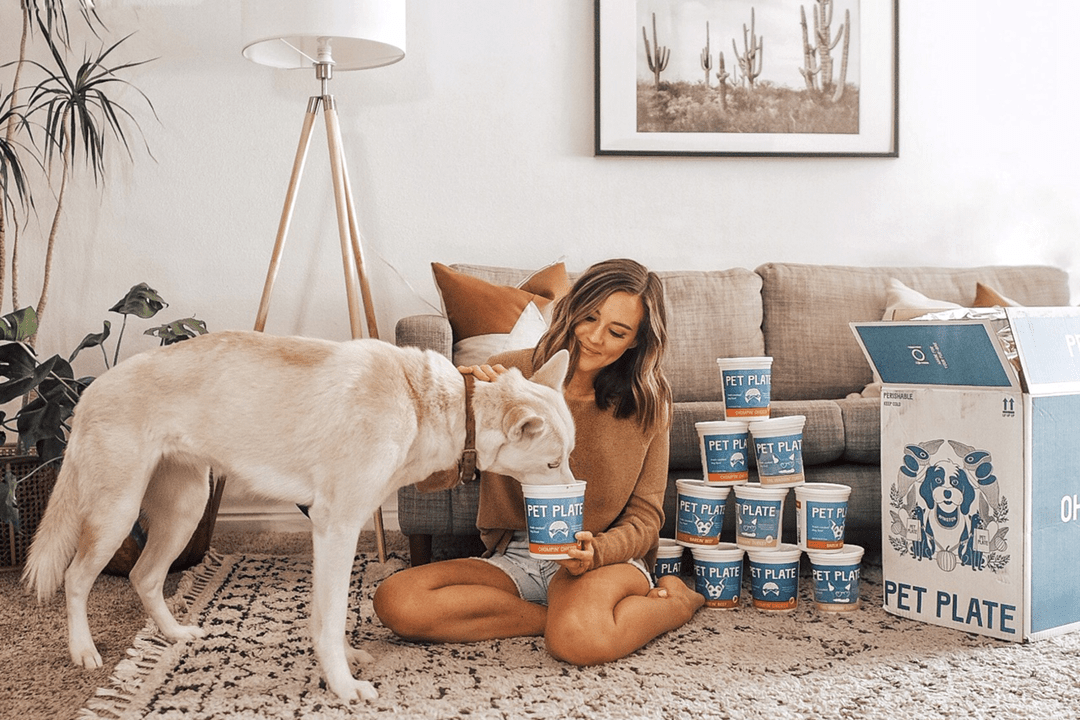 Pet Plate was founded by owner Renaldo Webb, after he became concerned about having healthy dog food options available for his own dog. He teamed up with vet Renee Streeter to formulate recipes that are healthy, and Pet Plate is transparent about what's in them.
Pet Plate is perfect for dog owners who want to make sure their dog is well cared for while, being environmentally responsible. All of Pet Plate's meals are delivered in recyclable material, so you don't have to worry about how much waste your dog's meals are producing.
Pros: Like the other dog food delivery services on this list, Pet Plate's meals are fully customizable. They offer four different meats: chicken, turkey, lamb, and beef. All of the ingredients are human grade, and everything is portioned so you don't have to worry about your dog overeating.
Cons: The major con that comes with Pet Plate is that their profile doesn't ask about any health issues your dog might have. This means that if your dog is allergic to something, or requires something special in his diet, it'll be hard to customize for that.
Price: their full meal plan starts at about $2.50 per day for small dogs ($17.50/week). Keep in mind this will increase depending on your dog's size and how much he eats every meal.
Our special deal: If you'd like to try Pet Plate out, click here for 30% off your first box!
The Farmer's Dog is a dog food delivery service that was started after co-founder Brett's dog Jada struggled with severe digestive problems. When the commercial healthy diet dog kibble available didn't help Jada, Brett began home cooking meals for his dog. Now, The Farmer's Dog is a successful dog food company creating fresh, healthy meals for dogs.
The Farmer's Dog is great for people with dogs who have dietary issues. Since this company was inspired by the personal experiences of co-founder Brett who needed to find a solution for Jada's digestive problems, Farmer's Dog understands the challenges of how to deal with these issues.
Pros: The food manufactured by The Farmer's Dog is vet approved, and cooked in USDA kitchens. These are the same kitchens your own food is made in, and they make sure none of the food is over-processed. Plus, as a bonus, their packaging is environmentally friendly if that's something that really concerns you.
Cons: Again, you might need to freeze the food as it comes in large portions. There's also no option to customize packages, which would be especially helpful if your dog has certain allergies.
Price: The Farmer's Dog starts at $2 per day ($14/week) for a small, healthy dog, but will increase based on your dog's size and activity levels.
Spot and Tango uses human grade ingredients and creates personalized meal plans for your dog. With Spot and Tango, it's easy to customize, which means it's great for people with picky dogs, or dogs with allergies. They source their ingredients from local farmers, and are transparent about where everything comes from. Every recipe is formulated by veterinary nutritionists, so you can trust everything in Spot and Tango's meals is right for your dog.
Pros: Customizing meal plans with Spot and Tango is super easy, so you can get your dog exactly what he needs.
Spot and Tango also offers a product called "UnKibble." This is dry dog food formulated with human grade ingredients, with no added preservatives and no over processing.
Like their fresh dog food, UnKibble has customizable plans for you and your pup. UnKibble is also great if you like to use your dog's food in puzzle toys. Fresh food won't work with most of these toys, but UnKibble will. Plus it's way more portable and convenient.
Cons: Unlike the other companies on this list, Spot and Tango only offers 3 different recipes. You can choose between turkey, beef, or lamb. If your dog prefers chicken over these meats, you won't have much luck with Spot and Tango.
Price: For a toy-sized dog, expect to spend $10 a week with Spot and Tango's delivery service. As usual, this cost will increase along with your dog's size and activity levels.
Conclusion
Your dog's diet is an important part of his health. A good diet means healthier bowel movements, a shinier, softer coat, and more energy for your dog to do the things he loves.
But choosing the right food for your dog is more than just going to the pet store and picking up a bag of dog food. You have to choose whether you want to feed your dog dry kibble, raw, or if you're interested in freshly cooked meals for your pup.
If fresh cooked sounds like the right path for you and your dog, hopefully this list of the best dog food delivery services will be helpful. Each one has its pros and cons, so take a look and decide which one might be right for you!
Also make sure to profit from our special deals for Nom Nom, Ollie or Pet Plate. We're not sure how long they're still be available. So, make sure to profit today!