*Disclosure: This post may contain affiliate links, meaning, I get a commission if you decide to make a purchase through one of my links, at no cost to you.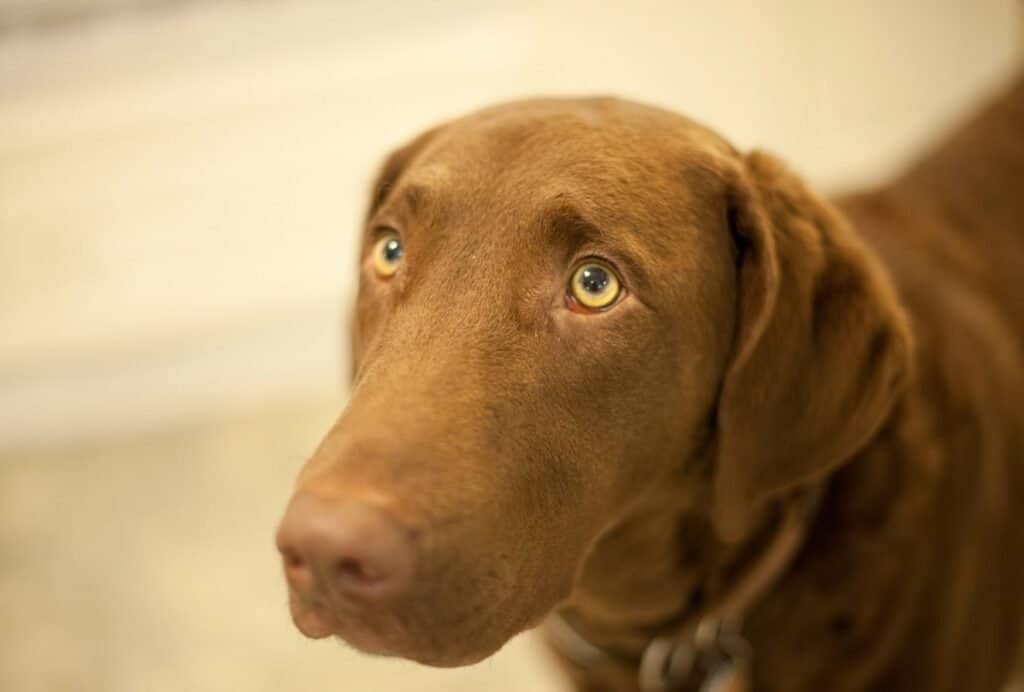 Your dog has always been loving, but suddenly it seems like your dog wants to superglue himself to your side!
It's normal for dogs to want to be close to their people. Dogs are pack animals, after all!
But if your dog's desire to be close to you seems excessive, then you may have found yourself with a velcro dog that's super clingy!
But why is your dog so clingy all of a sudden?
Well, there are a few reasons why that may be. Sometimes a dog's clinginess is something pretty minor, but on occasion it can be a sign that something is wrong.
1. Boredom
A bored dog is something many hyperactive dog owners dread. Boredom is one of the most common reasons dogs act out.
That's because dogs are super similar to kids. If a kid is bored, then you may notice that they start throwing tantrums and doing things they know they're not supposed to.
They may also start acting clingy to try and get you to pay attention to them.
Your dog is doing the same thing! He's trying to tell you that he's bored and needs you to give him something to do.
So, is your dog bored? Check out these signs of boredom to find out!
Solution
If your dog is bored, then the best solution to help him out is to give him something physical or mental to do.
Make sure that your dog is getting enough physical and mental stimulation every day. Going for walks and letting your dog sniff as you go, giving him stuff to chew or lick, and making sure his brain is working are great ways to ward of boredom.
Need some inspiration? Here are 10 brain games for dogs to play at home.
Mental stimulation can also be a wonderful training tool if used correctly. Check out Braintrainingfordogs to learn how to train your dog to be the best dog he can be by using mental stimulation! Or have a look at Dogpackr's review first to see if it's a fit for you and your dog!
2. Dog Pregnancy
If you have an unspayed female dog, then it's possible her sudden clingy behavior is because she's pregnant.
It's important to prevent unwanted dog pregnancy by spaying and neutering your dogs. But sometimes the unexpected happens!
Along with clinginess, other signs of dog pregnancy include lower levels of activity, weight gain, and nesting behavior.
Solution
North America has a huge unwanted and stray dog problem. You can help treat the issue by learning what the best age is to neuter or spay a dog, and get your dog fixed.
If your dog is pregnant, then visit your vet to plan for your dog giving birth. Your dog's clinginess will likely go away once she's had her puppies!
Speaking of the vet: Have you ever thought about getting pet insurance for your dog? No? Then check out my article on the question "is it worth getting pet insurance for dogs?". Or go straight to PetAssure for a cheap alternative to get 25% off each vet visit!
3. Dog in Heat
Female dogs might also become clingy if they're in heat!
Your dog's first heat cycle will depend on her breed and age. Small breeds tend to have their first heat cycles early in their lives. Larger dogs may have theirs around a year or two of age.
If your dog is in heat, you may notice that her vulva is swollen, she's peeing more frequently, or she seems agitated. And, of course, she may start acting more clingy!
Solution
If your dog is in heat, then you should be planning to spay her! If she's still too young to be spayed, then it's important to watch her carefully.
Don't let her outside alone, don't allow her off-leash, and make sure her ID tags are accurate in case she escapes in a search for love.
During those times, you'll better have her clinging onto you instead of roaming around freely!
4. Human Pregnancy
Dogs have incredibly strong senses of smell. One of the things their powerful noses help to detect is changes in your hormone levels.
Pregnancy causes shifts in our hormone levels, which can make us smell differently to dogs. If your dog notices that you smell different because you're growing another human inside you, his behavior may change.
No two dogs are the same, and some dogs may become more rebellious if they sense a pregnancy. But many dogs tend to become protective of their owners.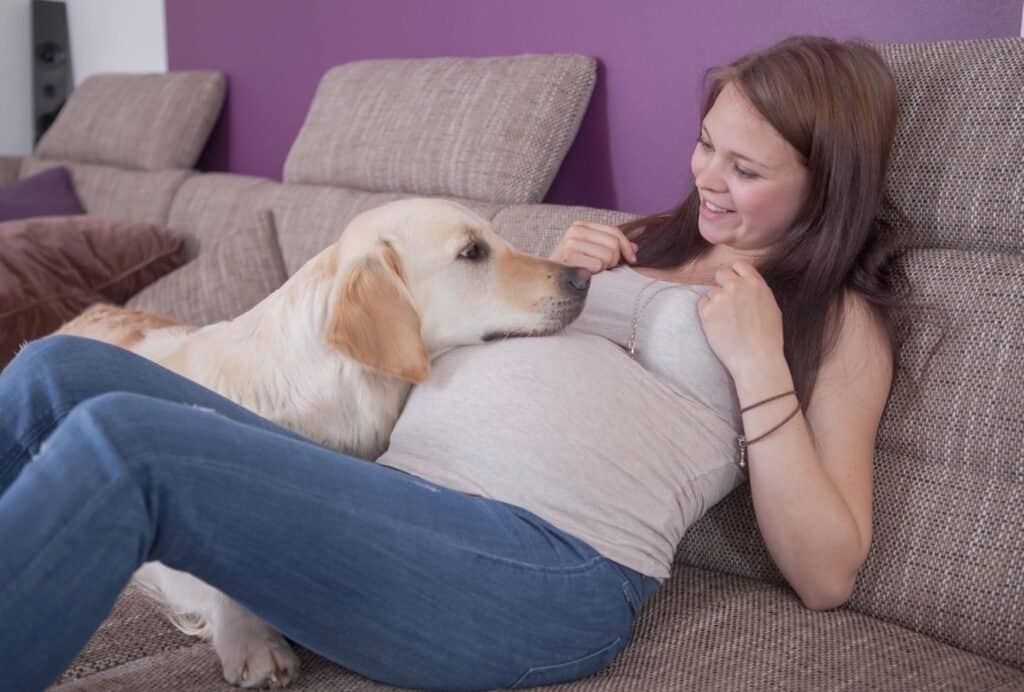 Solution
There's a difference between being protective and being overprotective. If your dog is just acting clingier than usual because of your pregnancy, then this behavior will likely settle down once your baby is born.
But if your dog is becoming so protective that the behavior is bordering on aggression towards others, then you should focus on some training.
5. Separation Anxiety Caused by a Recent Event
Separation anxiety is a common and difficult behavior issue to manage. Most of the time, separation anxiety is caused by major changes in your dog's life.
Rescue dogs especially can be prone to developing separation anxiety.
Solution
The most important thing to understand is that your dog's separation anxiety is not your fault! Many owners blame themselves for their dogs' anxiety, but there are so many factors that go into problems like this.
The next thing to do is check out these 9 signs and symptoms of separation anxiety in dogs, as well as training tips to help you and your dog overcome this issue.
6. Age
Just like humans, a dog's body changes as he ages. He may experience more issues such as vision loss, hearing problems, or even dog dementia.
If your dog is having problems with his sight, hearing, or his memory, he may become clingier. He can't get around as easily anymore, and needs you to guide him!
Solution
As your dog ages, you should talk to your vet about the changes you are noticing. Your vet will help you come up with a management plan, and will help you determine if anything is out of the ordinary.
Your dog may not become any less clingy with these management solutions, but he'll at least be more comfortable!
7. Medical Issues
If your dog isn't feeling well, then acting clingy might be his way of telling you that.
A sick dog may also seem less active, drink water excessively, cough, or drool a lot. He may also seem more anxious, or find places to hide.
Solution
If your dog is acting sick, then you should call your vet and make an appointment. In case your dog is throwing up frequently for over 24 hours, seems agitated or in pain, or is losing or gaining weight suddenly, those are things your vet can address.
If your dog is having seizures, seems confused or disoriented, is stumbling or is suddenly weak, those are signs of serious illness. Your dog should go to an emergency animal hospital right away.
Speaking of the vet: Have you ever thought about getting pet insurance for your dog? No? Then check out my article on the question "is it worth getting pet insurance for dogs?". Or go straight to PetAssure for a cheap alternative to get 25% off each vet visit!
8. Change in Your Daily Routine
Dogs are routine-based animals. Having a clear daily routine helps prevent dogs from becoming anxious, since they know what to expect at any given part of the day.
If you change an aspect of your dog's routine, your dog may be confused. This confusion could result in him acting clingier than usual!
Solution
Thankfully, the solution to this is easy. Just stick with your new routine! With consistency, your dog will get used to the change, and you'll notice his clinginess decrease.
You can download this free daily schedule planner to observe your pup's daily activity level and find the best daily routine for both of you.
9. Change in Your Life
If small changes to your daily routine can affect your dog, then imagine what major changes might do!
If you've moved recently, you've started a job that keeps you out of the house at different hours, or you've lost or gained a new person or animal in your home, well, these are all examples of things that could trigger clingy behavior.
Solution
Just like changes to your routine, the most important thing is be consistent with the change in your life. Over time, your dog will get used to his new world.
You should however, be on the lookout for these 5 signs of dog depression. Dogs get depressed too, and helping your dog if he's depressed is really important.
Why Is My Dog So Clingy and Shaking?
If your dog is acting clingy and shaking, then it's possible that he's sick and needs to go to the vet.
However, it is more likely that something is stressing him out. Consider whether something in his environment has changed that could be causing him anxiety. Removing him from the stressor will help, and he should settle down.
Why Is My Dog Suddenly Clingy and Panting?
Clinginess combined with panting is a common sign of stress in dogs. If your dog is panting and acting super attached to you at the same time, then something is probably making him nervous.
For more information, check out "How to Calm a Stressed Dog Naturally."
Why Is My Dog So Cuddly All of a Sudden?
Does your dog suddenly seem way too affectionate? It could be a sign of separation anxiety, illness, or something is making him scared.
The best thing to do is determine the cause of your dog's sudden cuddliness. Check for other signs of illness or anxiety to figure out how you can help.
Conclusion
Alright, these are the 9 most common reasons why your dog might be so clingy all of a sudden.
Most of the time, the onset of clingy behavior in a dog is pretty minor. You may just need to spend more time playing and interacting with your dog to keep him from getting bored.
But sometimes your dog's clinginess can be a sign of something more serious. If your dog is acting clingy out of the blue, make sure you pay close attention to your dog.
And remember—your dog can't vocalize what he's feeling the way we humans can! You are your dog's advocate, and it's up to you to make sure you're giving him what he needs.